Euro Zone Debt Rules Need an Urgent Overhaul
(Bloomberg Opinion) -- Fix that roof while the sun is shining. That's good advice for the European Union too. As the euro-area economy recovers strongly from the pandemic, it's the perfect opportunity to change the community's fiscal rules.
It was most welcome to read a research paper from the European Stability Mechanism, the EU's bailout vehicle, that actually proposes some radical changes. Unfortunately, it doesn't go far enough. So while the ESM's suggestion to lift the debt ceiling from 60% to 100% of gross domestic product is a logical move — after all the debt loads of both the U.S. and the U.K. are in this territory — it solves nothing. Especially as it recommends keeping the deficit criteria at 3%: Reality check fail.
Still, it is a debate that needs to begin. And it is also the rare example of an institution trying to reduce its own importance.  
The euro currency was created as an economic and monetary union — now extending to 19 countries — without adding the crucial fiscal union part. That crippled it from the start. Its bedrock, the Stability and Growth Pact, born of the 1993 Maastricht Treaty, has underpinned the euro's creation and development for nearly 25 years but it has been a purely political exercise in exasperating futility.
The principal SGP rules are that each EU nation state's total debt should not exceed a ceiling of 60% of GDP. Neither should each country's annual budget deficit exceed 3% of output. Not even frugal Germany has always stayed within those restrictions. Some of the horses haven't so much bolted as moved county. Italian debt is now in excess of 150% of GDP and climbing. France's is north of 115%. France is hoping to contain its 2022 deficit to 5% of GDP from nearly double that last year. Looking too closely at Italy's is not going to engender happiness.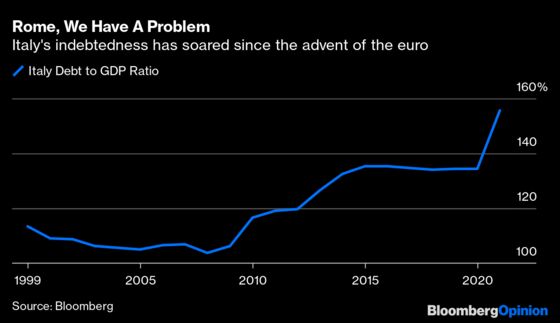 Chronically, during the euro crisis, the EU commission would require struggling countries to impose spending cuts to hit the hated 60% debt limits. Rinse, repeat into economic stagnation — or even worse for poor Greece. After this all-encompassing pandemic, even Brussels realizes that austerity is just going to endanger the whole euro project.
Economic growth, in true Keynesian fashion, is the only practical way out of this hole. Each nation should have greater discretion over its own government spending. Italian Prime Minister Mario Draghi, for example, has to be allowed space to turn around Europe's biggest debtor. Italy's economy has barely grown since the advent of the euro. And it had been, for the most part, an exemplary EU citizen. Italy's overwhelming debt load suffocated its recovery efforts even as it ran primary budget surpluses.
It's time for a complete financial rules overhaul based on reality. The EU has finally located its fiscal stimulus mojo with last year's 800 billion euro ($930 billion) NextGeneration recovery fund. Combining that with enhanced monetary stimulus from the ECB's Pandemic QE bond buying program has turned the economic corner. Time to build on that with a much more flexible and complimentary scale of measures that promote growth not austerity. You need accelerators, not handbrakes.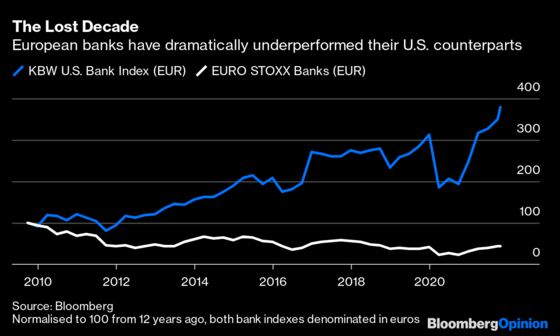 Policymakers realize that now. And so NextGen's planned demise later this decade will almost certainly not happen. It's like the old adage on death and taxes: There is nothing so permanent as a temporary stimulus program.
This is also a political opportunity. Lightening national debt loads by centralizing them at the EU level — of which this is the first slippery step — should not be disguised. Fiscal union can either sneak in via the back door or stride confidently into the main entrance but, if the euro project is to survive, it must be in the house. It's part of the great and necessary clarification of what the EU has to become if it is to survive longer term.  Time to fix that roof.
This column does not necessarily reflect the opinion of the editorial board or Bloomberg LP and its owners.
Marcus Ashworth is a Bloomberg Opinion columnist covering European markets. He spent three decades in the banking industry, most recently as chief markets strategist at Haitong Securities in London.