It's Coming Home? England Has More Than Pride at Stake
(Bloomberg Opinion) -- When England plays Italy at London's Wembley Stadium on Sunday, it won't just be the home country's pride that's at stake. A victory in the UEFA European Football Championship would lift the national mood, and possibly turbocharge a much-needed rise in consumer spending.
The tournament is already encouraging people to open their wallets. So far, supermarkets have been the big winners. J Sainsbury Plc, one of the U.K.'s big four grocers, said that when England played Ukraine on July 3, beer sales were 60% higher than on the average Saturday. It sold around 17 packs of brew every second.
Far more profitable than selling standard beers, fresh food, such as meat and salads, has also been in high demand. After all, nothing says barbecue season like summertime and sports. Supermarket Asda Group Ltd said it expects to sell 200,000 individual burgers on the Sunday of the final alone.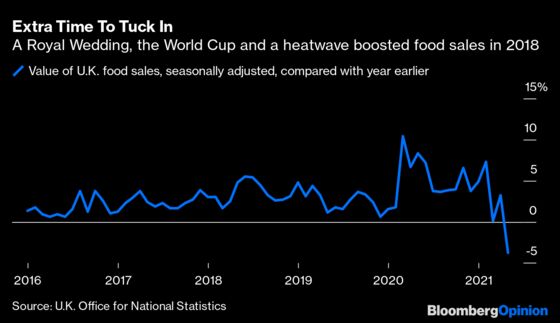 For pubs, the picture is mixed. Although people have wanted to watch the games in bars, social distancing measures have made it challenging to pack in as many drinkers.
Simon Emeny, chief executive officer of Fuller, Smith & Turner Plc, told me that while the company's pubs would be full for Sunday's match, they'd do three times as much business were it not for social distancing requirements. He estimated that capacity across its venues will be about 70% lower than would be expected for such a historic match in normal circumstances.
Curbs on crowds in pubs have implications for brewers, too. When people go out, they tend to trade up to more premium beers. When they drink at home, however, they usually buy whatever is on sale at the store. Still, brewers are likely to sell so much beer that the higher volumes should compensate for the sales of lower-margin products. Duncan Fox of Bloomberg Intelligence points out that the U.K. accounts for 16% of European beer sales by volume, while Italy's share is 6%.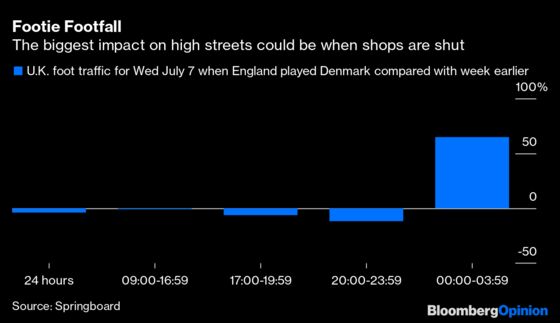 Gambling groups are also set to benefit from more wagers being placed. If the stress of the pandemic drove an increase in smoking, it's not wild to think that the agony or ecstasy of England's performance could lead to more lighting up too, particularly if people are watching at home.
This might be good for bookmakers and Big Tobacco, but the implications for society are less welcome. Analysts at Morgan Stanley estimate that sports betting operators acquire 95% more new customers in June and July in years with a tournament compared to those without.
Of course, the biggest economic legacy of Euro 2020 remains to be seen. An England victory could bring the lift to consumer confidence that the country desperately needs.
U.K. coronavirus cases are above 30,000 per day for the first time since January. The government is also poised to fully reopen the economy on July 19, ending social distancing and allowing people to bin or burn their face masks if they want. This risks elevating infections further, and could make some people more nervous about venturing out. There are already worries that soccer gatherings are spreading the virus among men.
But if football really does come home, Dan Hanson of Bloomberg Economics says that the feel good factor could help offset some of the caution likely to prevail from rising cases.
The England men's squad reaching their first final in a knock-out tournament since 1966 has already given people something to talk about other than Covid. Add in a spate of sunny weather (that's the forecast for later in July), as well as relaxed rules around travel, and the effect on spending could be even more pronounced.
Chatham House chair and former Goldman Sachs Group Inc. banker Jim O'Neill told Bloomberg TV that in the run up to Sunday's game the country would go "completely nuts." If England wins, that would carry on into next week.
And yet, he cautioned that if 1966 was anything to go by, any euphoria could be short-lived. A year after that historic victory, the U.K. government of Harold Wilson was forced to devalue the pound after its blueprint for kickstarting growth failed.
Amid the post-pandemic recovery, a similar economic disaster looks unlikely. But it does serve as a useful reminder: Celebrating a rip-roaring boom from the football frenzy is as risky as prematurely rejoicing about an England win.
This column does not necessarily reflect the opinion of the editorial board or Bloomberg LP and its owners.
Andrea Felsted is a Bloomberg Opinion columnist covering the consumer and retail industries. She previously worked at the Financial Times.