Vaccines Can Heal Europe's Lockdown Blues
(Bloomberg Opinion) -- Lockdown restrictions are sweeping Europe again. France's Emmanuel Macron is the latest leader to impose nationwide stay-at-home curbs, closing non-essential businesses, schools and daycare centers. A surge in Covid-19 infections has also forced neighboring Germany and Italy into Easter shutdowns, as vaccinations still aren't where they need to be to keep pace with new and more contagious virus variants.
These are undeniably grim times. A rough spring could lead to a lost economic summer, and scar tourism-reliant countries like Spain and Greece. Barclays doesn't expect the euro area's gross domestic product to return to pre-crisis levels before mid-2022. With the European Union's pandemic recovery fund mired in delays, and looming elections in Germany and France, the region's politics threaten to become more unpredictable and divisive when unity is needed.
Still, as long and dark as the Covid-19 tunnel may be, there's a hint of a light shining through: the continent's vaccine rollout. While Europe was recently dubbed "unacceptably slow" by the World Health Organization, it's about to pick up — and that's what matters.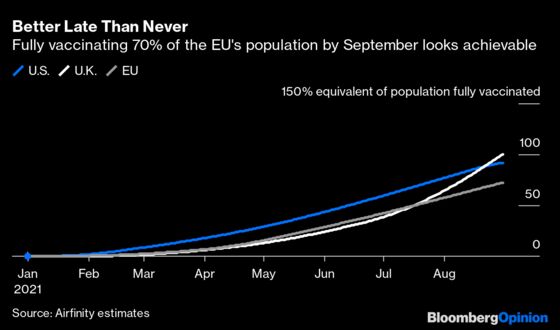 It's true the EU has had a dismal start, hit by supply problems, safety fears, vaccine nationalism and bad distribution planning. The bloc has only administered enough doses to cover an estimated 8.5% of its population so far. That's well behind the 26.7% seen in the U.K., where Prime Minister Boris Johnson's speed-first approach has led to a drop in Covid deaths and the first tentative steps out of its latest lockdown.
But lockdowns have a way of helping focus, and there will be no excuse for failing to get more needles in arms from now on. Four vaccines have been approved for use in the EU, with more under review. Manufacturing supply is ramping up. After a disappointing 107 million doses were delivered in the first three months of the year, total supply is set to jump to 360 million doses this quarter, according to the European Commission — if things go to plan.
As countries ramp up their daily jab rate and run down inventories faster, spurred on by political pressure, the EU's target of fully vaccinating 70% of its population by September looks achievable. Data compiled by life-sciences analytics firm Airfinity suggests that the bloc will have fully vaccinated two-thirds of its population by August, and 75% by September. That's around one month behind the U.K. and U.S., which isn't so bad after all.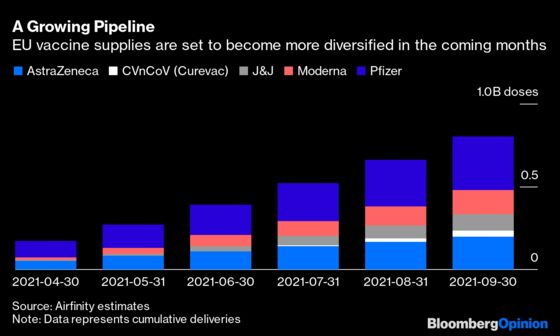 A lot still has to go right to meet these targets. The EU's rollout depends on reliable deliveries from in-demand manufacturers. It's especially dependent on Pfizer Inc., while Johnson & Johnson's one-shot offering, which recently ran into manufacturing issues with a batch of 15 million doses, will grow in importance during the summer. In the meantime, the bloc must address any lingering doubts about AstraZeneca Plc's shot and move past contentious allotment battles with the U.K. Letting these issues fester would slow things down.
As inoculation campaigns gather pace, vaccine hesitancy may become an issue again. Health-care workers have been refusing inoculations in some cases, and resistance may rise as the age of those eligible falls, given the risk of developing a severe form of Covid-19 is very low among the under-50s. This will require some tough choices. Italy, for example, is looking to make vaccination mandatory for health workers.
Internal EU divisions are still raw. Infighting has held up attempts to help distribute extra vaccines to members lagging behind in their rollout after Austria and some other countries slammed the population-based mechanism as unfair.
Still, nightmarish surprises aside, the EU should be able to emulate the U.S.'s more ambitious approach to jabs, exemplified by President Joe Biden's doubling of his vaccine targets. Some members like Denmark are outperforming the bloc's average, with administered doses already equivalent to 20% of its population. That's partly the result of a centralized, digitized healthcare records, but also of a strategy of not holding back vaccine inventories to cover second doses.
Bringing in the military, as well as other volunteers, could also help. France, where Macron has pledged to give all adults access to a Covid shot by the end of the summer, has enlisted veterinary doctors as well as pharmacists to help in the vaccination drive.
With every lockdown imposed, fatigue and frustration rise and trust in politicians falls. The best way out of this crisis is via the sharp end of the vial. Belatedly, Europe's leaders are waking up to that fact — and as dismal as the coming weeks will be, that looks like light at the end of this seemingly endless tunnel.
This column does not necessarily reflect the opinion of the editorial board or Bloomberg LP and its owners.
Lionel Laurent is a Bloomberg Opinion columnist covering the European Union and France. He worked previously at Reuters and Forbes.