There's No Such Thing as Secure Energy
(Bloomberg Opinion) -- It's been said the best advertising utilities could do would be to cut off the power for an hour a day. What better way to demonstrate their indispensability?
Vladimir Putin doesn't run a utility — not directly, anyway — but the Russian president has been described as an "energy geek." What's more, he seems to get the spirit of that cut-em-off-and-keep-em-keen marketing. Gazprom PJSC's unusually low gas inventories across central Europe look rather conveniently timed (see this). And Putin has dangled the prospect of more gas if only *sigh* those Europeans would see sense and fast-track approval for Russia's new pipeline.
"Energy security" is back on the agenda in Europe, especially, but everywhere really as prices have shot up. One prominent narrative blames efforts to boost renewables causing us to neglect our trusty fossil fuel friends; energy transition perdition, if you will. The counter-narrative is that we haven't moved fast enough to get off these less-than-trusty fossil fuels.
Our energy system is undergoing epochal change, shifting away from mostly thermal, carbon-emitting sources to more electrified, zero-carbon technologies. The thermal system (which also includes zero-carbon nuclear power) is the one we all grew up with. Straight away, it should be obvious to anyone who witnessed such things as the 1970s, the Gulf War, California's energy crisis (pick any), the supercycle, the Fukushima Daiichi disaster, the ongoing Russia-Ukraine crisis and Texas' February freeze that, even absent epochal change, there is really no such thing as secure energy. There are just different degrees of security, usually hard won after a shock.
Fossil fuels are deemed secure largely because they're dispatachable, meaning you can use them 24/7. This sets them in contrast with solar and wind power, which depend on the time of day and weather. Fans in either camp, however, must grapple with the nuances blurred by that simplistic divide.
Fossil fuels are dispatachable provided you have them. And we have spent, and continue to spend, an inordinate amount of effort — economic, political and military — on having them.
For example, the gasoline you pump arrives via a long system of trucks, pipelines, refineries, storage, tankers and distant rigs, all supported by massive spending, subsidies, infrastructure built up over a century and, often, the protection of the U.S. Navy. In the background stands a system of buffer stocks established after the 1973 oil crisis. Even with all this, it isn't failsafe: Remember the Colonial Pipeline hack? As a counterpoint, it is remarkable that such a complex, sprawling system is as reliable as it is. The point is that we work hard, and have invested in all sorts of redundancy and protection, to get here.
Moreover, tremendously useful as they are, fossil fuels carry a major, intrinsic flaw: Their emissions are the leading contributor to a gathering climate crisis. Within the existential threat this poses to society, there is the rising risk it poses to supply; for example, more than 40% of the world's refining capacity is at "high/very high" risk of destructive cyclones already. To answer today's price spike by throttling back on energy transition and boosting investment in fossil fuels is to ignore the overwhelming consensus of climate scientists and just chance it.
At the same time, the idea that renewables solve all this neatly doesn't hold up. The intermittency issue is obvious. Less obvious is that these types of energy, where the cost is virtually all capital rather than operating expenses, upend our existing energy markets, with knock-on effects to the fossil-fueled power backing them up (see California).
The very fact that we are in a transition, dependent on opposing systems, raises our risk; a collective innovator's dilemma, only without the option of disappearing and becoming a business school case study. And while there is a certain latency in the fossil-fuel system — it usually takes days for gasoline pumps to run dry — a more electrified energy system means more of it must balance in real time (that bold advertising strategy for utilities wouldn't actually be a winner in practice).
As local as renewable power is, it still relies on extended supply chains for critical minerals. If we end up using more hydrogen, energy trade will certainly shift but not disappear. Geopolitics isn't going away; if anything, the coincidence of energy transition with the U.S. stepping back from its postwar security guarantees tees up more shocks. If you want to understand how the world has already changed in that regard, this one chart should do it: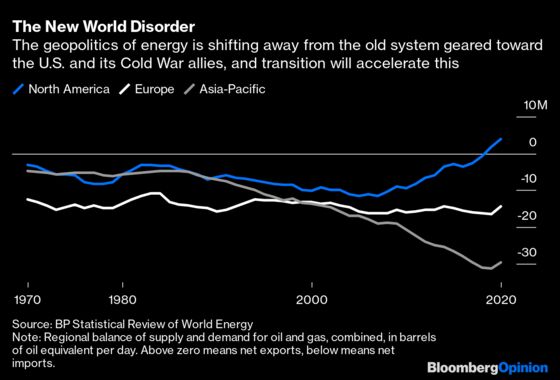 Coming back to the crisis du jour, Europe must reach a compromise with Putin over gas because its current energy system is configured in such a way that gives leverage to a ruler who is never shy of using it. Yet Putin's bitterness toward Europe's energy-market reforms stems precisely from the threat they pose over time to that leverage, even if they give him the upper hand at certain moments. To backtrack would be to simply buy conditional security from an untrustworthy supplier and lose out on another form of security. To reiterate, even that security will come with its own constraints. But as we have done before, we can innovate and invest to mitigate them.
As Nikos Tsafos of the Center for Strategic and International Studies summed up on a recent webinar:
We should really let go of this notion that … the old world was secure, because it wasn't and we worked very hard to make it as secure as we can … but we also should let go of this idea that somehow we are going to this wonderful destination where everything's going to be fantastic and safe and not volatile.
Making the transition addresses an all-encompassing threat. Responding to disruption by abandoning that priority would be to revert to a narrow, incomplete form of security. Familiar, yes, but equivalent to an energy Maginot Line. 
World Energy Outlook 2021, International Energy Agency, p. 267.
This column does not necessarily reflect the opinion of the editorial board or Bloomberg LP and its owners.
Liam Denning is a Bloomberg Opinion columnist covering energy, mining and commodities. He previously was editor of the Wall Street Journal's Heard on the Street column and wrote for the Financial Times' Lex column. He was also an investment banker.