Planning to Buy Emirates Shares? Don't Expect Them to Soar
(Bloomberg Opinion) -- For airline investors, one of the world's biggest double-decker jumbo jets is about to emerge from its hangar.
That would be a revolution as dramatic as the 2019 initial public offering of Saudi Arabian Oil Co. was for energy investors. By revenue, Emirates would rank ahead of any airline outside Europe and the U.S. as a top-10 global carrier. The $5.5 billion in net assets on its balance sheet is worth nearly as much as all the shareholder equity in the six biggest full-service airlines in the U.S. and Europe, plus Southwest Airlines Co. — put together. On typical airline multiples, even Emirates' $25 billion in net debts should leave it as a $10 billion company when operating in normal times.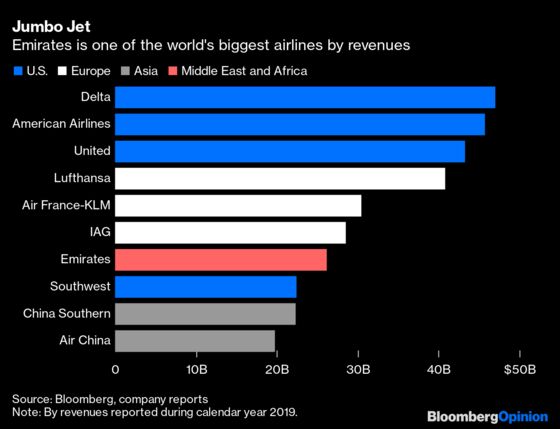 It doesn't mean investors should be falling over themselves to own the stock. Emirates wasn't set up to turn a profit, but as a vital piece of national infrastructure. It was meant as a way for Dubai to help transform itself from the oil-poor cousin of its neighboring emirate, Abu Dhabi, into a global entrepot of trade and finance. The model imitated Singapore and Hong Kong, cities also nearly synonymous with their flag carriers Singapore Airlines Ltd. and Cathay Pacific Airways Ltd.
In that, Emirates has been fantastically successful. Unburdened by rivals' legacy aircraft and working practices and operating largely tax-free, Emirates was able to use a geographic position uniquely close to the world's economic center of gravity to offer an unparalleled array of connections at prices and comfort levels other airlines struggled to match.
That's not been the only location benefit. The claims a few years ago by U.S. airlines that Gulf carriers were the recipients of massive state subsidies were mostly thin, tendentious or both. Even so, one place where they were on the money was that the sole shareholder — Dubai's royal family, synonymous with the state itself — has put up with returns that public stock markets wouldn't tolerate.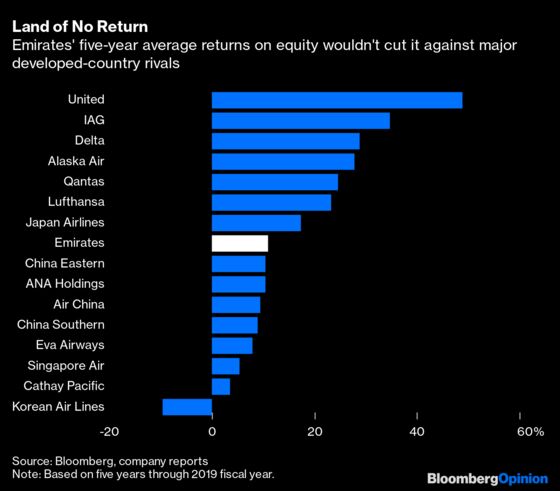 Average returns on equity over the five years through March 2019 came to 11.02%, well below what's considered acceptable in Europe and North America. Circumspect shareholders would do better to put their money into dnata, Emirates' ground-handling and in-flight catering sister-business that turns better profits on a vastly smaller capital base, should it ever be put to market.
Dubai is understandably hungry to transform its somnolent stock exchange into something with a bit more pep, especially as proliferating net-zero climate targets focus minds on creating economies for the Gulf states that don't need rivers of oil to function.
Bid-ask spreads on Emirates NBD Bank PJSC, the (unrelated) lender that's the largest constituent of the local Dubai Financial Market General Index, come to about 40 basis points on the sale price. That indicates a deeply illiquid market in which buying and selling activity is subdued at best, when compared to the single-basis point spreads typical of the major stocks on developed-world exchanges.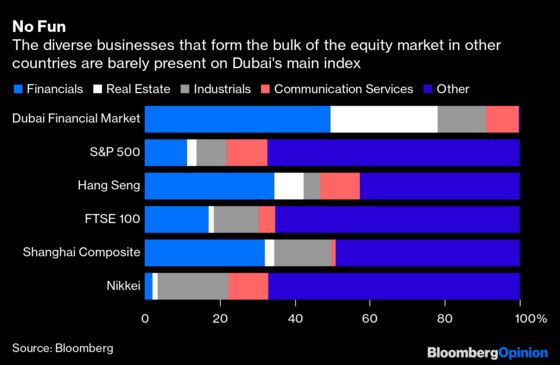 Public equity markets function best when lodged at the heart of an economy with ample opportunities for private innovation and growth and plentiful savings seeking investment returns. That's not the case with the United Arab Emirates. The nation suffers from a pronounced case of Dutch disease, with non-oil export sectors struggling to compete with an exchange rate fixed at a high level by external demand for crude.
On top of that, much of the savings that would normally be invested in a domestic stock market are, in the UAE, sent to the home countries of the largely South Asian migrants who make up nearly 90% of the population. Outward remittance flows of $43 billion last year were the second-largest after those from the U.S., and amounted to about 12% of gross domestic product.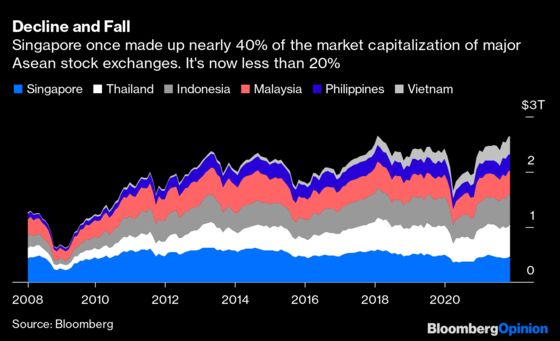 That suggests history will repeat itself. Just as Emirates learned from Singapore Airlines in using a carrier to turn a regional entrepot into a global hub, so Dubai's stock exchange is likely to follow the dwindling fate of Singapore Exchange Ltd. That equity market has turned into little better than a sleepy honor roll for the most distinguished homegrown businesses, dominated by state-owned investor Temasek Holdings Pte. and regional tycoons. Once-neglected stock markets in the likes of Thailand, Indonesia and even Vietnam are nipping at its heels, and overtaking.
Dubai has no shortage of money. The operational excellence of its aviation industry demonstrates that its migrant population doesn't lack for innovation, imagination and grit, either. The mixture of economic complexity and broadly-held wealth needed to turn those qualities into a vibrant stock market continues to be lacking, however. Clearing an Emirates listing for takeoff won't change that.
This column does not necessarily reflect the opinion of the editorial board or Bloomberg LP and its owners.
David Fickling is a Bloomberg Opinion columnist covering commodities, as well as industrial and consumer companies. He has been a reporter for Bloomberg News, Dow Jones, the Wall Street Journal, the Financial Times and the Guardian.