Emerson Electric Makes Opening Move in a Wider Overhaul
(Bloomberg Opinion) -- It took at least five years for Emerson Electric Co. to decide on the right candidate to replace longtime Chief Executive Officer Dave Farr. It has taken his successor, Lal Karsanbhai, less than one to put into motion what could be the biggest shake-up in the company's 131-year history. 
Karsanbhai started applying to become Emerson's next CEO in 2016, but he didn't officially assume control of the $59 billion maker of automation equipment, air-conditioner controls and InSinkErator garbage disposals until February. Karsanbhai hasn't been shy about his desire to drag Emerson's crusty culture into modern times and to rethink its sprawling mix of businesses. But analysts were expecting more talk than action this year. Karsanbhai appears to be wasting no time: Emerson is exploring a combination of its software assets with Aspen Technology Inc., people with knowledge of the matter told Bloomberg News. Investors welcomed the news, lifting the stock more than 3% in early trading on Thursday.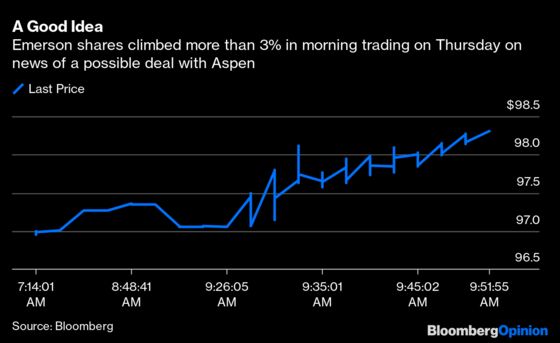 Aspen makes software that helps companies in capital-intensive industries such as energy, chemicals, manufacturing and mining manage their plants more efficiently and coordinate their supply chains. It's set to generate more than $700 million of sales in the current fiscal year, which compares with the $1.1 billion of stand-alone software services that Emerson has identified in its own business. The deal would reportedly echo the structure pioneered by European industrial giant Schneider Electric SE and software maker Aveva Group Plc: Emerson would own the majority of the potential combined Aspen entity, but that company would continue to operate separately with publicly traded shares that could be used as currency for future software takeovers. Barclays Plc analyst Julian Mitchell estimates a combined market value of about $20 billion based on the companies' respective revenues.
Emerson has some experience with the value this kind of setup can provide, albeit from the other side of the equation. The company was reportedly in the running to buy data-management company OSIsoft last year, but Aveva and Schneider walked away with the $5 billion takeover prize. Emerson simply couldn't compete with the formidable combination of Aveva's own richly valued stock and the heft of Schneider's balance sheet. "For us to do that kind of deal consistently — to do the string-of-pearls effect — it's going to be difficult without that kind of structure," Karsanbhai said in an interview in July. "We have to think creatively." 
Combining with Aspen would help Emerson get more credit for its existing software assets and give that business a better opportunity to flourish and grow. But perhaps the most interesting aspect of this tie-up is the potential knock-on effects for the rest of the company's industrial businesses. Emerson's stand-alone software business represents just 6% of its total revenue. The company has also highlighted $1.3 billion of software that's embedded within its equipment, but it still makes the vast majority of its money selling heavy-duty machinery and industrial hardware. Carving out the software business doesn't do much to reduce the percentage of the company's revenue that's tied to the out-of-favor oil and gas industry. It's hard to think investors would be particularly excited about owning this leftover business. 
Viewed through that lens, any deal for Emerson's software business may be only the first chess move in a broader plan to reimagine what the company should look like. In the July interview, Karsanbhai talked about exploring portfolio changes that would "give us a minus with a plus," meaning he wanted to find a way to both subtract and add assets. Analysts and investors have long questioned whether Emerson's automation equipment business needs to be under the same roof as its grab-bag of climate, tools and home products. Activist shareholder D.E. Shaw & Co. pushed for a breakup in 2019 but backed off after getting one of its preferred candidates on Emerson's board.
There are a number of ways to go about splitting the company: Emerson could spin off or sell its commercial unit, but it could also re-engage with Rockwell Automation Inc. about a possible combination of their industrial plant equipment businesses. Either way, should a deal with Aspen come to fruition, it's unlikely to be the last step in Karsanbhai's overhaul of Emerson. 
This column does not necessarily reflect the opinion of the editorial board or Bloomberg LP and its owners.
Brooke Sutherland is a Bloomberg Opinion columnist covering deals and industrial companies. She previously wrote an M&A column for Bloomberg News.