Is This $50 Billion Giant Next to Break Up?
(Bloomberg Opinion) -- One of the longest-serving U.S. manufacturing CEOs is stepping down. That may open the door to a breakup. 
Emerson Electric Co., a $50 billion maker of factory equipment and processing tools including valves, controls and measurement systems for energy companies and other industries, announced on Monday that Chief Executive Officer Dave Farr was retiring at the end of this week after more than 20 years at the helm. Apart from FedEx Corp. founder Fred Smith and Heico Corp. CEO Laurans Mendelson, a large shareholder who took the reins at the aerospace-parts maker in 1990 after a proxy fight, no current leader of a top manufacturing company has served longer.
Farr, 66, was first named CEO in October 2000 — less than a year before the Sept. 11 terrorist attacks, about a decade before the financial crisis and at a time when global pandemics were the stuff of history or horror movies, not a top-of-mind corporate concern. What's even more remarkable than his decades-long stint is that Farr was able to exit in his own time and on his own terms. CEOs just don't stick around as long as they used to, particularly those that run industrial conglomerates. He will remain as chairman until May 4.
The succession planning at Emerson has been in the works for five years, with the board ultimately landing on Lal Karsanbhai as the next CEO. Karsanbhai has worked at Emerson for 26 years and is the head of the company's automation equipment unit, its largest business. This was the expected choice. When another longtime executive, Bob Sharp, stepped down last year as the head of Emerson's commercial unit, analysts speculated that his departure might be linked to not becoming CEO. The commercial unit is a grab-bag business that includes InSinkErator garbage disposals, parts for air-conditioners and grocery-store refrigerators as well as vacuums and thermostats.
Farr's leadership style occasionally felt like a relic from a different era. He merged his own personality with Emerson's corporate identity, even going so far as to put a photograph of his dogs in an earnings presentation. He frequently teased analysts on earnings calls, usually in a jovial manner — sometimes not. At an infamous 2013 presentation, he denied that Emerson was a "one-trick pony" and vowed, "if I see that in writing one more goddamn time, I'm going to tear them apart." Farr was also a stickler for showing up in person. He stubbornly held out on webcasting his presentation at the Electrical Products Group conference, an annual confab for the industrial sector, saying that "the people who work to get down there, I think that's the benefit of being there." In a series of interviews with the Wall Street Journal last year, Farr lamented empty parking lots during the pandemic as employees worked from home, at one point grousing that he should call Cigna Corp.'s CEO and ask whether he had closed the Express Scripts office near Emerson's St. Louis-area headquarters.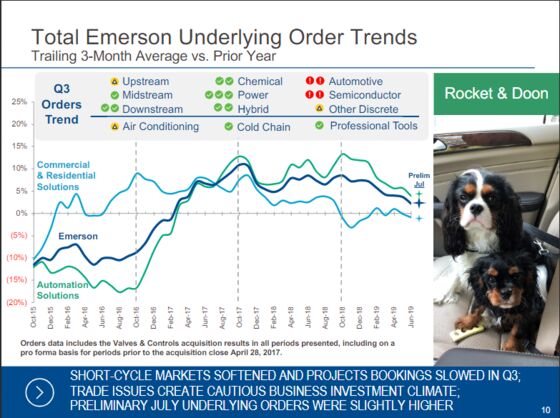 Farr has had his challenges. He spent billions of dollars cobbling together a network power business in a bet that an increasingly technology-driven world would drive an explosion in data centers but ultimately had to take a significant writedown on a key acquisition and a concurrent hit to his bonus. The business was sold to private equity and then merged with a special purpose acquisition company backed by Farr's onetime rival, former Honeywell International Inc. CEO Dave Cote. Now called Vertiv Holdings Co., shares of the company have climbed more than 60% in the past year as the pandemic drives a surge in data traffic and computing needs, suggesting either Farr's timing, management skills or both were off.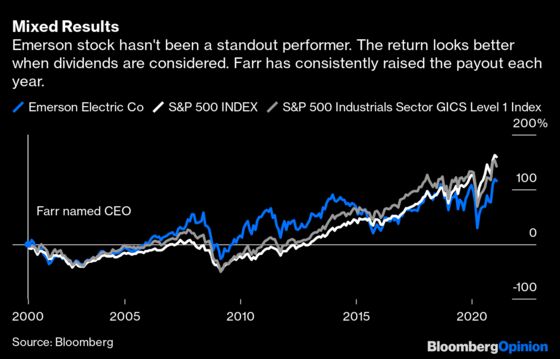 Farr also pursued a dizzyingly expensive $28 billion takeover of Rockwell Automation Inc. in 2017 that left some shareholders aghast; he ultimately walked away and Emerson settled instead for a series of smaller (but smarter) acquisitions of automation equipment and software companies. In 2019, Emerson attracted the attention of activist investor D.E. Shaw, which blasted its fleet of eight corporate jets (plus a helicopter) and called for cost cuts, governance improvements and a breakup of the automation and climate businesses. Emerson managed to appease the activist with just a cost-cutting plan and some tweaks to its board. It ultimately rebuffed the breakup idea last February, saying it would instead pursue $4 billion of M&A over the next few years and only split itself up if there's a "major strategic acquisition catalyst" for doing so. 
That decision proved the right one for the pandemic moment. While demand for automation equipment remains weak in many of the industries Emerson serves, air-conditioners, ventilation systems and refrigerators have been a Covid bright spot. Underlying orders for the automation business were down 14% in the three months through November, compared with a 14% increase for Emerson's commercial unit. Emerson is due to report its fiscal first-quarter results on Tuesday.
There are still some benefits to the conglomerate model, particularly in periods of crisis. But over the long term, it doesn't make a ton of sense to bundle InSinkErators and thermostats with heavy-duty equipment that controls the flow of chemicals or oil. And in some ways, the diverging performance during the pandemic helps to make breakup advocates' point: These are much different businesses with much different growth profiles and capital requirements. And now they have a different CEO who perhaps has a different perspective.  
This column does not necessarily reflect the opinion of the editorial board or Bloomberg LP and its owners.
Brooke Sutherland is a Bloomberg Opinion columnist covering deals and industrial companies. She previously wrote an M&A column for Bloomberg News.