Eli Lilly's Big Picture Justifies Its Lofty Valuation
(Bloomberg Opinion) -- Eli Lilly & Co. has been a darling of pharma investors, as evidenced by the stock's large premium to its peer group. But their fondness has been based more on promise than real-world delivery. 
The drug giant's third-quarter earnings report Tuesday drove that home. Lilly wouldn't have met sales expectations without a decent performance from some of its older medicines — something that can't be counted on in future — and the company's shares fell more than 4 percent in early trading as a result. 
But pulling back to take a broader view, there's a lot to like. The long-awaited IPO of animal-health unit Elanco in September supplied an infusion of cash and should improve the growth outlook for Lilly's core remaining businesses. And key trial results for diabetes medicine Trulicity released Monday add needed security for a major growth-driver. In short, challenges remain, but Lilly looks poised to more consistently deliver on the promise baked into its rather hefty valuation.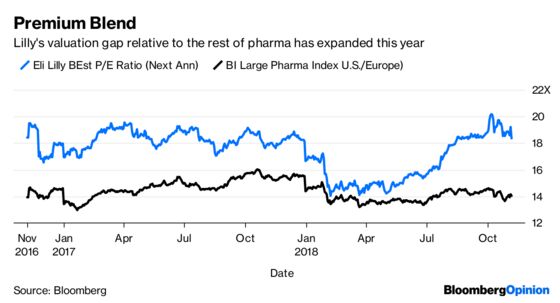 The impact of the Trulicity trial is difficult to overstate. If the medicine had failed to show a heart-disease benefit, it would have had an exceedingly difficult time meeting future sales estimates for the drug approaching $5 billion, and its revenue projections in general would have been in serious peril. 
Trulicity will still face a tough pricing environment and competition from drugs made by Novo Nordisk A/S, but Monday's robust results in a tough-to-treat population may even add modest upside to current expectations. The drug didn't exactly drive results this quarter. But the benefits of the study should boost Lilly for years.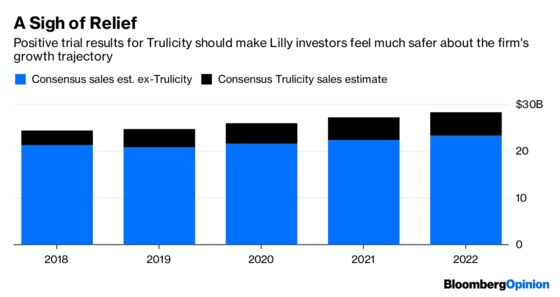 Trulicity can't bear the growth load alone as sales of other significant medicines begin to erode. The firm also will count on newer drugs like Taltz for psoriasis, breast-cancer drug Verzenio, arthritis medicine Olumiant, and migraine treatment Emgality. While these medicines are in crowded disease areas — several have multiple direct competitors — and Olumiant's use in particular has been restricted in the U.S., at least Lilly has a diverse offering of new medicines in big markets. And much of its growth is being generated by sales volume rather than price. That isn't something all of its competitors can say. 
Lilly's R&D projects offer both risk and upside. Lilly has a promising non-opioid painkiller, but safety remains a concern. It also released tantalizing data earlier this year for a next-generation diabetes drug. 
Beyond its own research efforts, Lilly seems willing to spend to further bolster its pipeline.The firm's $1.6 billion purchase of ARMO Biosciences was an interesting but prudent entry into the next-generation of immune-boosting cancer drugs, an area that remains wide open after a multitude of disappointing trial results. Lilly's CFO told Reuters Tuesday that the company is open to other similar deals. The proceeds from the Elanco IPO and Lilly's valuable stake in the firm ought to help. 
There may be a few more rocky quarters as newer medicines tussle with older ones for control of the Lilly narrative. But on the whole, the story is a good one. 
This column does not necessarily reflect the opinion of the editorial board or Bloomberg LP and its owners.
Max Nisen is a Bloomberg Opinion columnist covering biotech, pharma and health care. He previously wrote about management and corporate strategy for Quartz and Business Insider.