ECB's Lagarde Flubs Her Lines on Market Rates
(Bloomberg Opinion) -- "I hear, but I do not listen," was the 2001 response from the then-European Central Bank President Wim Duisenberg to a question about market pressure to cut interest rates. Fast forward two decades: Now the market is turning a deaf ear to current ECB chief Christine Lagarde's insistence that faster inflation will prove temporary and won't trigger higher borrowing costs.
Lagarde was explicitly asked Thursday whether traders are getting ahead of themselves by speculating on a rate increase by the end of next year. "Not for me to say," she replied. While not as damaging as her March 2020 off-the-cuff remark that "we are not here to close spreads," Lagarde's reluctance to push back did nothing to reverse the move that's seen rates on three-month euro contracts soar in the past month. If anything, she's added fuel to the fire.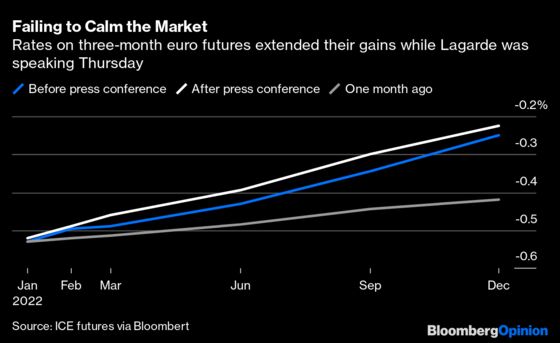 Traders and investors are growing increasingly skeptical that inflation will turn out to be as transitory as central bankers would have us believe, as surging energy prices and fractured supply chains fuel rising prices. Canada's central bank this week flagged its intention to shift to a restrictive policy stance, while sterling markets are anticipating higher rates from the Bank of England by the end of this year. The Federal Reserve is expected to begin tapering its quantitative easing program as early as next month. The ECB, Lagarde insisted, continues to anticipate price pressures will be more subdued by next year.
The risk is that the nascent euro zone economic recovery gets snuffed out as climbing market interest rates lead to tighter monetary conditions, defying the ECB's efforts to maintain a stimulative approach. Five-year Italian yields, for example, have surged in the past few weeks. While Lagarde was speaking during Thursday's press conference, they reached their highest level in more than a year.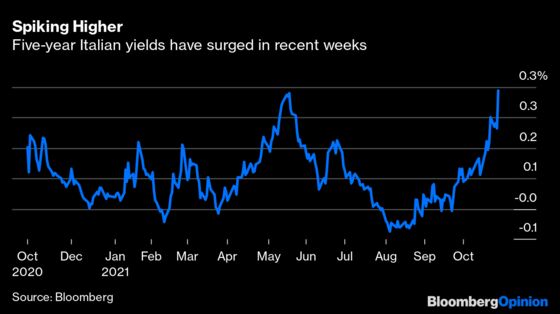 You can see why the market is coming round to the view that price pressures might turn out to be sticky. Figures on Thursday showed annual inflation in Germany, the bloc's biggest economy, accelerated to 4.6% this month, up from 4.1% in September and outpacing the consensus forecast. That came after an earlier release from Spain showing October consumer prices rose by 5.5%, their fastest pace in almost three decades and a full percentage point more than economists had anticipated.
And figures Friday are expected to show euro zone inflation accelerated to 3.7% this month, up from September's 3.4% rate and more than double the pace seen as recently as April.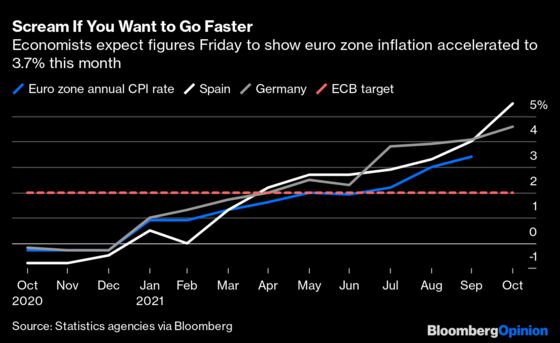 Those increases imperil the ECB's forecasts that consumer prices will rise by an average of 2.2% this year, with the rate of change declining to 1.7% in 2022 and 1.5% the year after.
The European Commission's monthly gauge of expectations shows consumers in the region are the most concerned they've been about rising prices since 1993. And in derivatives, traders have driven the five-year forward inflation swap rate relentlessly higher this year, with the key gauge of market expectations breezing past the ECB boundary in the past week.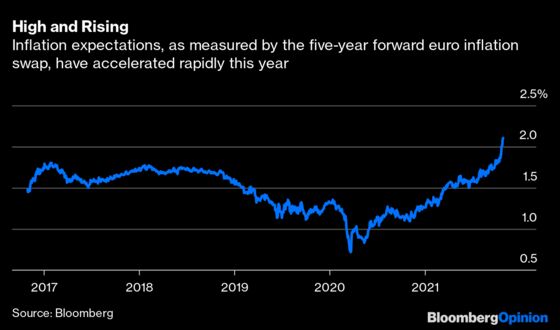 While finally getting inflation above its 2% target might be counted as a success for the ECB, the risk is that expectations become untethered, and consumers and markets start to anticipate ever-rising prices in excess of that threshold. Lagarde had the perfect opportunity to explicitly counteract the surge in market rates that endangers growth in the euro bloc; so much for forward guidance being a key part of central banking's toolkit. 
This column does not necessarily reflect the opinion of the editorial board or Bloomberg LP and its owners.
Mark Gilbert is a Bloomberg Opinion columnist covering asset management. He previously was the London bureau chief for Bloomberg News. He is also the author of "Complicit: How Greed and Collusion Made the Credit Crisis Unstoppable."