DraftKings Puts All Its Chips on a $25 Billion Bet for Entain
(Bloomberg Opinion) -- It wasn't hard to get DraftKings Inc. to raise. The U.S. gambling firm has proposed offering a thumping 16 billion pounds ($22 billion) for U.K. peer Entain Plc after its lower offer was snubbed. But the bidder's hand isn't as strong as it looks.
Online gambling is an ignominious British tech success story. U.K. betting firms have proved to be sought-after partners for U.S. companies racing to capitalize on American deregulation of sports betting. Entain — owner of the Ladbroke and Coral brands in the U.K. — was worth only 5 billion pounds this time last year. Since then, deals for domestic peer William Hill Plc among others, plus a failed attempt by MGM Resorts International to buy Entain in January, meant its share price had more than doubled before DraftKings made its approach.
The 28-pounds-a-share proposal is, at first glance, especially rich. It's 50% above Entain's three-month average share price, which itself was clearly inflated by takeover speculation. Add assumed year-end net debt and the all-in cost would be $25 billion, 17 times Entain's expected 2022 profit on the Ebitda measure. William Hill sold for 13 times. That looked high at the time — Entain's trading multiple was then around 8 to 9 times forecast Ebitda.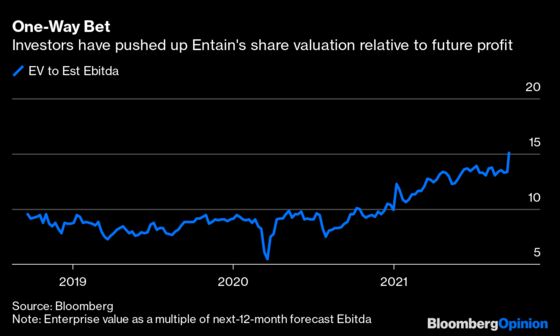 If DraftKings was paying entirely in cash, Entain shareholders would surely be biting its arm off. But although DraftKings has a market capitalization of $21 billion, it can scarcely afford to do that. It's still a young, loss-making business. Only around a fifth of the price would be paid in cash, and the rest in DraftKings's highly rated shares.
Can Entain shareholders be sure the value of such a deal would hold firm? DraftKings went public through a merger with a special purpose acquisition company in April last year, turbocharging SPACs in the process. The shares are volatile and investors are still struggling to value the business: Since mid-March, the stock price has gone from $72 to $41 to just over $60. News of its acquisition ambitions sent the stock down 7% to $52.77 on Tuesday, which would have dragged down the mooted offer price.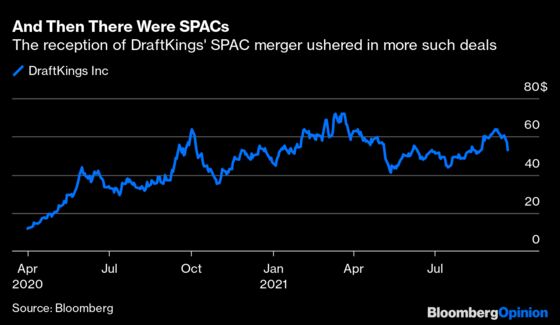 One issue is that not all of Entain's shareholders will be able to hold U.S. stock. The question for them, and for the Entain board, is what could they realistically liquidate DraftKings shares for if the deal went ahead?
And while DraftKings has net cash and Entain's debt is modest, the cash payment to Entain shareholders would appear to leave the combination highly leveraged.
DraftKings hasn't set out what financial gains it might make from a deal. One snag is that Entain is already partnered with MGM, which says it needs to consent to any transaction that effectively turns Entain into a competitor. MGM wants to take control of what is currently a 50:50 joint venture. In theory, Entain's technology could be carved up between the two to get a deal over the line. But that would reduce the benefits for DraftKings. And MGM may just prefer to bid again for Entain itself.
But aside from gaining Entain's technology platform, the logic is easy to see. In gambling, scale and financial resources provide an advantage for computing probabilities and complying with heightened regulation. Diversification spreads risk. Marketing heft helps attracts new punters and persuades existing gamblers to try other ways of losing money. The bigger firm is better positioned to assess the odds — and better at persuading lesser equipped mortals to punt. A win for shareholders, but no one else.
When a bidder rocks up, the board of its prey should first assess the fundamental value of their own business as the benchmark for a deal. Here, Entain's directors have an additional job too — asking what DraftKings and its stock is really worth.
This column does not necessarily reflect the opinion of the editorial board or Bloomberg LP and its owners.
Chris Hughes is a Bloomberg Opinion columnist covering deals. He previously worked for Reuters Breakingviews, as well as the Financial Times and the Independent newspaper.