Why London Should Be Watching Dr. Martens's IPO
(Bloomberg Opinion) -- 2021 is shaping up to be a hot year for London's stock market. 
There is a wave of potential initial public offerings being planned, many from companies that benefited from consumer behavior during the pandemic, such as online ordering services. But investors should proceed cautiously. Only some of the spending habits formed during lockdown will stick around. Add in buoyant stock markets, and there's a risk of a homebound consumer bubble.
Kicking things off was the U.K.'s THG Plc, owner of beauty, nutrition and top-end fashion websites. It came to market last September in a 4.5 billion-pound ($6.2 billion) IPO, and the investors that piled in have done well: Shares are up by 50% since their debut, as online shopping has continued to boom.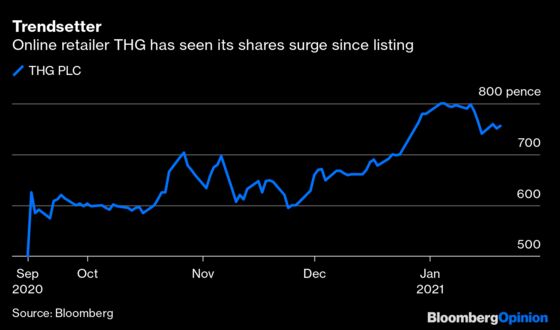 That trajectory is encouraging other beneficiaries of stay-at-home orders to go public.
One is Britain's Moonpig Group, an online greeting card and gift retailer. It's aiming to list for an equity valuation of 1.2 billion pounds. The rationale is clear enough: Cooped-up consumers have been sending more cards and gifts online. In the six months to Oct. 31, Moonpig generated 41.2 million pounds of Ebitda, an earnings measure — almost as much as it made in the entire previous financial year. It's betting this growth will continue.
But although some consumers may stick with Moonpig — after all, it uses data to predict their preferences — many will likely revert to cheaper brick-and-mortar options when the virus subsides. Card Factory Plc stores, for instance, are poised to benefit once high street retail reopens.
This raises questions over whether Moonpig can justify such a high valuation. A key issue is what it could make in its next financial year. Annualizing recent performance implies it can generate at least 80 million pounds of Ebitda this year. But if you factor in the risk of revenue going down as physical stores open, it might be more prudent to trim this to say 60 million pounds in the 12 months to April 2022.
Assuming an enterprise value of 1.4 billion pounds (this includes debt), the valuation would then be roughly 23 times expected 2022 Ebitda. That's cheaper than THG's multiple but ahead of some of Britain's most proficient online retailers, such as Next Plc, Asos Plc and Boohoo Group Plc. It looks ambitious given uncertainties over how fast Moonpig can grow and the risk of competition. 
Let's look at another example. Famous British boots maker Dr. Martens is also planning an IPO in Feb. that could value the brand's equity at more than 3 billion pounds ($4.1 billion). The move isn't surprising given how much online sales soared last year. Although many of its 130 stores had to close, e-commerce accounts for about 30% of sales. And unlike apparel sellers, it doesn't have a high rate of online returns, which boosts its margins. That may be one reason why Ebitda rose 30% in the six months to Sept. 30.
The company has had a fashion tailwind too: Its chunky boot has been one of the most sought-after shoe styles of the last couple of years, thanks to the grunge aesthetic of American singer Billie Eilish and the post-apocalyptic look that's swept the catwalks. No wonder private equity owner Permira is eyeing taking the shoe brand public at about 10 times what it paid in 2014.
But would it be worth that much? Assuming Dr. Martens can increase Ebitda by 20% this year, and 15% thereafter, profit on that measure could be about 255 million pounds in the year to March 2022. With an equity value of 3 billion pounds, and say, 300 million pounds of debt, that would make it trade at about 13 times Ebitda. This would put it on par with American denim maker Levi Strauss  & Co., which looks reasonable. But at the recently mooted 4 billion-pound equity valuation, it would also be in line with premium parka maker Canada Goose Holdings Inc., which seems harder to justify since Dr. Martens doesn't have the same luxury cachet.
It's worth noting that not all stay-at-home consumer trends have translated into share price gains. Coffee chain JDE Peet's NV listed in Amsterdam last May hoping to benefit from more people becoming their own baristas during the pandemic (some 80% of its sales come from homemade coffee). Its shares are currently only just hovering above the debut price.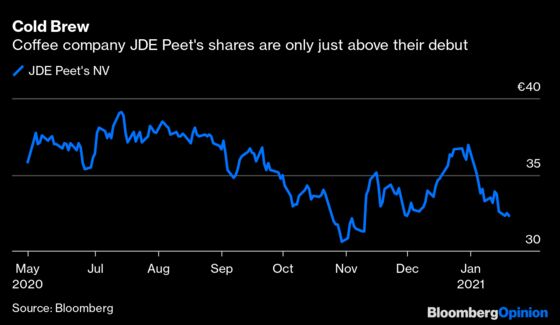 Still, Moonpig and Dr. Martens are clever to get ahead of other IPO hopefuls.
European veterinary care provider IVC Evidensia is also considering a 10 billion-pound IPO. This especially looks promising, as pet ownership will probably be one of the most enduring legacies of the lockdown. 
The lesson here is that although the pandemic has turned some of the U.K.'s perfectly fine private companies into superstars, not all will retain that status. Markets would be wise to keep this in mind.
This column does not necessarily reflect the opinion of the editorial board or Bloomberg LP and its owners.
Andrea Felsted is a Bloomberg Opinion columnist covering the consumer and retail industries. She previously worked at the Financial Times.