Don't Write Off Roku. It Can Be the Next Netflix.
(Bloomberg Opinion) -- What if there's another Albanian army?
It's hard not to notice that Roku Inc., the streaming-TV platform and device maker, bears a resemblance to Netflix Inc. in its earlier days, a time when some investors and rival companies were dismissive of Netflix's potential. In 2010, Jeff Bewkes, then-chief executive of Time Warner, famously made a dig at Netflix that would become Hollywood folklore: "It's a little bit like, is the Albanian army going to take over the world? I don't think so."
Barely six years later, Bewkes, heading for the exits, sold Time Warner to AT&T Inc. Now, AT&T itself is giving up on Operation: Beat Netflix and flipping the assets to Discovery Inc. Meanwhile, Netflix's valuation has risen 30-fold to about $300 billion.
Like Netflix, originally a DVD-mailing service, the Roku platform began as a non-threat by helping users discover Disney+, YouTube and other apps and content. Now it's using aspects of Netflix's playbook to evolve from friendly industry partner to direct competitor. Considering that it's up against Amazon.com Inc., Apple Inc., Comcast Corp. and Alphabet Inc.'s Google in smart TVs, as well as Discovery, ViacomCBS Inc. and Walt Disney Co. in programming, the $40 billion Roku looks like the new Albanian army. And it finds itself at a crossroads much like Netflix's fate-altering transition from DVDs to streaming giant.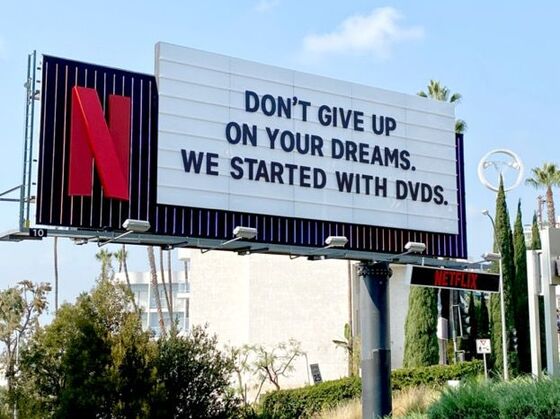 Roku is known for its media players and USB sticks that connect to the backs of TVs, although shoppers are increasingly buying sets with operating systems like Roku's built in. This technology propelled Roku to a whopping 52% share of connected-TV users — ahead of Amazon Fire TV and Apple TV. Like most businesses, though, Roku said Wednesday that supply-chain difficulties hurt its growth in the third quarter, dragging its shares down 6% Thursday.
The value is still in controlling these essential software platforms with large user bases that involve some sort of recurring revenue, including by acting as a tollway for partner apps, as Roku does, or offering advertising spots. Roku is a big beneficiary of the shift in ad dollars from cable to streaming. It sells promotional space on the home screen — last quarter, for example, plugging the "PAW Patrol" movie from ViacomCBS's Paramount+ app — and ad time on The Roku Channel, a free streaming destination. Free and partially ad-subsidized apps are quickly becoming popular: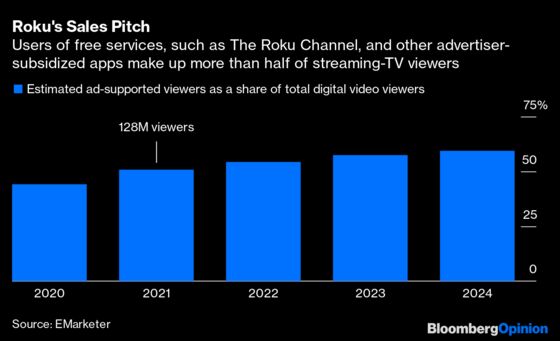 Still, much of Roku's growth has come from distribution, where tech giants are making a belated push. Amazon started manufacturing its own Alexa-equipped TVs, and Comcast introduced XClass TV to lure more cord-cutters back. Expected industry consolidation could also weaken Roku's negotiating power with programmers.
To make The Roku Channel a compelling reason to stick with the brand, Roku must step up its content game. So far, says Kannan Venkateshwar, a Barclays Plc analyst, tech giants "have shown a remarkable lack of vision when it comes to a coherent approach to" smart-home ecosystems, and this has aided Roku. But given its narrow focus on streaming video, Roku risks a fate like the old AOL dial-up service if it doesn't invest in "a whole new set of capabilities."
While it's not clear that Roku can transition successfully, it wasn't always clear that Netflix could, either. Acquiring Quibi's content on the cheap was a smart step, and one would think Roku CEO Anthony Wood is planning more such moves. It wasn't all that long ago that Netflix's content ambitions looked dubious, given the high cost and the dominance of borrowed works like "The Office" on the app. Then came "Squid Game," "You," "Ozark," "Cobra Kai" and so on. Now Netflix is set to generate free cash flow and just earned an investment-grade credit rating.
Like Netflix, Roku can use its simplicity to its advantage and remain an essential platform by providing three things others haven't: a streamlined entertainment home base, an affordable way to watch and structure bundles, and a new home for advertisers.
It's no mistake that every tech and media giant wants a piece of Roku's pie. If supply-chain and competitive pressures have investors writing off Roku, they're making the same mistake Bewkes did.
This column does not necessarily reflect the opinion of the editorial board or Bloomberg LP and its owners.
Tara Lachapelle is a Bloomberg Opinion columnist covering the business of entertainment and telecommunications, as well as broader deals. She previously wrote an M&A column for Bloomberg News.