There's No One to Deliver the Pizzas
(Bloomberg Opinion) -- There's no one to deliver the pizzas.
Shares of Domino's Pizza Inc. initially fell Thursday morning after the largest pizza company in the world posted its first decline in U.S. same-store sales in more than a decade. These results came as a shock to analysts and investors, who were expecting continued growth while the pandemic supercharges demand for takeout and delivery meals. But demand may not be the problem. Rather, a dearth of delivery drivers — amid a national shortage of workers — could be what's eating into Domino's sales. (Shares later reversed course and erased their decline.)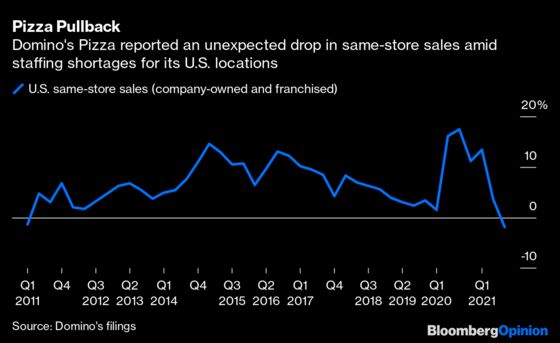 As of August, there were still 10.4 million unfilled jobs across the U.S., compared with a record high of 11.1 million in July, according to the latest Labor Department figures released Tuesday. In mid-July, Domino's also began taking much longer to get its orders out to customers. National average delivery times "abruptly and surprisingly spiked 30%" and haven't improved since then, James Rutherford, an analyst for Stephens Inc., wrote in a note to clients soon before the pizza chain released third-quarter results. He's convinced that a driver shortage is to blame for these longer waits because carryout times at Domino's restaurants didn't experience a similar surge, according to data he scraped from the Domino's website.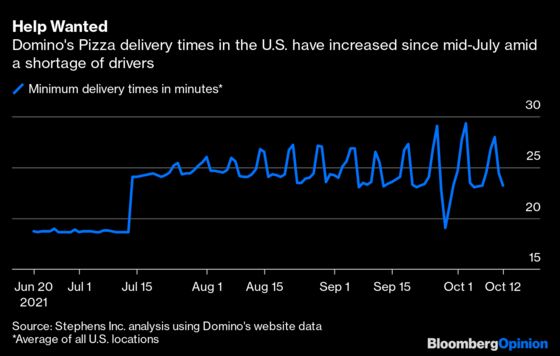 It just so happens that mid-July marked the first of the monthly payments for the expanded child tax credit, a form of Covid-19 relief money that provides eligible families $300 for each child younger than 6 and $250 for older children. Rutherford suspects that with the child tax credit, some part-time Domino's drivers are working fewer hours. That said, there's a debate over how much pandemic relief funds are contributing to employers' hiring struggles. Relocations, a shift in which industries are in most demand and workers being pickier about pay and conditions are all likely factors. Whether a salaried office worker or an hourly employee, Americans have been reassessing their work lives ever since the Covid-induced lockdowns last year.
On Thursday's earnings call, Domino's Chief Executive Officer Richard Allison confirmed that staffing issues had a more pronounced impact on results and delivery times in the third quarter and said that the company had responded by introducing an improved system for applicants and onboardings as well as raising wages at company-owned stores. Still, staffing "may remain a significant challenge in the near term as the labor market continues to evolve," Allison said, citing difficulty in obtaining child care and lower immigration as contributing factors. He added that while staffing difficulties affect restaurants and their suppliers more broadly, delivery drivers remain the biggest need. When stores don't have enough drivers and pizza makers, they scale back operating hours, which cuts into orders.
Labor shortages are just one component of the economic abnormalities afflicting corporate earnings this season. Companies are also grappling with shortages of raw materials and cargo-ship space, and corresponding higher prices. Increased commodity and labor costs may be especially painful for smaller regional and independent restaurant chains, Allison said. 
As for Domino's, it takes a 36% share of consumer spending on pizza delivery in the U.S. Clearly, the company needs its drivers. Drivers, name your price. 
This column does not necessarily reflect the opinion of the editorial board or Bloomberg LP and its owners.
Tara Lachapelle is a Bloomberg Opinion columnist covering the business of entertainment and telecommunications, as well as broader deals. She previously wrote an M&A column for Bloomberg News.