Disney Is Helped and Hurt by Reopening
(Bloomberg Opinion) -- The good news for Walt Disney Co. is that the U.S. is reopening. The bad news for Walt Disney Co. is that the U.S. is reopening. 
Hours before Disney released its earnings report Thursday, the Centers for Disease Control and Prevention delivered the extraordinary news that fully vaccinated people no longer need to wear masks indoors in most settings. Vaccines are making it safe to do things again, which for Disney investors should be a moment to celebrate. Disney CEO Bob Chapek called it "very big news for us."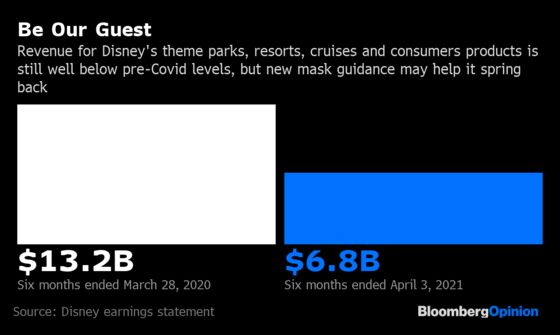 It means more visitors may be comfortable traveling to its theme parks, venturing out to movie theaters to watch new releases like Marvel's "Black Widow" in July and maybe even boarding Disney cruise ships again once sailings resume. This will restore some of the biggest profit centers of the storied conglomerate and, more symbolically, bring back the places where fans of all things Disney gather to be enchanted. Already, executives said bookings for Disney World in Orlando, Florida, are back at fiscal 2019 levels, while guest spending per capita at the park in the latest period jumped double digits from a year ago.
Alas, investors weren't so enchanted with Thursday's results. Once again, streaming overshadowed everything, but this time in a bad way. Disney+, the company's 18-month-old subscription-video service, had 103.6 million subscribers as of April 3, well short of the 110 million expected by the average analyst. That means it signed up less than 9 million new customers during the period, as consumers began to resume socializing and activities outside the home. It still added twice as many new users as Netflix Inc. did, but Disney+ was expected to post more impressive growth numbers given how new it is. (For context, Netflix has more than 200 million subscribers globally.) Shares of Disney responded by dropping 4% in after-hours trading to their lowest price since February.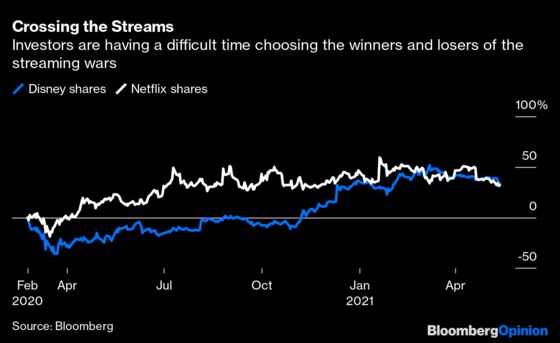 As I warned in March, the Covid-19 economic recovery could cause streaming apps to experience a slowdown in subscriber growth. Some people might just cancel services they aren't using as often once they are vaccinated and able to get out more. Still, I had thought Netflix and Disney+ — the two leading streamming brands — would be the least vulnerable to this phenomenon. What may be adding to pressure on Disney's numbers are its latest price increases and the end of a promotion that gave some Verizon Communications Inc. customers free access to Disney+ for one year. 
It also may have to do with what I've said is a clear weakness for Disney+ relative to Netflix: the narrow scope of its programming. Disney resolved this internationally by launching Star as a general-entertainment component of Disney+. But in the U.S., its offering remains convoluted, with Hulu a separate service. While there is a bundled plan for $14 a month, consider the steps required just to sign up for it: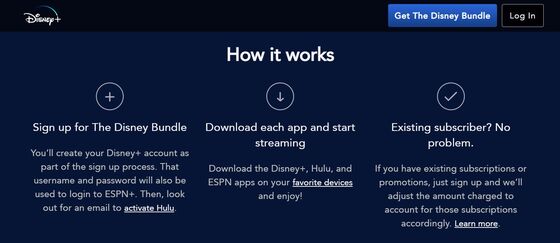 Hulu also has an advertising-supported plan, while Disney+ has no ads. (Addressable advertising "continues to be a real upside, and there's real demand for that," Disney Chief Financial Officer Christine McCarthy said on Thursday's earnings call, perhaps an indication the company may further embrace streaming ads.) In any case, it's high time that Disney streamline its streaming products because, as Netflix executives correctly state, Netflix's biggest competitive advantage is its simplicity. To fully integrate Hulu into Disney+, the company may need to speed up its plans to buy out Comcast Corp.'s remaining stake in Hulu. But better to do that sooner than later because that deal is getting pricier by the day. ms
As Disney raises the capacity limits at its parks and demand picks up, shareholders won't be able to ignore the profits generated by that side of the company. Remember, net income was down 99% in the final three months of 2020; it was up 95% in the latest period and still has a long way to go to get back to normal. But Disney executives spun a magical tale last year of a streaming castle rising victoriously, and investors liked the story so much that they were willing to look past the damage the pandemic was inflicting on the company's actual profit-making businesses. Maybe Disney did too good of a job because now investors seem stuck on the streaming narrative. It's going to be hard to move the stock on anything short of that happy ending. 
This column does not necessarily reflect the opinion of the editorial board or Bloomberg LP and its owners.
Tara Lachapelle is a Bloomberg Opinion columnist covering the business of entertainment and telecommunications, as well as broader deals. She previously wrote an M&A column for Bloomberg News.