Disney's Star Wars 'Experience' Taps Into America's Rich
(Bloomberg Opinion) -- The delta variant of the coronavirus might be delaying vacations for some Americans, but Walt Disney Co. has given Star Wars fans something to look forward to: a peep into plans for its new galactic-themed luxury hotel – along with the hefty price tag. Scheduled to open in 2022, Star Wars: Galactic Starcruiser will take two adults on a two-day "space voyage" for about $5,000.
That will be sticker shock for most, but Disney knows what it's doing. Robust household balance sheets turbo-charged by gains from the past year should sustain a new era of high-end consumption that will help power the economy through the next decade.
To get a sense of people's capacity to pay for luxury goods and experiences, consider aggregate household net worth divided by the number of U.S. households. To be sure, inequality has increased over the past few decades, so the average underscores how much better those at the top are doing. But when it comes to luxury spending, that's kind of the point.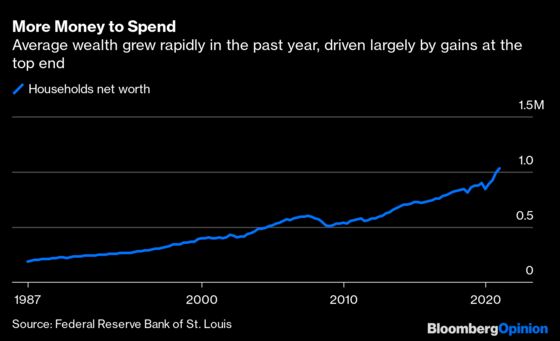 What it shows is that over the past 30 years, the net worth of the average American household has increased to $1.028 million from $232,000. That's in nominal dollars and the value of the dollar has fallen by 50% since 1991, according to Consumer Price Inflation data. Even so, the math suggests the net worth of the average American household has increased by around 120% in real terms over that time period, with those at the top doing even better.
But while household wealth is at all-time highs in real terms and has been since the mid-2010's, businesses have arguably lagged behind in offering higher-end products and services to cater to these affluent households. High-end electric cars like the Tesla Model S have their fans, and a company like Yeti Holdings Inc. has built a growing business on expensive coolers, but we haven't seen the same explosion in ways for rich people to spend their money as we have at other times in the past.
One such period that might provide a roadmap for the next several years was the early-to-mid 1990's, when midlife members of the Baby Boomer generation finally had the wealth and the desire to ratchet up their spending. The start of the era – or at least a hint of things to come -- might have been the opening of the Mirage on the Las Vegas Strip in November 1989, which was the first new resort built there in 16 years.
More quickly followed. Excalibur opened the following year, and in 1993 Luxor, Treasure Island, and MGM Grand all opened. A new era in Las Vegas was underway.
Pro sports stadiums began their own cycle of upscaling around the same time. The Chicago White Sox have the unfortunate distinction of being the last Major League Baseball team to debut an "old-era" stadium with  Comiskey Park in April 1991. The following year, the Baltimore Orioles opened Oriole Park at Camden Yards, a retro-style luxury venue that launched a generation of teams following suit.
Pro sports teams found a new way to fund these lavish new stadiums when the Carolina Panthers raised almost $100 million by selling personal seat licenses to fans when they were awarded a National Football League franchise in 1993. In order to secure season tickets, fans would spend thousands or tens of thousands of dollars to purchase transferable rights to specific seats in a stadium. The innovation may have priced out working class fans but it became a new funding source for ownership groups to pay for new franchises and stadiums.
That era also gave us megaplex movie theaters with stadium seating and plush seats. Films like Terminator 2: Judgment Day and Jurassic Park pushed the envelope for Hollywood blockbusters with cutting-edge special effects and expensive marketing campaigns, but existing movie theaters didn't have the technology or comfortable seating to match. The modern age of tentpole franchise blockbusters -- and $20 movie tickets to match -- wouldn't have been possible without the theater investments made during the 1990's.
When economic analysts talk about the downsides of high income and wealth inequality, one of the factors they raise is that rich people don't spend as much of their income as working-class people. That's true, but a corollary is that rich people have plenty of untapped wealth to spend if novel, high-priced products and services come along. Upcoming experiences like a $5,000 Star Wars adventure or a $450,000 off-planet trip aboard a real spacecraft provide new ways for rich people to spend their money.
It also provides ways for companies to deal with rising costs for labor and commodities. Presumably Disney will be able to pay more than $15 an hour to staff at its Star Wars venue if it needs to.
These types of mega-luxury experiences aren't for everyone, but don't be surprised if we look back on this Star Wars hotel as the beginning of a new generation of luxury experiential travel.
This column does not necessarily reflect the opinion of the editorial board or Bloomberg LP and its owners.
Conor Sen is a Bloomberg Opinion columnist and the founder of Peachtree Creek Investments. He's been a contributor to the Atlantic and Business Insider and resides in Atlanta.