Disney+ Celebration Gets a Damper Before It Even Starts
(Bloomberg Opinion) -- Walt Disney Co. is trying to throw a party Friday, and everyone is invited. But it's shaping up to be a tad awkward because some of the VIP guests — the company's shareholders — aren't in a celebratory mood.
Nov. 12 is what Disney is calling Disney+ Day, the two-year anniversary of its streaming TV app and a companywide celebration of the entertainment giant's momentous transformation into Netflix Inc.'s most formidable rival. To mark the occasion, it's temporarily offering new and former Disney+ customers a one-month subscription for just $1.99, a $6 discount to the regular price.
Except this generous promotion arrives alongside some pretty disappointing subscriber numbers, which the company reported as part of its fiscal fourth-quarter earnings on Wednesday. It has investors worried that Disney is running into growth challenges sooner than expected and already having to turn to discounts to stoke sign-ups. If the earnings report was the pre-party for Disney+ Day, they've come bearing no gifts: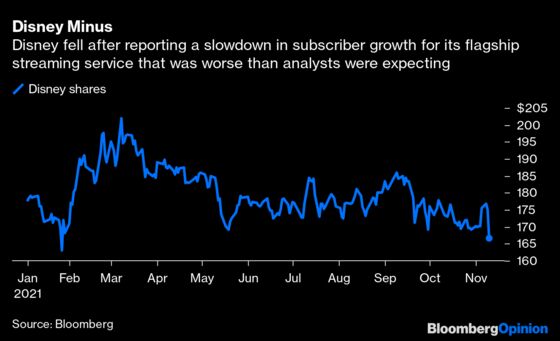 The stock price dropped after Disney said its namesake app added just 2.1 million subscribers — half as many as Netflix drew last quarter. That brings the Disney+ total to 118.1 million — compared with analysts' estimates for 119.6 million — still almost 100 million behind the streaming incumbent. 
Investors tend to be overly focused on how many users these streaming apps are adding every three months and lose sight of the bigger picture. Overall, things are looking up at Disney after what was a difficult year for the business. All of its theme parks have reopened and cruises are sailing, allowing that business to begin to generate profits again, compared with the $1.6 billion loss suffered during the same period a year earlier. And while Covid-19 continues to complicate filming at its studios, working through the pandemic has become much more manageable thanks to vaccines and a better understanding of the virus. 
Still, the frustration with Disney's somewhat opaque strategy is understandable. After making its Marvel film "Black Widow" available on the Disney+ app the same day that it arrived in theaters in July — a move investors viewed positively — it backpedaled by giving subsequent film releases a lengthy period of theater exclusivity. (The since-settled lawsuit brought by Scarlett Johansson may have something to do with that.) "Shang-Chi and the Legend of the Ten Rings," which hit the big screen two months ago, is only finally joining the Disney+ library this Friday.
Chief Executive Officer Bob Chapek noted on Wednesday's earnings call that "Shang-Chi" surpassed $430 million in global box-office sales, as if to remind investors of the value of Disney's films. It doesn't have to do that, though. Everyone knows it, even someone who doesn't particularly enjoy superhero and fantasy flicks. What investors are less sure about is the value of Disney+. The app isn't supposed to be the company's new version of DVDs but rather an answer to the fading movie theater and cable TV markets. 
This isn't lost on Chapek, though, who had the unfortunate timing of succeeding longtime CEO Bob Iger right before Covid was declared a pandemic. "We're in a time of flux," he said. "While Covid will be in the rearview mirror, God willing, I think changing consumer behavior is something that's going to be more permanent." Amid the current programming lull, he said, the company has "fired up the content engines" of the Fox assets that Disney acquired in 2019. Disney is also looking to "assert ourselves" in programming for preschool-age children, where Netflix has had recent success; the studio behind the popular "CoComelon" show on Netflix just sold itself for a staggering $3 billion to two former Disney executives. And if Disney wasn't already thinking about combining its Hulu and Disney+ apps to create a more complete offering for adults, the incredible interest in Netflix's dark South Korean series "Squid Game" may be the push it needed. 
The stock market is trying to tell Chapek that the box office shouldn't be top of mind anymore. Instead, he needs to do everything he can to make Disney+ as attractive as possible to the widest audience as possible for the post-Covid streaming era. That's something investors and subscribers would celebrate.
This column does not necessarily reflect the opinion of the editorial board or Bloomberg LP and its owners.
Tara Lachapelle is a Bloomberg Opinion columnist covering the business of entertainment and telecommunications, as well as broader deals. She previously wrote an M&A column for Bloomberg News.