Deutsche Bank Gets the CoCo Bond Party Going Again
(Bloomberg Opinion) -- The pandemic has done wonders for Deutsche Bank AG. Instead of upending the German lender's restructuring plans, last year's economic crisis prompted a massive response from fiscal and monetary authorities that accelerated Deutsche's turnaround. For proof of its newfound confidence, just look at its plans to issue the riskiest type of subordinated bond again.
On Wednesday Deutsche launched a 1.25 billion euro ($1.5 billion) sale of so-called Tier 1 regulatory capital bonds (known as CoCos), which are riskier than other forms of debt because the investor bears the losses if the bank fails. Happily for the bank, it will issue at a substantially lower coupon than the last time it sold CoCos, just before the pandemic hit in February last year.
Investor demand was very strong, with an order book above 5 billion euros and the indicated coupon trimmed from 5.25% to 4.625%, a decent price for Deutsche given the riskiness of this paper. As a sign of investor confidence in Europe's banks and the continent's chances of a quick post-pandemic recovery, you won't see anything much clearer.
Deutsche is doing the sale because it needs more equity-like capital to reach its leverage ratio target of 4.5% and satisfy the European Central Bank. It's a perfect time to capitalize on the improvement in banking results generally, and particularly its own recent profit jump. The trillions of dollars that central banks plowed into their ravaged economies led to a rebound in what Deutsche does best: the buying and selling of securities.
The potential for Deutsche to return finally to annual profit after six years of losses hasn't gone unnoticed. It reported 1.6 billion euros ($1.9 billion) in pretax profit for the first three months of 2021, its best quarter since 2014. A bumper period for trading let the bank start setting aside funds for dividends again. Since hitting a low as the pandemic struck Europe in March 2020, investors have piled into Deutsche shares, which have more than doubled. Its peer group, shown by the STOXX 600 Financial Services Index, is up by about 55%.
We've seen little issuance of AT1 debt during the crisis in part because the ECB's prudential measures on bank capital buffers created some initial doubt about whether coupon payments for these bonds would be allowed, although the central bank issued a waiver. 
Deutsche's CoCos became a bellwether for the sector after last decade's euro crisis created fears about whether it would have enough capital to pay dividends on this kind of perpetual debt. The bank's older AT1 debt has recovered impressively (as the chart below shows), although the yield is still relatively generous at nearly 5%. Austrian lender Erste Bank's 3.375% perpetual, also issued early last year, yields well below 4% but that reflects a strong credit rating.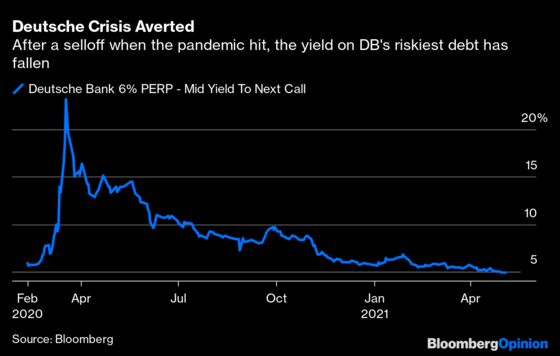 Subordinated bank debt as a whole has been fairly robust throughout the pandemic because of central bank support for the financial sector. Deutsche's credibility was boosted when it came through the prime-broking blowup of Bill Hwang's Archegos Capital unscathed. 
As my colleague Elisa Martinuzzi points out, Deutsche's ongoing dependency on trading income could become a problem if markets activity flags significantly. The bank's financing revenue has jumped sharply, showing that it's lending much more aggressively. Pretax profit from the investment bank still dwarfs Deutsche's other three main activities.
For now, though, the sun is shining and Germany's biggest lender has investors queuing around the block to get hold of a near 5% coupon on risky debt. That says something about Europe's prospects.
This column does not necessarily reflect the opinion of the editorial board or Bloomberg LP and its owners.
Marcus Ashworth is a Bloomberg Opinion columnist covering European markets. He spent three decades in the banking industry, most recently as chief markets strategist at Haitong Securities in London.