Deutsche Bank's Bond Deal Shows How to Win Hedge Funds Back
(Bloomberg Opinion) -- There is still a lot to fix at Deutsche Bank before it can hope to get near a decent return on equity, but in one area it has made definite progress: the cost and stability of its debt.
Stock market investors should care. Deutsche Bank's funding costs matter for its revenue prospects as well as for the expense of its balance sheet. When Deutsche Bank was seen as a risky borrower, it lost hedge funds and other financial clients from its core business of trading bonds, currencies and derivatives.
But restoring its credit reputation means Deutsche Bank could win back the business, which was lost from 2015 onwards when some investors feared the bank might not survive. 
Deutsche Bank got its lowest-ever yield on new deeply subordinated perpetual bonds it sold this week, which are part of its additional tier one capital. (For non-specialists, such debt is close to being stock and is the second thing after equity that gets burned if a bank fails.)
Deutsche Bank's new 1.25 billion euros ($1.42 billion) of bonds priced with a coupon of just 4.5%. That's more costly than some rivals, but an improvement from similar paper sold just six months ago with a coupon of 4.625%. This is partly due to a broad market rally and bond investors' lust for yield: an index of these bonds, the ICE BofA Coco Index, hit its lowest ever yield of just 3.03% in mid-September.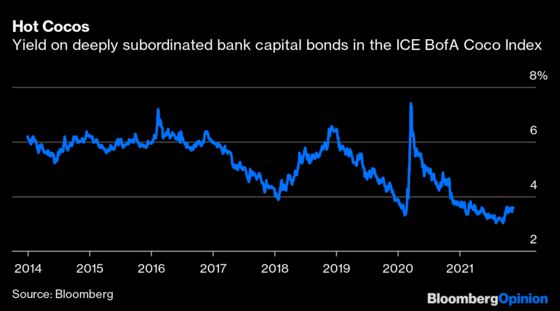 But it also reflects Deutsche Bank's restructuring under Chief Executive Officer Christian Sewing. There's plenty to improve before it approaches an attractive return for shareholders: Costs are too high in the retail bank; it needs to finish unloading unwanted assets; and an additional restructuring charge last quarter was unwelcome. But Sewing has managed to cut underlying expenses and to rebuild capital to the point where it can talk about potentially buying back stock after 2022. That has been unthinkable for years.
Its greater stability has helped mollify credit-rating firms as well as bond investors. This month, Standard & Poor's joined Moody's Investors Service and Fitch Ratings in upgrading Deutsche Bank's senior debt. Just a year ago, Moody's had one class of Deutsche Bank's senior credit ratings on watch for downgrade to junk, which would have been near disastrous.
Chief Financial Officer James von Moltke told investors at a conference run by Swiss bank UBS last week that the upgrades should help win back clients. When the bank lost its single-A credit rating on its safest, most senior bonds, the effect of clients leaving was lost revenue "in the triple-digit millions," von Moltke said. "So we expect that to come back."
Filippo Alloatti, head of financial credit investing at Federated Hermes, says ratings matter a lot in the financial community and Deutsche Bank has become a more stable counterparty.
An illustration of this is the cost of protecting Deutsche Bank's most senior bonds against default in credit-derivatives markets. Since early June, that cost has consistently been close to its lowest-ever levels and since March cheaper than Credit Suisse.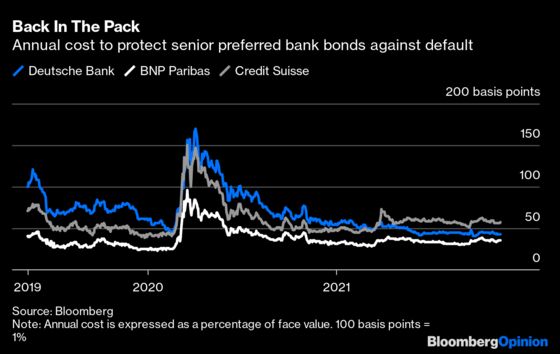 Deutsche Bank might already have won back some clients, with some senior bankers saying it has taken market share in trading. It has got back into the top three in global currency trading this year, according to Bloomberg Intelligence, although its share of 8.5% for 2021 so far is still a way off its 14.5% revenue share in 2015.
The sustainability of Deutsche Bank's recovery in investment banking and trading revenue is the key question for its investors. The boom of the past 18 months in these areas means the bank's gains were likely a combination of the hot market and its own improvements, according to Sebastiano Pirro, a fund manager at Algebris in London. But it's hard to be sure of the balance, he said.
The bank has a lot left to do still to become consistently profitable. But the fact that bond investors are happier to buy its debt shows that Deutsche Bank is on the right track.
This column does not necessarily reflect the opinion of the editorial board or Bloomberg LP and its owners.
Paul J. Davies is a Bloomberg Opinion columnist covering banking and finance. He previously worked for the Wall Street Journal and the Financial Times.