Why Gen Z Brits Are Dreading Freedom Day
(Bloomberg Opinion) -- As of July 19th, people in England will be able to rave in nightclubs, host house parties and weddings with unlimited guests, crowd into music and sporting venues and line up at the bar for a pint. It's the summer of fun that young adults and teens have been yearning for. But will they really be able to enjoy it, and at what cost?
As Covid cases soar again, many millennials and Gen Zers are angry at U.K. Prime Minister Boris Johnson's decision to drop mask mandates and most social distancing rules now. They fear they're being put in harm's way before they've been able to get fully vaccinated. After all, Health Secretary Sajid Javid has warned that infection numbers could easily rise above 100,000 a day in the coming weeks.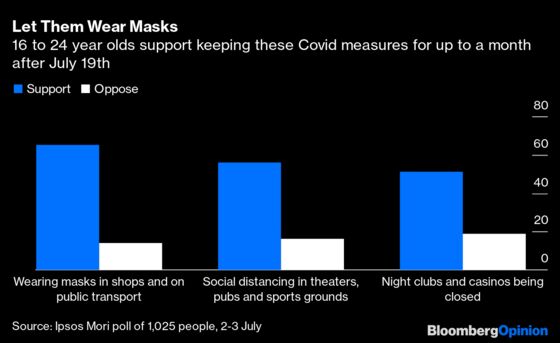 The generational tables have turned since last summer. Then, young adults, who had put their lives on hold for months, were lambasted for letting their guard down too quickly after the first lockdown was lifted, putting their parents and grandparents at risk. Now it's young people who'd like their elders and the government to do their part to protect them. Instead, they feel like they're being pushed out of a plane without a parachute.
Case rates provide real world evidence that the Covid vaccines are working to protect elderly and vulnerable people, something that should be celebrated. But they also illustrate how at risk young people are of contracting the virus.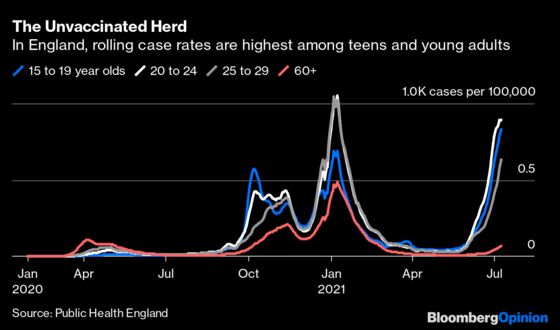 The U.K. was one of the first countries to start a mass vaccination campaign against Covid, but young people have only recently been able to book an appointment for their jab. An 8-week gap between doses means many are waiting for their second shot, so only 16.2% of 18- to 24-year-olds and 20.4% of 25- to 29-years-olds are fully vaccinated. Those younger than 18 aren't eligible yet.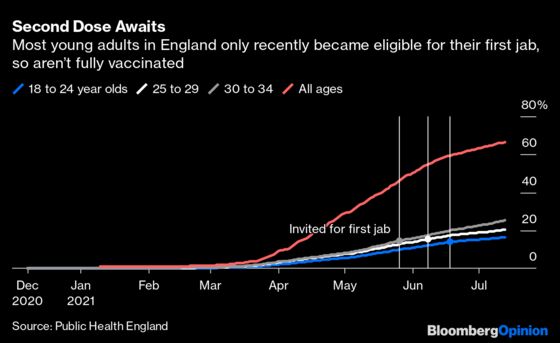 Even though they're far less likely to get seriously ill or die from the virus, young people will remain vulnerable until their vaccination rates catch up. More than 100 scientists and doctors, including Chaand Nagpaul of the British Medical Association and David King, a former chief scientific advisor to the government, condemned the government's Freedom Day plans in a letter published in The Lancet medical journal. They cited huge problems with letting the virus run rampant among young adults and kids, including further educational disruption, the potential emergence of a vaccine-resistant variant and the risk of long-term illness including long Covid.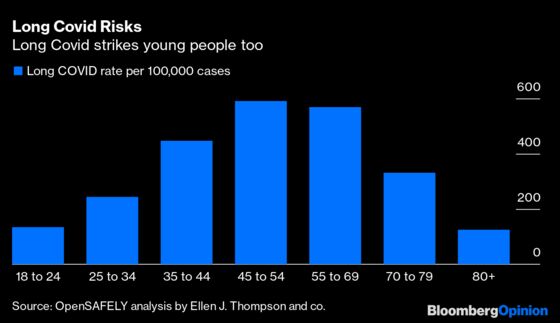 Just as everything's opening up, the virus's spread will force more people to have to isolate for up to 10 days, forcing them to miss work or cancel long-awaited holidays. By mid-August, an estimated 4.5 million people are expected to be told they're a contact case with the dreaded "ping" from the National Health Service's Covid tracking app — what's being dubbed a "pingdemic." Businesses are complaining they're short of staff, with some down as much as 20%.
The NHS is working to make the app less sensitive, and from August 16, fully-vaccinated individuals and under-18s will be exempted. But the vast majority of under 30s won't be fully vaccinated until around September, so many are removing the app from their phones even though it may increase the risk of transmission.
Isolation is a miserable prospect for a generation that has already suffered disproportionally from the pandemic's mental health and economic effects. And it puts a bit of a damper on hopes for a storming economic recovery. Even Asos Plc has said sales have started to soften as a result of Covid uncertainty. Why spend money on new bikinis and party dresses if you're unsure whether you'll even make it to Ibiza?
It's sad that the grand unlocking seems to go against what the general public actually wants. The worst outcome would be if the government then had to backtrack and close things down again, as the Netherlands just did, cancelling festivals and closing nightclubs. That's not the summer we've all been looking forward to.
This column does not necessarily reflect the opinion of the editorial board or Bloomberg LP and its owners.
Lara Williams manages Bloomberg Opinion's social media channels.