Deliveroo's London IPO Is About Making Friends Not Money
(Bloomberg Opinion) -- It would have been a blow to London if the U.K.'s most prominent unicorn decided to list its shares in tech-friendly New York or Amsterdam. Instead, Deliveroo has picked its home stock exchange for an initial public offering.
Valued at more than $7 billion in its most recent private funding round, the food delivery app is issuing a vote of confidence in plans to reinvigorate London as a friendly home for tech IPOs. But the decision brings a major side benefit: Deliveroo will get political goodwill that could prove useful as it confronts more stringent regulation of the gig economy in its biggest market.
The timing of the announcement is no accident. Just yesterday, Chancellor of the Exchequer Rishi Sunak said he would act quickly on new listing rules proposed by Jonathan Hill, the former financial services commissioner for the European Union. Hill's suggestions would ease the way for London to attract special-purpose acquisitions vehicles, or SPACs, and allow dual classes of shares that carry different voting rights to list in premium indexes like the FTSE 100. By permitting dual-class stock for the first five years after a listing, founders can retain control of their firms for longer.
The change would bring London more in line with New York and Amsterdam, markets that have in recent years attracted the listings of prominent European startups such as Prosus NV, Spotify Technology SA and Farfetch Ltd. European-domiciled companies have sold a cumulative $33 billion of stock in New York IPOs since 2010, with British companies alone accounting for $13 billion. And that excludes the 2018 direct listing of Spotify, the music streaming giant that is now valued at $57 billion. Deliveroo's listing might attract more high-flying tech companies to go public in London.
The benchmark FTSE 100 Index has already suffered this year from the fact that e-commerce specialist THG Plc., which has outperformed the market, was deprived of a premium listing at its London IPO because of its dual-class voting structure. Deliveroo, which will also have two classes of shares, might still list before the new rules are approved, though both it and THG could reasonably expect to join the FTSE 100 once the rules are in place.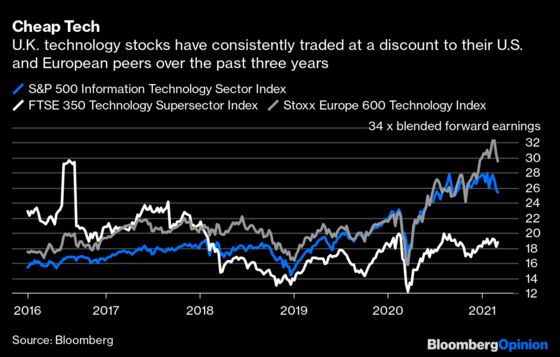 Deliveroo's decision also arrives in the context of a significant February ruling on the gig economy from the U.K. Supreme Court. The judgment determined that Deliveroo competitor Uber Technologies Inc. must treat its drivers as "workers," giving them access to holiday pay, rest breaks and the minimum wage. While the ruling only directly applies to drivers in that particular case, it opens the doors for other gig workers — such as Deliveroo's food couriers — to seek similar protections that would increase these companies' costs. It's heightened the need for appropriate regulation.
However, the same U.K. lawmakers who would piece together such rules might now also have a vested interest in ensuring that Deliveroo's listing proves a success. The company could prove the standard bearer for a new ecosystem of publicly traded technology companies and sophisticated tech investors. Had the London-based firm decided to list in New York, politicians would have less incentive to protect it from regulation. 
Politicians already appear cockahoop at the Deliveroo decision — U.K. digital minister Oliver Dowden, in a release issued by Deliveroo itself, called it "fantastic news" — but they should be careful not to get carried away by their own enthusiasm. They still have to balance the desire to foster the U.K. tech scene with the need to regulate it effectively. We need consistent, coherent rules on how to manage the gig economy.
The City of London will hope that Deliveroo is a tasty appetizer for what is to come. But the company also has an eye on other regulations that are on the menu.
This column does not necessarily reflect the opinion of the editorial board or Bloomberg LP and its owners.
Alex Webb is a Bloomberg Opinion columnist covering Europe's technology, media and communications industries. He previously covered Apple and other technology companies for Bloomberg News in San Francisco.