Danone's New CEO Faces a Lot of Old Problems
(Bloomberg Opinion) -- It's a case of new CEO, same old problems.
Danone SA, the world's biggest yogurt maker, on Monday named its new chief executive officer: Antoine de Saint-Affrique, the outgoing head of European chocolatier Barry Callebaut AG.
There is certainly scope for better management at Danone, which has a market capitalization of almost 40 billion ($49 billion) euros. The company's last CEO, Emmanuel Faber, was ousted in mid-March after pressure from investors.
But De Saint-Affrique faces challenges in almost all of Danone's businesses. He must defend the core dairy arm from competition, particularly from Greek yogurt maker Chobani in the U.S. He'll be confronting a raft of upstarts in the company's plant-based business — the most troubling one being Oatly Group AB, which is about to go public with a mooted valuation of $10 billion. And he needs to revive sales of bottled water, which plummeted as people stayed home during Covid.
One more issue to add to the list: Slumping birth rates in China could limit demand for Danone's infant formula, its most profitable business.
The good news is that hiring an outsider will bring a fresh perspective to these long-standing problems. De Saint-Affrique has considerable consumer experience. Before taking the helm at Barry Callebaut, he spent 15 years at Unilever Plc, lastly leading the company's food business, which at the time accounted for almost a quarter of the consumer group's sales.
His track record at the chocolate maker was also impressive. Shares in Barry Callebaut generated an annual return of 15%, almost twice that of the Stoxx 600 index between his appointment in Oct. 2015 and when the company said he was stepping down in April. Danone generated an annual return of less than 4% over the same period. Crucially, de Saint-Affrique lifted the return on the chocolatier's invested capital from 9.14% in 2015 to 11.4% in 2019, according to Bloomberg data.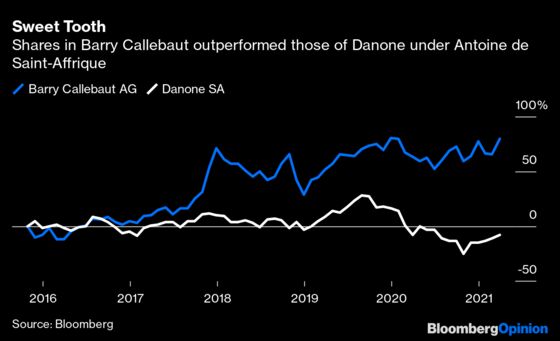 Improving Danone's ROIC is is desperately needed. It has yet to see a full return on the $10 billion it spent on Alpro soya maker Whitewave in 2017.
One area where de Saint-Affrique's experience may be uninspiring is in big restructuring plans. He didn't make large-scale disposals at Barry Callebaut, something that is much needed at Danone. Faber had begun the process, but there is further to go. Analysts at Jefferies have identified disposals accounting for 4 billion euros of sales. Duncan Fox, an analyst at Bloomberg Intelligence, says selling the medical nutrition arm, which makes products to address specific medical conditions, or entering into a joint venture are possibilities.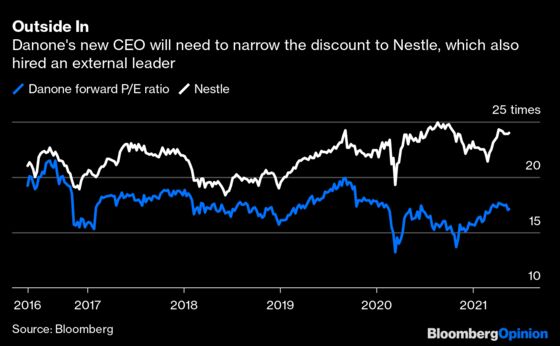 Still, the fact that de Saint-Affrique has the backing of Danone's board, led by new chairman Gilles Schnepp, should help. After the company's many mishaps and disappointments, his first priority should be rebuilding trust with investors. To maintain their support, he needs to quickly find solutions to Danone's seemingly intractable problems.
This column does not necessarily reflect the opinion of the editorial board or Bloomberg LP and its owners.
Andrea Felsted is a Bloomberg Opinion columnist covering the consumer and retail industries. She previously worked at the Financial Times.