Crowded Migraine Market Puts Drugmakers to the Test
(Bloomberg Opinion) -- The market for migraine medicines is getting better and better for patients. And for the companies that are crowding into it, it has the potential to be a drug-price proving ground.
The Food and Drug Administration approved Eli Lilly & Co.'s Emgality on Thursday, 13 days after it OK'ed Teva Pharmaceutical Industries Ltd.'s similar Ajovy, and less than five months after the first approval in the class, for Novartis AG and Amgen Inc.'s Aimovig. 
A low-key price war is already happening. Bloomberg News reports that Lilly's drug will be free to patients with commercial insurance, a move aimed at one-upping competitors' efforts to keep out-of-pocket costs low. But the more important price war will start as these companies negotiate insurance coverage, and it will have big implications for the sales trajectory and accessibility of these medicines.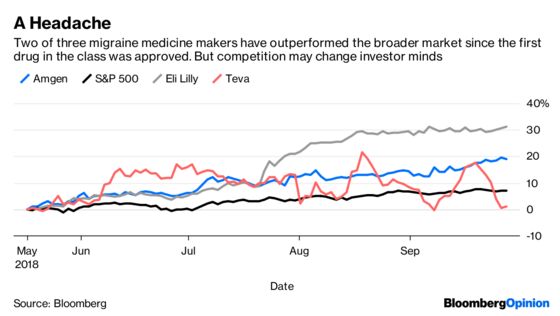 Each of these medicines has the same list price, which is common when multiple drugs launch in the same class. The lockstep pricing makes it clear that the big price war won't happen in public, but in behind-the-scenes negotiations with insurers and pharmacy benefit managers. 
The most powerful tool that health plans and PBMs have is "formulary exclusion" — the ability to steer patients toward the one drug that offers the biggest discount by making others more expensive and difficult to acquire. With three competitors on the market in a potentially very large market, the negotiation for drug-list positioning is likely to be aggressive from the start, meaning drugmakers will offer big discounts so the actual amount paid by insurers and PBMs will be well below the $6,900 annual list price. With Alder Biopharmaceuticals Inc. also hoping to enter this market and other firms working on competing oral drugs, the fight for patients wil get even more fierce.
As it stands now, Novartis and Amgen have a multi-month head start in the U.S., which gives it a near-term advantage. Doctors will be more familiar with the medicine, and won't want to switch patients who are doing well on the drug. But that lead may erode rapidly, and the market could be more evenly split and possibly less lucrative than analysts currently expect.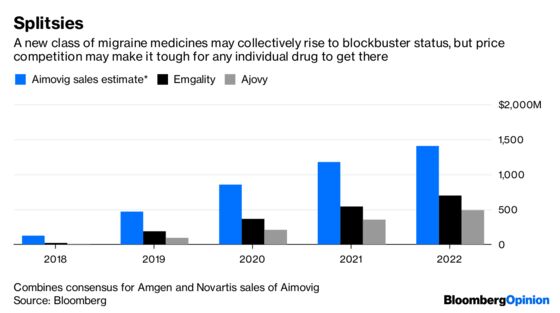 The best move for drugmakers may to embrace this, and offer discounts sufficient to encourage payers to make this medicine widely available instead of doing the minimum possible to win contracts. Too often, it takes insurer barriers or weak sales for drugmakers to lower their price to a truly accessible level. 
Drugmakers constantly say they care more about volume than price. The migraine market is a perfect place to prove it.
This column does not necessarily reflect the opinion of the editorial board or Bloomberg LP and its owners.
Max Nisen is a Bloomberg Opinion columnist covering biotech, pharma and health care. He previously wrote about management and corporate strategy for Quartz and Business Insider.