Crispin Odey Hits Hedge Fund Jackpot With Bond Bet
(Bloomberg Opinion) -- When investors allocate funds to a hedge fund, they're not seeking the milquetoast returns available from index trackers or mutual funds. They're paying a premium price for a premium product in the expectation — or, more recently, hope — that their chosen portfolio manager will shoot out the lights. And that's exactly what Crispin Odey's fund has achieved.
His flagship Odey European Inc. fund is up 51% so far this year after gaining a staggering 38.4% last month, my Bloomberg News colleague Nishant Kumar reported on Tuesday. A huge bet that U.K. government bonds would plunge in value came good as the 30-year gilt yield surged by almost half a percentage point in February, its biggest jump in more than a decade. That wiped more than 12% off its price.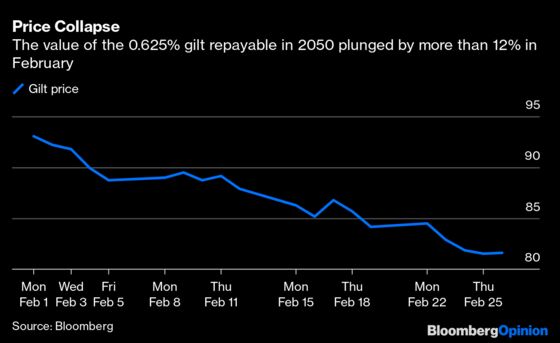 Odey's fund didn't just make a modest wager against bonds. At the end of January, it was shorting them to the tune of 800% of its net asset value, according to the Bloomberg News report. Unfortunately the diminished size of the fund will have reduced the total amount of money it could generate from the trade, even with that huge leverage. At the start of the year, it had about $112 million of assets, down from a 2015 peak of $1.8 billion.
At the flagship fund, the transaction is reminiscent of the glory days of hedge funds, when traders such as George Soros made billions by leveraging the bets they had the most faith in. "George used to say,`If you're right in a position, you can never be big enough'," Scott Bessent, who was running Soros's London office in 1992 when he made more than $1 billion betting against the pound, told author Steve Drobny for his 2006 book "Inside the House of Money."
Taking outsize bets on high-conviction trades is exactly how hedge funds should operate to generate significant alpha. Odey's fund has lost money in five of the past six years. But it's encouraging to see a money manager that still has the courage to back its hunches.
This column does not necessarily reflect the opinion of the editorial board or Bloomberg LP and its owners.
Mark Gilbert is a Bloomberg Opinion columnist covering asset management. He previously was the London bureau chief for Bloomberg News. He is also the author of "Complicit: How Greed and Collusion Made the Credit Crisis Unstoppable."