Credit Suisse Is Concentrating Really Hard on Keeping Things the Same
(Bloomberg Opinion) -- The new Credit Suisse is going to look a lot like, well …. the old Credit Suisse.
Chairman António Horta-Osório had a chance to radically change the business in a strategic review unveiled on Thursday. But he quailed. The bank could have become much more focused on rich clients and equities, like its local rival UBS, whose shares trade at twice Credit Suisse's multiple of book value.
Instead, like the previous leadership, Horta-Osório is keeping the large, capital hungry, U.S.-biased and debt-focused investment banking business intact. It has limited relevance for the bank's wealthy patrons, but Credit Suisse just can't let go. Despite past failings and costly losses, returns in a good year always appear too good to give up.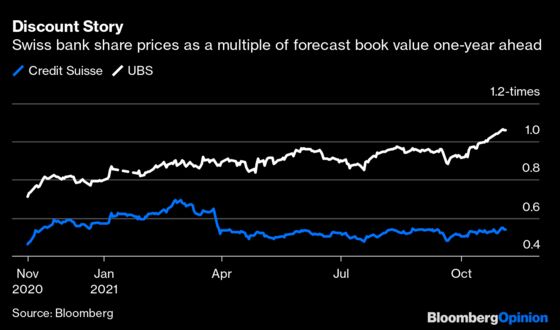 The past six months of corporate introspection, provoked by $5.5 billion of losses on the collapse of the family office Archegos, have brought some changes. Within investment banking, the Swiss group will stop trading with and lending to hedge funds. It will also centralize control and oversight of all businesses, undoing the free-for-all under previous Chief Executive Officer Tidjane Thiam, who created a set of fiefdoms driven by self-interest. The idea is to bring these units to heel and bolster risk management.
When leaders in the regions or the U.S.-focused investment bank only chased their immediate profits, risk controls suffered. In the prime brokerage unit catering to hedge funds, that meant Credit Suisse took the worst losses on Wall Street from Archegos, which borrowed from nearly everyone.
That wasn't Credit Suisse's only disaster. It lost $214 million on another hedge-fund failure last year, and it's  still untangling its involvement with supply-chain finance group Greensill. There have been a string of litigation and regulatory penalties, some of which it's still paying.
"The number and magnitude of past incidents are unacceptable," Horta-Osório said.
Investing in risk management will cost money, but having well-paid people who prevent losses is better than a fragmented group of inexperienced staff with no clout.
By largely exiting prime brokerage, Credit Suisse has foregone about $300 million of revenue from equities trading already this year and  will miss another $600 million in 2022. However, it will only save $400 million in costs, so that's an immediate drop in investment bank profits – at least before any major client blowups.
Wealth management, which produces a higher return on equity, is meant to cover for this, helped by $3 billion of capital that will be redeployed from investment banking.
But beyond shutting prime brokerage, Horta-Osório isn't planning to change much. That's a shame because now is probably the best time to attempt a sale or spin-off of a big chunk of the investment bank.  
Its businesses in structured credit and financing private-equity buyout deals are booming right now and likely could have fetched the best valuation of any time in the past decade at least. Unlike the equities trading arm, they aren't really relevant to Credit Suisse's main focus, tending to the wealth of the super-rich.
The bank has some ideas about how it might make these more relevant. It is looking at Deutsche Bank's fixed-income financing business with an eye toward creating structured loans linked with real estate or other assets, but for its wealthy clients.
It also wants to fund growth by allowing tycoons and other big institutions to put capital into the investment bank's lending businesses, creating a kind of private-credit fund manager within the bank.
These sound interesting, but it's hard to tell whether they will add up to much any time soon – or ever.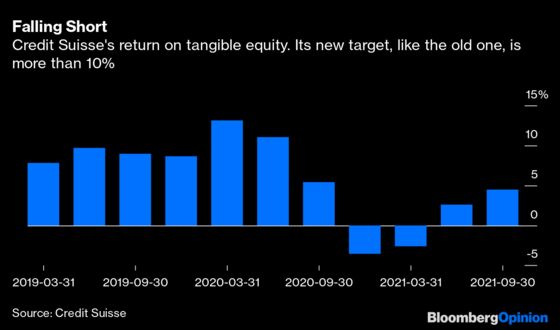 The bank will also hire another 500 private bankers and attempt to get more clients who are merely fabulously wealthy rather than mind-bogglingly so (those are my technical terms for people in the lower 10s of millions of dollars of wealth versus those with hundreds of millions).
The upshot of all this is a target return on tangible equity of more than 10% in a few years. Before the review its target was … the same.
The share price barely moved initially but fell more than 5% after the presentation, suggesting investors were underwhelmed. Credit Suisse has a lot to prove against a promise of more or less standing still. This looks like a big missed opportunity.
This column does not necessarily reflect the opinion of the editorial board or Bloomberg LP and its owners.
Paul J. Davies is a Bloomberg Opinion columnist covering banking and finance. He previously worked for the Wall Street Journal and the Financial Times.