Credit Cards Are Poised to Turbocharge Inflation
(Bloomberg Opinion) -- U.S. consumer prices are rising the most in decades, which, on its own, might suggest trouble for the world's largest economy as it looks to recover from the Covid-19 pandemic. However, Americans are simultaneously freeing up space on their credit cards like never before, which could allow them to better withstand such increases in at least one sign that a sustained upward spiral in inflation can't be dismissed so easily.
On the same day that the Labor Department disclosed that the U.S. consumer price index increased 0.8% in April from the prior month, and that core CPI surged 0.9% in the steepest monthly increase since 1982, the Federal Reserve Bank of New York released its Quarterly Report on Household Debt and Credit, which showed that Americans' balance sheets remain in good shape overall. In particular, credit-card balances plunged $49 billion in the first three months of the year, the second-largest decline in more than two decades of data. All told, these balances — which often come with double-digit interest rates — are $157 billion lower than at the end of 2019 and the smallest in four years.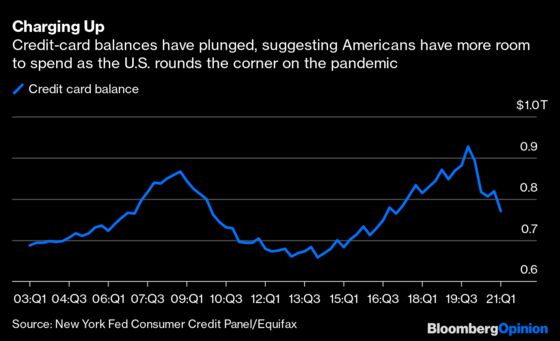 "The decline in the first quarter of 2021 is remarkable because it stands in sharp contrast to the recovery underway in the retail sector as the U.S. economy reopens and travel resumes," New York Fed researchers wrote in a blog post. "Surging retail sales volumes suggest stimulus checks, forbearance programs, increasing consumer confidence, and pent-up demand may be both supporting consumption and serving to help borrowers reduce expensive revolving debt balances."
This is an important data point for traders to consider as they grapple with the question of whether this latest bout of inflation is simply transitory, as the Fed suggests. Credit-card debt tends to weigh down lower-income or out-of-work individuals who don't have the means to meet their expenses, with huge interest rates keeping them playing catch-up for years. They put their cards away to an unprecedented extent in the second quarter of 2020, which made sense with much of the economy closed to contain the virus. But the decline in credit-card debt in the first three months of this year raises the prospect that consumers are gearing up for a spending spree later in 2021 once enough of the population is vaccinated that activity can return to pre-pandemic levels.
Indeed, the New York Fed's data shows that credit-card balances declined more among older people than those in their 20s, and also within higher-income ZIP codes. One way of interpreting that is those at greater risk of hospitalization or death from the coronavirus were more likely to stay home and cut down on their expensive debt, as were those with jobs that afforded them flexibility to work remotely. Both suggest ample pent-up demand just waiting to be unleashed. 
To hammer home the point, look at the remarkable U.S. personal income chart. The figure shot up to $24.2 trillion as of March, up about $5.5 trillion from a year earlier, when the pandemic began. By contrast, personal income fell about $1 trillion from May 2008 to March 2009, during the throes of the previous recession.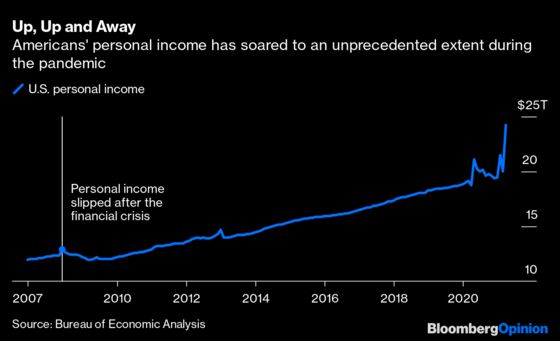 For now, the current inflation story is largely a supply-side phenomenon. As one example, the global chip shortage is leading to fewer new vehicles hitting the market. That, in turn, has caused a scramble for used cars and trucks, whose prices rose about 10% in April from the prior month, and more than 20% since February 2020. That kind of growth almost certainly won't last forever; it's just a matter of getting production back on track.
But add to that Americans who have ample space on their credit cards and won't necessarily balk at higher prices after more than a year of putting their lives on hold, and you start to have a potentially potent inflation cocktail as other CPI items like airfare and hotel costs reflate back to pre-pandemic levels. The bond market, for its part, is growing more confident in such a scenario, with the two-year breakeven rate at almost 3%, a line it hasn't crossed since 2006. The five-year inflation breakeven rate is at the highest since 2005. The 10-year rate is within 20 basis points of reaching a level not seen this millennium.
Yes, this is just one month of data and inflation may yet prove transitory. But the sharp drop in credit-card balances — and, by extension, a record-high amount of available credit for consumers to tap — seems like a more structural shift and another indication of ample demand coming out of this once-in-a-century shock. 
This column does not necessarily reflect the opinion of the editorial board or Bloomberg LP and its owners.
Brian Chappatta is a Bloomberg Opinion columnist covering debt markets. He previously covered bonds for Bloomberg News. He is also a CFA charterholder.