Bond Traders' Inflation Psychosis Won't Go Away Soon
(Bloomberg Opinion) -- Last week, the longtime bond bulls at Hoisington Investment Management Co. said that investors' obsession with the prospect of accelerating price growth was little more than an "inflationary psychosis" that will fade. While founder Van Hoisington and chief economist Lacy Hunt may ultimately be proved right, as they have for more than three decades, it's becoming increasingly clear that bond traders' preoccupation with inflation won't go away anytime soon.
Tuesday's hotly anticipated consumer price index data for March showed that headline inflation increased 2.6% from a year earlier, topping estimates for a 2.5% advance. The core measure that excludes volatile food and energy costs climbed 1.6%, just exceeding forecasts for 1.5% growth, though the month-over-month advance was the third highest since 2007. By now, investors have been trained well to look past this lurch higher: Federal Reserve officials hammered home that they expect the pickup in price growth to be "transitory" and primarily reflect "base effects" stemming from the three consecutive monthly declines in CPI starting in March 2020. "If anyone mistakes the rise in the CPI over the next couple of months with real inflation, they will not only be making a mistake, it will be a willful mistake," Christopher Low at FHN Financial wrote in a note Tuesday ahead of the data.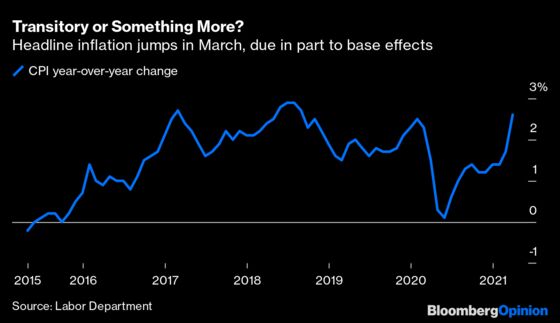 Still, as the U.S. economy turns the final corner of the Covid-19 pandemic, it increasingly looks as if the trajectory of inflation — and how policy makers react to it — will be what makes or breaks financial markets. Of course this could just be a temporary move higher. But what if in a few months it doesn't revert to normal? 
Consider that May's CPI data, which is virtually guaranteed to show some of the strongest year-over-year price growth in recent memory, will come out on June 10, less than a week before a Federal Open Market Committee decision that will include Fed officials' updated projections on growth, inflation and the pace of interest-rate increases. Those like Vice Chair Richard Clarida will most likely have no problem brushing off a few months of high figures, but others might not have such resolve. Fed Chair Jerome Powell, for his part, has said he'll be watching inflation expectations carefully, and "if we see them moving persistently and materially above levels we're comfortable with, then we'd react to that." Yet it would only take a few additional policy makers to pencil in a 2023 rate increase to move the median forecast. While short-term rates are already pricing in such a shift and more, it's unclear how markets will take the Fed itself bringing forward its tightening timeline.
Central bankers have long worried that years of sub-2% price growth have pulled Americans' inflation expectations lower, creating a self-reinforcing disinflationary cycle. But the pandemic shook up that trend. The New York Fed's Survey of Consumer Expectations released this week showed one-year and three-year median inflation expectations rose in March to 3.2% and 3.1%, respectively, the highest since 2014. While that might not be enough to alarm central bankers, the 75th percentile of expectations for price growth over the next three years has surged to 6.3%, again the most elevated level since 2014 and up about 2 percentage points since February 2020. University of Michigan survey data show nearly identical moves in Americans' expectations.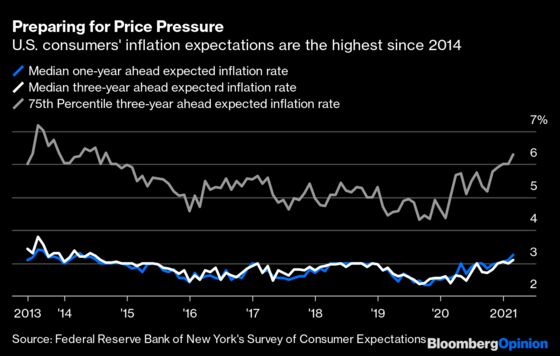 As for companies, the Labor Department revealed last week that the producer price index for final demand in March increased 1% from the previous month and 4.2% from March 2020. That's the highest year-over-year advance since 2011. While PPI data is also subject to base effects, as well as temporary material shortages and shipping bottlenecks, it nonetheless raises questions about whether those price increases will be passed on to consumers or whether businesses will absorb the costs. The former means higher readings of CPI and the Fed's preferred gauge, the personal consumption expenditures index. The latter would cut into profits and leave less money for hiring and investments — a risk for stock markets at record highs.
The final piece of the inflation puzzle is wages. As I noted in a column last week, a comprehensive measure that incorporates average hourly earnings, average weekly hours worked and employment reached a new high, even with millions of Americans still out of the labor force and with available positions reaching a two-year high of 7.37 million. Anecdotes abound about the lengths employers are willing to go to bring in workers who might be holding off because of health concerns, child care or the feeling that they can afford to be more selective thanks to renewed federal unemployment benefits. Sustained wage pressure even after the U.S. fully emerges from the pandemic could create more persistent inflation than the Fed expects later this year.
In one CPI report, investors can simply see what they want to see. Looking at a wider range of price data and surveys reveals a reality of bubbling inflation pressure across the U.S. economy. Whether it simmers down or reaches a boiling point several months from now is still anyone's guess. It's that fear of the unknown that explains why inflation looks destined to dominate the financial-market conversation in 2021. Today (4/13) at 3 p.m. ET, join Bloomberg Opinion's Brian Chappatta and Bloomberg News's Katie Greifeld for a Clubhouse discussion with Barry Ritholtz about whether we should be worried about the latest CPI numbers. RSVP here.
This column does not necessarily reflect the opinion of the editorial board or Bloomberg LP and its owners.
Brian Chappatta is a Bloomberg Opinion columnist covering debt markets. He previously covered bonds for Bloomberg News. He is also a CFA charterholder.