EasyJet Was Supposed to Be a Post-Covid Hunter, Not Prey
(Bloomberg Opinion) -- It takes gumption to reject a takeover approach from a rival and announce a potentially very dilutive capital hike on the same day.
On Thursday British low-cost airline EasyJet Plc asked shareholders to pony up 1.2 billion pounds ($1.7 billion) via a fully underwritten rights offer to help pay down debt and seize growth opportunities presented by the pandemic. It also revealed getting and rejecting an unsolicited a takeover approach, which Bloomberg News later reported came from eastern European Wizz Air Holdings Plc.
The offer's financial terms weren't disclosed but EasyJet management said it involved a low premium. Apparently the buyer is no longer interested.
The pandemic was expected to trigger consolidation in Europe's fragmented airline market — but with EasyJet as one of the winners, not the prey. It hasn't turned out that way, at least not yet. While EasyJet's board was probably right to reject Wizz's approach, it'll now have to do a better job of creating value on its own.
The takeover bid underscores the valuation gap that's opened up between EasyJet and low-cost rivals Wizz and Ryanair Holdings Plc., as investors believe this more aggressive pair will benefit most from pandemic-induced disarray in the airline industry.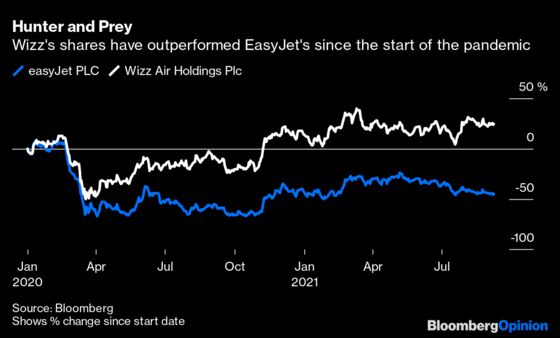 From the perspective of EasyJet's long-suffering shareholders, the good news is that somebody thinks it has a fleet and network that's worth acquiring — albeit at an unsatisfactory price. This realization may have cushioned the stock from falling more on Thursday: A 10% decline isn't too bad when you're planning to issue more than one third of your market value in new stock.
Less positive is what such a large equity raise reveals about the risks EasyJet still faces from the pandemic. The company says raising this money is both an offensive and defensive measure, but you can't blame investors for focusing more on the potential negatives.
As vaccination rates have increased and borders reopened, current trading has improved — EasyJet expects to fly at 57% of 2019 capacity in the traditionally strong summer quarter that's about to end. That's up from 17% of 2019 levels in the previous quarter.
However, the spread of the delta variant could mean the company faces another tough winter. Britain's onerous virus testing regime for arriving passengers is also hampering the airline's recovery. Analysts expect a return to profitability next year but any profits will likely be modest.
The upshot is that EasyJet's 3.2 billion-pound market value remains almost 50% below its level from Feb. 2020. In contrast, Wizz and Ryanair are valued more highly now than they were before the pandemic. No wonder Wizz was keen to use its own buoyant shares as an acquisition currency.
Though the pair are facing many of the same headwinds as EasyJet, they have been more aggressive in adding back capacity, and investors think their lower-cost structures leave them better positioned to win back travelers.
Acquiring EasyJet's network would resolve a big chunk of Wizz's ambitious growth plans in one fell swoop — Wizz dominates in eastern Europe, and EasyJet is strong in the west. Both operate Airbus fleets, so combining the two would offer maintenance synergies.
However, EasyJet recognizes trade unions, whereas Wizz is less friendly towards organized labor. These differing approaches would have almost certainly have triggered tensions and may have been difficult to reconcile, even if Wizz came back with a higher offer.
EasyJet now needs to convince shareholders that its own strategy is the right one. Its focus on serving primary airports in Europe's biggest cities
still has appeal. It seems smart to cater to passengers who want a low fare but don't want to be treated like cattle. There will also be opportunities for it to grab share from full-service carriers like Lufthansa AG, Air France-KLM and British Airways owner International Consolidated Airlines Group SA. Their bruised finances may require them to slim down.
Recent events may also end up reducing the influence of one prominent critic: EasyJet founder Stelios Haji-Ioannou who owns a 25% stake. Bloomberg reported he'd be willing to sell his stake should a transaction offer full value. He's not expected to participate in the rights offering, according to Dow Jones, meaning he'd get diluted. 
Haji-Ioannou had been long been a thorn in the board's side due to his opposition to plans to purchase lots of new Airbus aircraft. His tempestuous campaign to oust board members became a major distraction. But his demand that EasyJet deliver a better return on investment is harder to fault. 
This column does not necessarily reflect the opinion of the editorial board or Bloomberg LP and its owners.
Chris Bryant is a Bloomberg Opinion columnist covering industrial companies. He previously worked for the Financial Times.