Covid Relief Hasn't Reached Everyone Who Needs It
(Bloomberg Opinion) -- The U.S. economy is in better shape than many realize. But that doesn't mean the disruptions from the Covid-19 pandemic haven't left behind some significant pain, including about 10 million people who are still out of work. As a nation, we owe it to our people to try to minimize the financial losses that some of our people suffered due to a disaster that was totally out of their control.
Thanks in part to the government's three generous relief bills, overall U.S. consumption is now higher than it was at the beginning of 2020: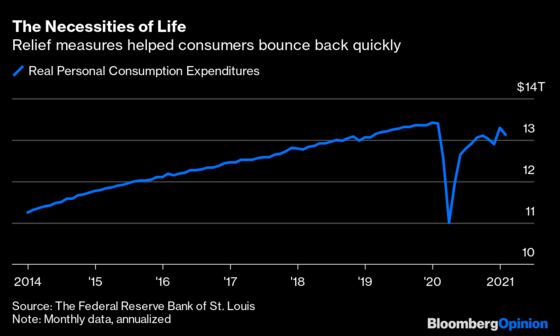 That means the economy is fundamentally making enough stuff to continue to afford the average American the standard of living they enjoyed before the pandemic. Yes, there will be some mismatches and disruptions, such as the soaring price of lumber and some other commodities. Overall, though, the economy is not in a terrible state. And despite a weak month for employment growth in April, a strong recovery is probably still in the cards for the rest of this year.
But averages don't tell the whole story here. Financially, some people have lost out from the pandemic and some have been big winners. On the positive side of the ledger, Americans who own companies that provided essential services or facilitated the shift to remote work — such as Amazon.com Inc., Zoom Video Communications Inc. — have done well. Demand for software engineers has risen as more of the world goes online. Many knowledge workers have been able to take advantage of the shift to remote work to get paid similar salaries while living in cheaper areas. And of course, the speculative frenzy unleashed in the pandemic's waning days has vastly increased the portfolios of people who own cryptocurrencies and other hot assets.
Good for them! But the pandemic also created lots of financial losers, and these are the folks we ought to be worried about.
In fact, the three relief bills had lots of provisions aimed directly at the people who were most in danger of financial ruin. Pandemic unemployment benefits went to people who lost jobs or income. The Paycheck Protection Program gave a lifeline to businesses that were hurt by the pandemic, and provided an incentive to retain workers. Eviction moratoria prevented landlords from punishing tenants who couldn't make rent, and so on. These bills weren't designed as fiscal stimulus, but as disaster relief — a form of retroactive social insurance aimed at making Americans whole.
The problem is, all that social insurance wasn't perfect, and lots of Americans are in danger of falling through the cracks. The most obvious endangered group are those who failed to get the pandemic unemployment insurance benefits despite losing jobs or income. Pandemic UI was implemented by state agencies, which had limited capacity and little preparation. As a result, significant numbers of people who deserved to get the benefits were denied.
The U.S. government should try to patch this hole. People who deserved the special benefits but didn't receive them should be able to petition the government for back payments (a new law could specify how much).
Many renters and landlords are also in danger of taking losses because of the huge buildup of back rent. No one knows how big this problem is — estimates of unpaid rent from the past year range between $8.4 billion to $70 billion. Recent relief measures have provided some money to help pay these bills, but unless the government offers more of a bailout, the financial losses will be split between landlords and tenants. To the degree that tenants are on the hook, they'll be in danger of eviction; to the degree that landlords are responsible, they may lose their livelihoods or businesses or be forced to foreclose on their rental properties.
The obvious solution is for the government to pay much of the back rent. California and Texas are among states already trying something like this. The California initiative would cover 80% of unpaid rent from the pandemic period and leave landlords on the hook for the remaining 20% — a modest and reasonable haircut. But the measure is opt-in; if landlords choose not to take the deal, it's off to court for a protracted and messy legal battle.
More states should initiate California-style unpaid rent relief programs, with strong incentives for landlords to take the deal. Ideally, the federal government would get involved with some kind of standardized program,  especially since the feds are footing the bill for state efforts like California's anyway.
Retroactive pandemic unemployment benefits and more comprehensive back-rent relief would be the two most powerful policies that the government could use to make sure that as few Americans as possible suffer financially from Covid-19. Regular people didn't cause the pandemic; they certainly don't deserve to be ruined by it.
This column does not necessarily reflect the opinion of the editorial board or Bloomberg LP and its owners.
Noah Smith is a Bloomberg Opinion columnist. He was an assistant professor of finance at Stony Brook University, and he blogs at Noahpinion.