Mario Draghi's Warning to Europe Is Right On
(Bloomberg Opinion) -- As the European Union's leaders gather in Brussels this week to take stock of the bloc's response to the Covid-19 pandemic, the feel-good narrative is gathering steam.
The shambolic start to vaccine distribution is a distant memory, with about half the EU's population having received at least one dose. Cafes, restaurants and retailers are filling up again in Paris, Berlin and Rome as lockdowns are lifted — albeit with a wary eye on the Delta variant. And an unprecedented 750 billion-euro ($895 billion) coordinated stimulus package proposed a year ago is now reality, with European Commission boss Ursula von der Leyen embarking on a victory lap of the region's capitals as national spending plans get approved.
Yet for all the confidence in the rebound that's underway, Italian Prime Minister Mario Draghi's warning last week that Europe needs to be even more ambitious on future spending — calling for all-in stimulus in the face of "protracted uncertainty" — is one that should be heeded as the euros start to flow.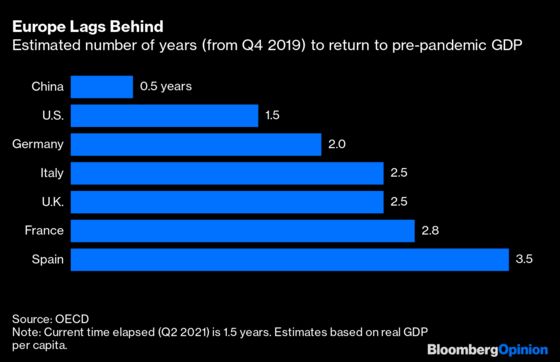 The focus so far has understandably been on pulling out all the stops to stabilize the economy and preserve jobs as much as possible. The scale of the pain has been huge, with the EU hit by a record 6.1% gross domestic product contraction last year. Hence the "whatever-it-takes" mentality that's slain a lot of sacred political cows, from the suspension of deficit-limit rules to the launch of jointly-issued EU recovery bonds.
Yet now the pandemic's longer-term economic effects are hovering into view, from the heavy burden on younger generations to the urgent need to prepare for the disruptive pace of technological change — and that's where Europe's lag in terms of growth potential and investment is worrying. 
OECD data suggests that while the U.S. economy is now back to pre-pandemic levels, as is China, it's a different picture across the Atlantic. Germany is six months away from pre-pandemic GDP, Italy and France about a year away, and tourism-reliant Spain about two years away. 
This matters for the strength of the recovery. As a whole, the euro area will likely still be below its pre-Covid growth trend in 2023-24, according to Bank of America economists. That will have an impact on confidence, employment and demand. It also stores up some future fights: While Draghi is trying to keep complacency at bay with calls to keep spending to create a "self-sustaining" rebound, Germany's Armin Laschet — the front-runner to succeed Angela Merkel as chancellor — is calling for a reinstatement of deficit rules as soon as the pandemic is over.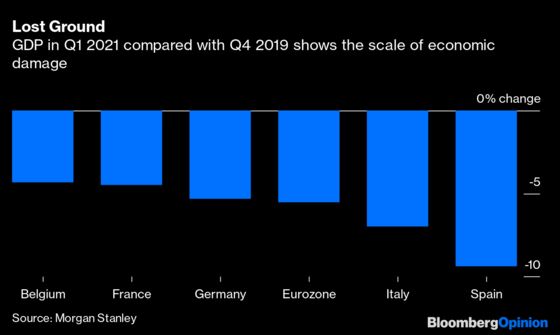 The emphasis should be on doing more, not less. Incoming EU stimulus plans are certainly a big deal in terms of confidence and investment: Bloomberg Economics estimates the program will deploy funding equivalent to almost 1% of euro-area GDP every year from 2022 to 2024. But we don't know how much of what's on offer will be spent fast. That's dependent on countries' ability to launch projects and get approval, or whether the end economic effect will undershoot expectations. Time is of the essence, given it's taken the EU a year to get to this point.
On top of the risk of a widening gap between the EU and the U.S. — whose economy is deemed to be "on fire" — there's the need for massive reallocation of resources to protect workers left behind by a shift away from fossil fuels and an acceleration of automation and technology. The EU has plenty of Airbuses but not so many Amazons or ARM Holdings. 
The bloc has also regularly failed to hit its own targets for research and development, set at 3% of GDP. It will need to invest more to compete globally, Pictet Asset Management economist Sabrina Khanniche has warned.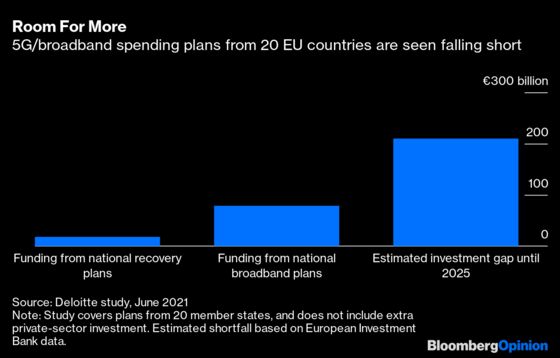 One example is digital infrastructure like superfast and mobile networks. A Deloitte review of 20 EU countries' stimulus plans published this week estimates only about 46% of funding needs through 2025 is currently covered, or just under 100 billion euros. This doesn't include private-sector spending, nor does it cover all countries' spending plans. But as a back-of-the-envelope estimate, it suggests in theory there's room left over to double current spending plans in tech infrastructure alone. Another is the need to re-train workers: The study also warns that the spending plans are estimated to miss the EU's target of having 80% of adults with basic digital skills by 2030, ending up closer to 58%.
These may seem like far-off issues. But Draghi's warning comes from experience: It took a decade for Italian GDP to recover from the 2008 debt crisis. The past combination of underinvestment, pressure to cut public spending and rising debt levels serves as a cautionary tale.
The EU deserves credit for its pandemic action. But when leaders return home from Brussels, they'll need to keep channeling that "whatever-it-takes" spirit for some time.
This column does not necessarily reflect the opinion of the editorial board or Bloomberg LP and its owners.
Lionel Laurent is a Bloomberg Opinion columnist covering the European Union and France. He worked previously at Reuters and Forbes.