Covid Fear Shows Signs of Returning to the Stock Market
(Bloomberg Opinion) -- Consumers in the U.S. are worried and unhappy. That usually portends a drop in consumption, but not last month. Instead retail sales excluding food and autos gained 16.1% over 12 months, by far the greatest annual increase this century if we exclude the freak April number, caused by comparison with the retail slump of April 2020. This doesn't look much like stagflation, and it doesn't look much like a lack of consumer confidence: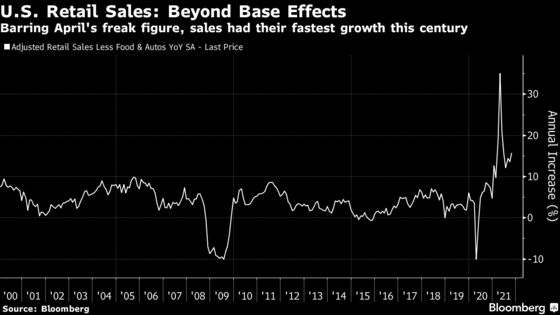 Maybe not so fast. There is an argument that this is the fault of inflation (buy now before the price goes up) and particularly supply bottlenecks (put in your orders for Thanksgiving and Christmas early this year, or you'll be at the back of the line and never see it). So the reception to these numbers showing that U.S. consumers were still doing their bit to help the world was less rapturous than it might have been. There is still a theory, albeit a tenuous one, that in this environment spending more money is a symptom of low, not high confidence.
Meanwhile, another fly is back in the ointment just when we hoped it had disappeared: Covid-19. The pandemic is back on the march in Europe.  The following chart of daily infections expressed as a percentage of their all-time high, from Longview Economics Ltd. of London,  makes that painfully clear: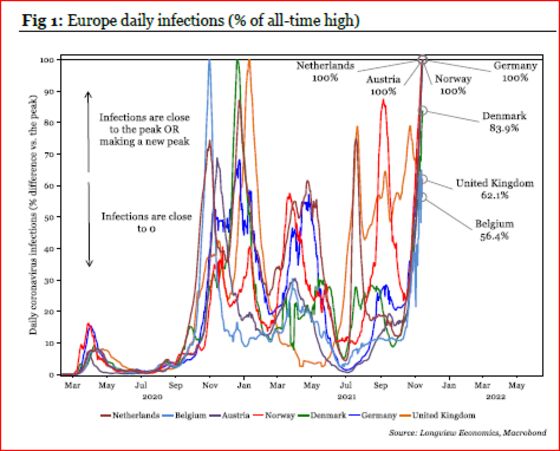 With most European adults now vaccinated, the stakes should be lower. Infections are less likely to end in death than they once were. However, Longview offers these data on German hospitalizations: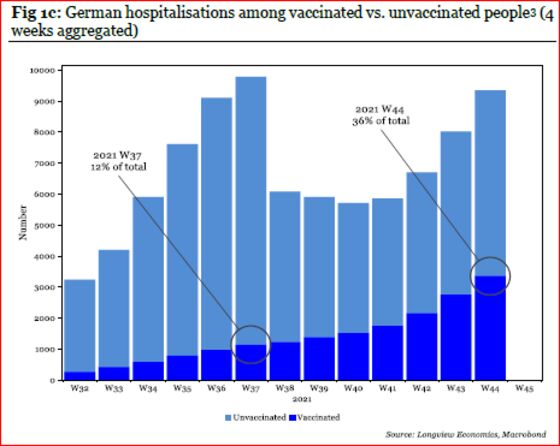 The total number of vaccinated people ending up in the hospital is growing fast, in absolute terms, and it is also rising as a proportion of those hospitalized. This isn't solely an epidemic of the unvaccinated. What this chart appears to illustrate is the waning efficacy of the vaccine over time. As we enter the winter months, the pressure is going to be on once more to launch a vaccination campaign. 
There is also reason to fear a slowdown in economic activity. In terms of the stringency of their lockdowns, most European countries are considerably closer to normal than the U.S. and the restrictions are particularly low now in Scandinavia (of which more below). The fear now is that lockdowns will dampen economic activity once more heading into the Christmas season: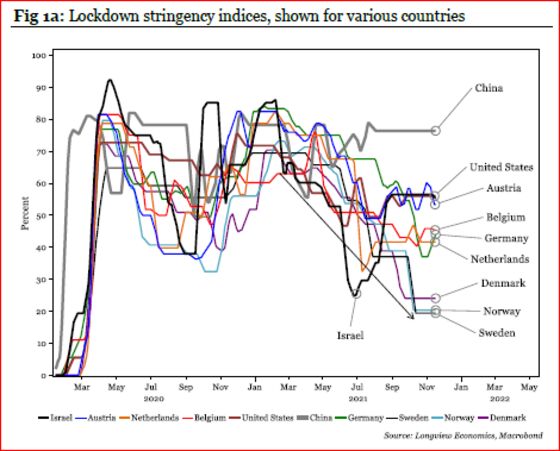 This does have an effect on markets. One obvious way is in the relative performance of the U.S. and European Union stock markets. Many other factors matter, but if we look at the spread in new infections, which has seen the two regions change places several times as the main focus of concern, we can see that EU stocks have tended to do better when a wave is in progress in the U.S. (although that effect has become more muted), and to underperform when the current wave is in Europe: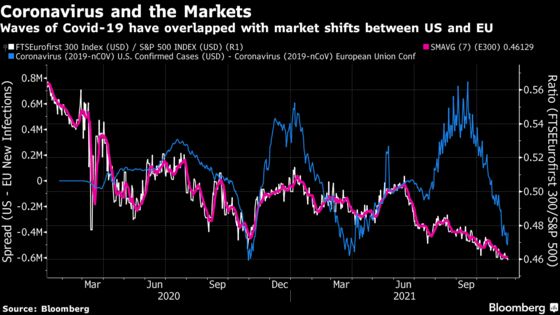 Meanwhile, the performance of hotels, restaurants and leisure stocks provides a useful barometer. Having been most severely hit by the pandemic, the leisure sector has managed a series of recoveries compared to the market over the last 18 months, but each has eventually subsided. The latest downturn for leisure stocks suggests that Covid fear is returning.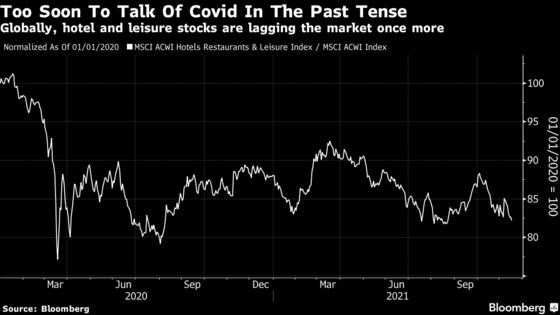 This issue could yet scramble many calculations, and might even dissuade central banks from measures to counteract inflation. The issue of vaccines, and how to deal with those who choose not to get them, looks ever more important. Meanwhile, if you're confident that the pandemic has in fact been licked, it might be time to buy leisure stocks. 
A Return to the Nordic Experiment
Last year, before the advent of vaccines, Sweden was the subject of intense examination because of its policy of trying to eschew lockdowns and instead build "herd immunity" against Covid-19 within the population. Unsurprisingly, this appealed to people elsewhere, as Covid lockdowns dragged on. About a year ago, there was also a hope that the Swedish approach might actually be better in fighting the disease. Not only would it allow life to carry on more as normal (a huge benefit), but the hope was that by withstanding a particularly severe hit in the spring of last year, the Swedish population would now have the immunity to resist future waves.
Handily, there was a simple comparison to make, as in any scientific experiment. Denmark and Norway were next door, very similar to Sweden, and between them had much the same population. They had more orthodox lockdown policies. I took the argument very seriously. Like many others, I watched the disease progress through Scandinavia at the end of last year. 
That seemed to give us all clarity. Sweden's first wave didn't appear to help it in the slightest, and it saw far more infections than its neighbors combined. But in the last month, Sweden is one of the few European countries to avoid a significant pick-up in infections, while Denmark and Norway are seeing a sharp increase: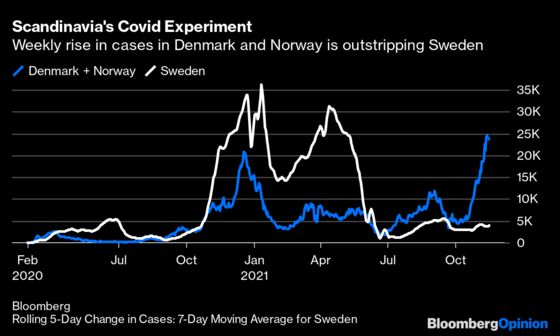 It's just conceivable that in years to come epidemiologists will infer that Sweden's more open policies might have helped in the long run. However, when we look at relative death tolls, there is still no argument: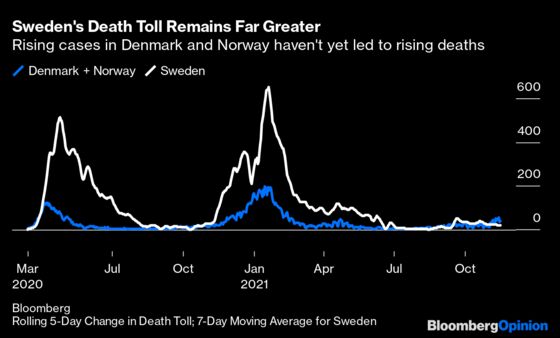 Locking down until a vaccine arrived seems to have been a much better way to minimize deaths from the virus. It's still hard to move on from there. It's also intriguing to note that Sweden's more liberal policies don't seem to have shown up in any extra mobility among the population. As measured by Capital Economics Ltd. of London, using Google data and other sources, Denmark's mobility is still noticeably greater than it was immediately before the pandemic, and also more pronounced than Sweden's: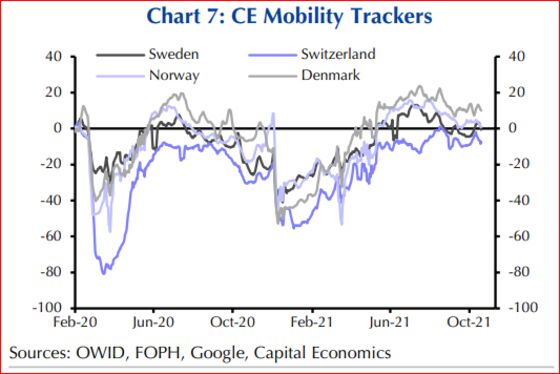 It's also well to note that Sweden actually lags behind its Nordic neighbors slightly in vaccinations. Superior vaccination rates haven't helped Norway and Denmark avert new infections in recent weeks (although they may well have saved lives):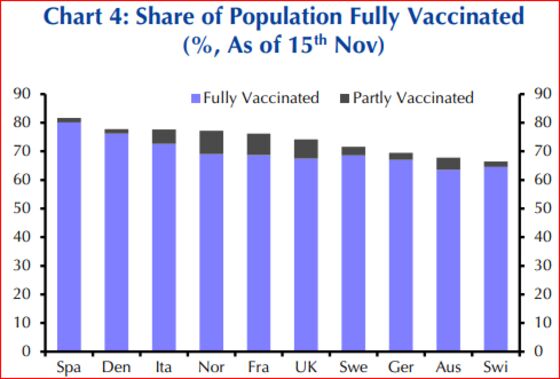 In the very long term, it might be possible to measure the human costs of the lockdowns in the other Scandinavian countries. If greater problems with mental illness or other forms of poor health lie ahead, it's still possible that the Swedish experiment will be seen to have worked. For now, if we are unlucky enough to be hit by another pandemic like this in our lifetimes, a policy of locking down — or less emotively, social distancing to reduce the spread —  until a vaccine is available, still appears to be the default option. 
This is a final reminder: we hold a live blog on the terminal today  at 10 a.m. New York time to discuss the book Why Trust Matters with its author Benjamin Ho. If you want to delve into just how trust acts as the glue of the economy, and even the fuel for economic growth, you'll want to follow along. Ho also has plenty of ideas for restoring the trust that is currently being lost in society.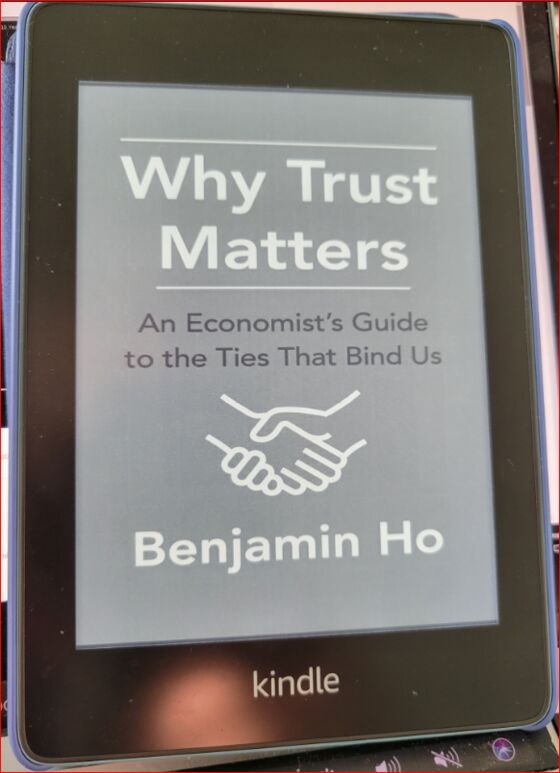 Don't believe all you read on the internet. I make this suggestion after one of my kids Googled me and discovered a startlingly accurate biography. But it included an estimate of my net wealth which, I'm afraid, isn't:

I have no intention of sharing my net wealth with the Points of Return readership, but alas I can confirm that it's a lot less than $220 million. Financial journalism just doesn't pay that well. 
How did they get this number? I tried going to WealthyGorilla, and found a list of the world's 20 richest authors. One of them, ranking at number 9, was another John: Grisham. And if you believe WealthyGorilla, his net worth is $220 million. He's given pleasure to millions (unlike me) and he's earned it. I suspect someone did a search for my name, found another John and slotted in his number for me. 
Rest assured, dear reader, that standards of research at Bloomberg are higher than that. Now I must go home and break it to my children that they don't have a $220 million nest egg waiting for them. 
This column does not necessarily reflect the opinion of the editorial board or Bloomberg LP and its owners.
John Authers is a senior editor for markets. Before Bloomberg, he spent 29 years with the Financial Times, where he was head of the Lex Column and chief markets commentator. He is the author of "The Fearful Rise of Markets" and other books.