Britain and Europe Discover the Limits of Vaccine Warfare
(Bloomberg Opinion) -- After five years of bad-tempered Brexit trade barbs, border closures and the occasional lawsuit, Britain and the European Union have admitted through clenched teeth that they need each other — when it comes to Covid-19 vaccines, at least.
This week's joint EU-U.K. statement on vaccine cooperation provides an opening to work better together on the pandemic, something that would chime with Joe Biden's U.S. administration also taking a more multilateral turn. It isn't, however, a kumbaya moment between two frenemies over the post-Brexit relationship, which will remain difficult in many areas.
Both sides want to strike a "win-win" and "reciprocally beneficial" agreement on boosting vaccine supplies, an encouraging admission that a beggar-thy-neighbor spat over doses is ultimately self-defeating. Bad blood has been running high: The European Commission's proposed ratcheting up of export curbs on shots manufactured in EU factories — which predominantly head to the U.K. — has divided the bloc's 27 member states and annoyed trading partners around the world.
Hoarding doses might give a slight nudge to continental Europe's sluggish rollout, but it would trigger retaliations that may only delay the pandemic's end. One EU parliamentarian said, correctly, that the bloc was harming itself by threatening supply chains for vaccine production and that cross-border skirmishes were fatal in a global war against a common enemy: Covid-19.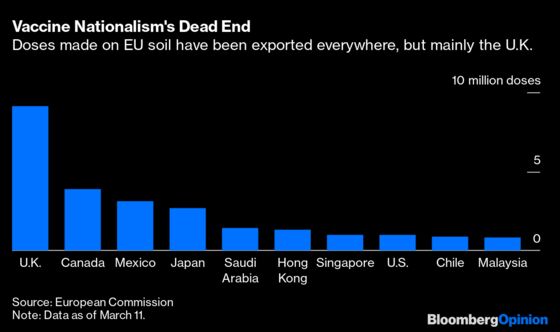 And while the U.K. is enjoying a lightning-fast immunization campaign, there is also an increasing acknowledgment — even among more diehard Brexiters — that this isn't a zero-sum game. London is nervous about the spillover effects of a neighboring trading power that's sinking into a fresh round of painful lockdowns.
Europe's new wave of infections is an epidemiological threat to the U.K.'s own fight against Covid, given the potential for new coronavirus variants more resistant to existing vaccines. It's an economic danger, too, because of the need to keep trade flowing. There's already a bust-up brewing over tourism and travel. The U.K. is putting restrictions on going abroad, and it may place France on a "red list" of countries requiring forced hotel quarantine. Cool heads are needed to avoid inflicting any more collateral political damage on Europe's vaccine program.  
What makes this a humbling post-Brexit moment is that years of chest-beating about "sovereignty" and "autonomy" from both sides can't obscure the fact that the vaccine supply chain is the legacy of an interdependent cross-border trade relationship. The U.K.'s supply of Pfizer-BioNTech vaccines depends greatly on Pfizer's Belgian factory. And while the EU complains that neither the U.S. nor the U.K. has exported a single shot, some critical raw materials for vaccines do come from a plant in Yorkshire. The EU knows that it's at least one-and-a-half years away from any kind of vaccine self-sufficiency; the U.K. knows that any EU export curbs would restrict its supply.
Extending the olive branch is easy, though. The hard bit is deciding the details of the truce. 
In the short term, London and Brussels need to agree on what to do about AstraZeneca's failure to live up to its continental supply obligations. Some kind of sharing agreement for doses makes sense, provided it doesn't affect Britain's ability to vaccinate its most vulnerable, and Astra needs to be clearer about what its "best efforts" really mean. Its Dutch plant has just applied for authorization to deliver to the EU.
In the longer term, this thawing of relations will be wasted if it doesn't come with broader and deeper commitments. More transparency on exports and imports of Covid shots would improve trust and avoid accusations such as the one from the EU's Charles Michel, where he said the Brits were banning medical exports. 
With the spotlight of export curbs now shifting to pharma manufacturing powerhouse India, whose domestic vaccine needs will now be prioritized at the expense of global customers, the EU and U.K. should join the U.S. in pushing for a global agreement on how to ramp up vaccine production and punish protectionism.
Unless this happens, the "win-win" vibes may not last long. With signs that the pandemic will be around for longer than we'd hoped, even with several lifesaving vaccines available, there will be plenty more opportunities for fights over supply. The EU-U.K. relationship will always be fractious: With financial-sector ties, the Northern Ireland border and other regulatory issues still rumbling, the Brexit grudges haven't disappeared.
This column does not necessarily reflect the opinion of the editorial board or Bloomberg LP and its owners.
Lionel Laurent is a Bloomberg Opinion columnist covering the European Union and France. He worked previously at Reuters and Forbes.