Corporate America Demands Low Taxes, Lower Emissions. And Cake.
(Bloomberg Opinion) -- Ahead of President Joe Biden's climate summit beginning on April 22 (Earth Day), more than 300 companies have signed an open letter urging him to set a new, more ambitious target for reducing U.S. emissions. It at once captures the mounting pressure on fossil-fuel producers — and, in light of another corporate campaign now underway, the tensions bedeviling ESG credibility.
Make no mistake, cutting U.S. emissions in 2030 to just half the level of 2005, as the signatories call for, would be huge.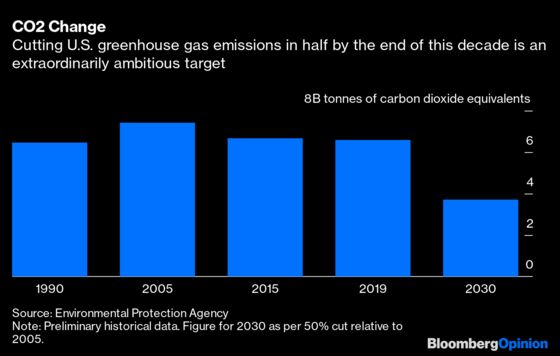 Roughly three-quarters, or about 5.1 billion tonnes, of 2019's emissions came from transportation, power generation and industry. Realistically, the vast majority of cuts would come here, as the other areas — agriculture, residential and commercial — have been constant for decades. This implies emissions from the big three sources dropping by more than half to about 2.2 billion tonnes.
To put that in perspective, the International Energy Agency's "Sustainable Development Scenario" projects energy-related U.S. emissions in 2030 of about 2.7 billion tonnes — and even that requires a transformation in the energy mix.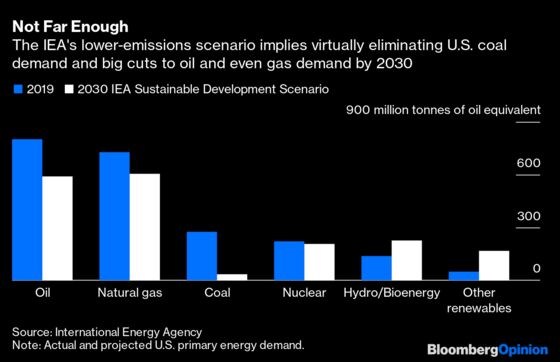 Industrial emissions are harder to abate, so most cuts in the 2020s would have to come from power and transport. Carbon capture, even under rosy assumptions, won't scale up that quickly. Thermal coal would be a goner. At least five million barrels a day of oil demand would have to go, and even natural gas demand would shrink substantially.  
Needless to say, you won't find any oil companies among the "We Mean Business" coalition's signatories. Whatever else this letter signifies, it should discomfit the oil and gas industry to see a large swath of the rest of corporate America, including such prominent names as Apple Inc. and Walmart Inc., openly calling for its effective retirement. It came the same week JPMorgan Chase & Co. announced a $2.5 trillion ESG financing initiative. It's easy to dismiss all of this as greenwashing. Even so, apply enough coats of greenwash to the economy and eventually stuff starts to look pretty green.
When energy executives, or their consultants, fret about the industry losing its social license to operate, these are the sorts of thing that come up, or ought to. The more immediate counterargument is that the signatories rely on the very industry they now seek to bundle off into the sunset. This is true, but it's also a truism: Of course we all rely on fossil fuels in the context of an energy system built largely around fossil fuels. This doesn't preclude calls to change that energy system if circumstances warrant.
Yet quite a few of the more prominent signatories to this particular call for change make it easier to dismiss them by engaging in other actions that directly undercut the letter's message. A day before it was published, Bloomberg News reported on a forthcoming ad campaign from the Business Roundtable group. Its target: Biden's proposed corporate tax increases to help pay for the infrastructure plan that … underpins his climate objectives.
Of the 310 companies that signed the letter, 27 of them have representatives on the Business Roundtable. Less than a tenth, yes, but they include the most valuable company in the world, Apple, and a Who's Who of corporate giants operating in the U.S., such as Coca-Cola Co., McDonald's Corp., Microsoft Corp., Nike Inc. and Walmart .
Corporate lobbyists gonna lobby on corporate taxes, of course. But this segmenting of the systemic issue of climate change, its complex linkages of costs and benefits, is a big obstacle to actually addressing it. It's why, even when the U.S. manages to pass federal energy legislation, as it did recently, the result tends to be a grab-bag of disconnected initiatives and Congressional hobby-horses. It also leaves the whole ESG movement vulnerable to charges of muddled thinking and hypocrisy — and that is not a movement short of such criticism anyway.
In their defense, the Business Roundtable members in question might argue the group has an alternative plan for emissions, involving  a "well-designed market-based mechanism." That is great and certainly worth exploring. But also, it might work better as a defense if the group had adopted it more than all of seven months ago.
We're at the point where taking action on climate change is urgent and, crucially, can't somehow be sealed off from everything else, including how the investments get funded. Even some oil majors are finally grappling with the contradiction of talking decarbonization while funding opposition to it. A technology or consumer company valued in the billions of dollars loudly demanding the current energy system be overturned while lobbying against paying some of the cost isn't just having its cake and eating it; it's devouring the thing like a five-year old on their birthday.
The full list is as follows: Apple, Ball Corp., Boston Consulting Group, Coca-Cola, Dell Technologies, Edison International, Exelon, The Gap, General Electric, HP, Johnson & Johnson, Johnson Controls, KPMG, Levi Strauss, Mastercard, McDonald's, Microsoft, Nike, PayPal, Ralph Lauren, Salesforce, SAP, Starbucks, Target, Verizon Communications, Vistra, Walmart.
This column does not necessarily reflect the opinion of the editorial board or Bloomberg LP and its owners.
Liam Denning is a Bloomberg Opinion columnist covering energy, mining and commodities. He previously was editor of the Wall Street Journal's Heard on the Street column and wrote for the Financial Times' Lex column. He was also an investment banker.