Warren Buffett Can Hunt Elephants From Home
(Bloomberg Opinion) -- This is a market for Warren Buffett, and U.S. investors sure could use some of his positive vibes right now. So where is America's biggest booster and hungriest dealmaker?
Buffett, the chairman and CEO of Berkshire Hathaway Inc., has been noticeably quiet since an explosion in coronavirus cases sent much of the populace into self-isolation and the country hurtling toward a recession. New York City, the capital of finance, is the new epicenter of the outbreak. But even 1,200 miles west in Buffett's more airy state of Nebraska, the number of known infected residents is approaching 200, showing just how widespread it's become.
Buffett's age — he'll turn 90 in August — puts him among those most at risk of severe complications from the virus. (He was also treated for early-stage prostate cancer in 2012.) It may be that he's avoiding in-person interviews for safety reasons, as he should. Nobody wants to be the one who gave the world's most celebrated businessman and philanthropist Covid-19 and set in motion the most momentous CEO transition of our time.  
Still, with so much panic and prognosticating about the damage the pandemic might inflict on the economy, investors could use Buffett's habitual reminder of his unwavering belief in American prosperity. In 2008, amid the last recession, and again in 2010, Buffett signed off both his annual letters to shareholders saying that he and Charlie Munger — his longtime business partner and the 96-year-old vice chairman of Berkshire — were "lucky beyond our dreams" in part for being born in the U.S.
Berkshire's own investments are like a cross-section of the U.S. economy, with large stakes in airlines, banks, grocery stores and makers of consumer goods — even tech giants Amazon.com Inc. and Apple Inc. About $70 billion of value has been erased from its stock portfolio since mid-February (though we don't yet know what Buffett bought and sold during the first quarter). The conglomerate also has outright ownership of one of the nation's most expansive freight railway systems and a giant utility network, as well as businesses that sell everything from furniture and modular homes, to airplane-engine parts and various types of insurance. Shares of Berkshire itself are down 18%, headed for their worst year — like many other stocks — since 2008.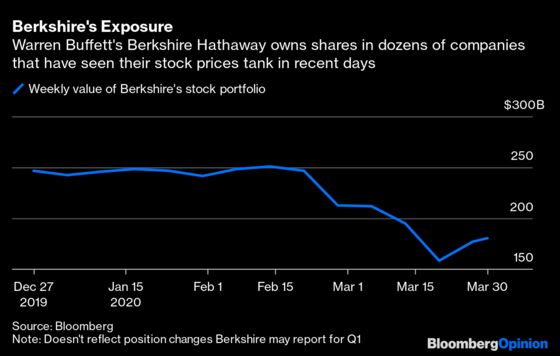 "If you stick around long enough you'll see everything in markets, and it may have taken me to 89 years of age to throw this one into the experience," a still chipper Buffett said on Yahoo Finance during his last televised interview. That was March 10, before the virus situation became so dire that states stretching from California to Massachusetts began issuing stay-at-home orders to buy time for hospitals running out of ventilators and other crucial equipment.
Three days later, Buffett announced he was canceling the festivities associated with Berkshire's annual meeting to be held in Omaha in May. No investors are allowed to attend (they'll have to stream it online). That means no shopping for See's Candies, no posing with Buffett cardboard cut-outs, no running in the Brooks 5K and no sightings of the man himself for the tens of thousands of fans who show up each year wondering if it's their last chance to see him up close.

Buffett really has seen it all, though, which for him diminishes the frightful nature of events that to the rest of us seem so unprecedented in their gravity. When the Black Monday crash hit in October 1987, Buffett was already 57 years old. During World War II, when the news headlines couldn't have been worse, he bought his first shares of stock as a kid — dumping them only four months later. At the 2018 Berkshire shareholder meeting, Buffett recounted the lesson he learned from that. Here's a condensed version:
Imagine yourself back on March 11, 1942. … I'd like you to imagine that at that time you had invested $10,000 … to hold a piece of American business and never look at another stock quote. … You'd have $51 million [now] and you wouldn't have had to do anything. … All you had to do was figure that America was going to do well over time, that we would overcome the current difficulties. … It's just remarkable to me that we have operated in this country with the greatest tailwind at our back.
In some ways, this is the market he's been waiting for — a chance to finally scoop up durable, if temporarily beaten down, businesses on the cheap and put Berkshire's $128 billion pile of cash to work. Likewise, private equity firms will be on the prowl, too. Financial buyers, including Berkshire, are already eyeing vulnerable targets in the travel, lodging and entertainment industries, the Wall Street Journal reported Tuesday, citing unnamed sources. Here are others that fit the mold of a Berkshire takeover target, based on criteria Buffett has spelled out in the past: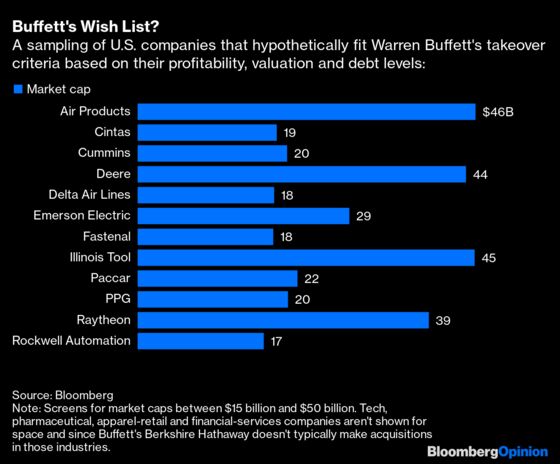 In recent years there were too many competing acquirers willing to pay prices Buffett thought were absurd. Now, many are looking to conserve capital; others receiving assistance from the federal stimulus package may be more limited in their financial maneuvers. So where President Donald Trump opened a window to dealmaking with this more lax antitrust regulation, the virus has shut the door. Merger-and-acquisition activity is already down 24% globally this year, while in the U.S. it's retreated 31%. The S&P 500 index now has a price-to-earnings ratio of 17, compared with more than 22 in February.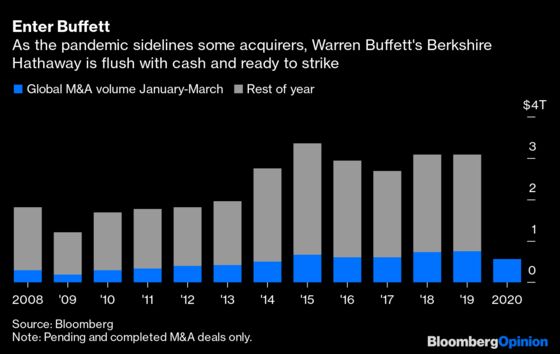 "It would be more fun if the phone would ring," Buffett said in 2017 at the start of his M&A dry spell. It's sure to be ringing now as large corporations seek cash and the glow of the Buffett halo. Banks are quietly discouraging investment-grade borrowers from tapping their existing credit lines, according to a Bloomberg News report Monday. Berkshire played the role of a bank last year, providing $10 billion of financing to Occidental Petroleum Corp. in return for high-yielding preferred stock. As my colleague Liam Denning has noted, even though the oil crash recently forced Oxy to slash its regular dividend, Berkshire still receives its fat check.
Though it may be no mystery how Buffett views America's ability to get through this latest crisis, it's anyone's guess where he'll deploy his billions in it. Whatever the case, he should do his elephant hunting from home. 
This column does not necessarily reflect the opinion of Bloomberg LP and its owners.
Tara Lachapelle is a Bloomberg Opinion columnist covering the business of entertainment and telecommunications, as well as broader deals. She previously wrote an M&A column for Bloomberg News.