U.S. Is Lagging in Coronavirus Tests, and It's Not Even Close
(Bloomberg Opinion) -- If you look only at a list of confirmed novel coronavirus cases, you wouldn't think the U.S. was doing badly. Eight other countries currently have more infections, and some have many more. 
Don't cheer just yet. The lower case count doesn't mean Americans are doing a better job of containing the virus; rather, it reflects the fact that the U.S. is badly behind in its ability to test people. The Centers for Disease Control stopped disclosing how many people it has tested as of Monday, but an analysis by The Atlantic could only confirm 1,895 tests. Switzerland, a country with fewer residents than New Jersey, has tested nearly twice as many people. The U.K., which has far fewer cases, has tested over 20,000. This gap is particularly worrisome given evidence of community spread in a number of different states and a high death count, both of which suggest the number of cases will jump as more tests are conducted. 
Capacity is finally ramping up, but only after weeks of delays prompted by unforced errors and botched early test kits from the CDC. The continuing inability to test broadly is leading to missed cases, more infections, and an outbreak that will be bigger than it needed to be.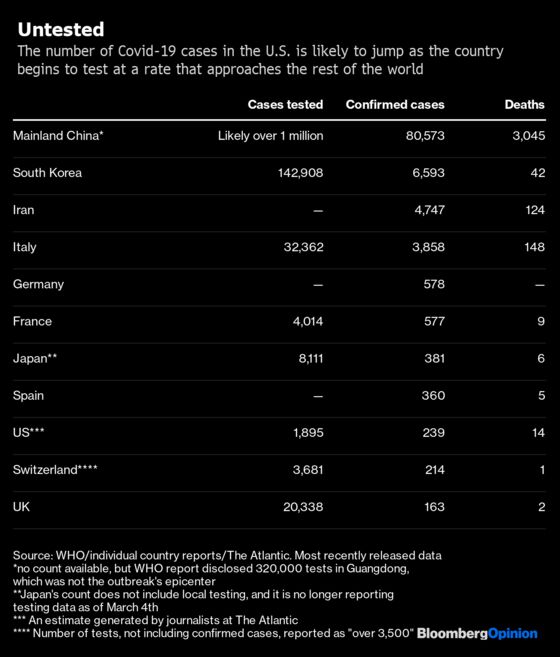 Containing outbreaks requires identifying affected individuals, tracing their contacts, and breaking the chain of transmission with treatment and isolation. None of that can happen without that first step.
The low testing rate and the correlated seeming lack of infections, coupled with the Trump administration's poor messaging and leadership, means that the U.S. is only now beginning to treat the outbreak as seriously as it should. America is now changing screening rules, engaging private testing companies, and canceling events.
All of those steps would have worked better if they began sooner. It's too late to do much more than scramble to catch up now. But the U.S. can start to prepare for outbreaks to come by resolving the long list of failures that have led to a scenario where countries that spend half as much per capita on health care have been able to run over 10 times as many Covid-19 tests.
This column does not necessarily reflect the opinion of Bloomberg LP and its owners.
Max Nisen is a Bloomberg Opinion columnist covering biotech, pharma and health care. He previously wrote about management and corporate strategy for Quartz and Business Insider.