A Stay-at-Home Stock Market Kept Investors Afloat
(Bloomberg Opinion) -- The coronavirus stock market, like Covid-19 itself, is something never experienced before. Get used to it.
Since March, when the global pandemic became an American catastrophe, the U.S. economy has been a shadow of its 2019 self. Yet some of the most-followed measures of equity set records while an explosion in infections showed no sign of peaking and the 14.7% unemployment rate in April was the worst since the Great Depression. The seeming contradiction of simultaneous exuberance and disaster reflects a durable change in the way investors look at U.S. companies even as wishful politicians yearn to return to an old normal.
The market's best performers are champions of remotely engaged commerce quite different from most of the companies comprising the favorite benchmarks, which lag by comparison. There's nothing surprising about the five biggest contributors to the stock market's resilience this year because they happen to have the greatest weighting in the Bloomberg U.S. Large-Cap Price Return Index, and their products and services facilitate online communication and transactions: Apple Inc., Microsoft Corp., Amazon.com Inc., Facebook Inc. and PayPal Holdings Inc. Another smattering of high-profile U.S. companies such as Zoom Video Communications Inc., Netflix Inc., Roku Inc. and Twitter Inc. have also had rising stock prices during the pandemic because of the popularity of the services they offer to people working and playing at home.
But the top 10 winners among the largest 500 U.S. companies during the second quarter increasingly are setting the course as a new breed of stay-at-home stocks, according to data compiled by Bloomberg. New York City-based Datadog Inc., up 142%, provides tools for monitoring infrastructure, application performance and log management for cloud computing firms and music-streaming companies. San Francisco-based cloud-computing powerhouse Twilio Inc. is up 145%. Stockholm's Spotify is up 113%.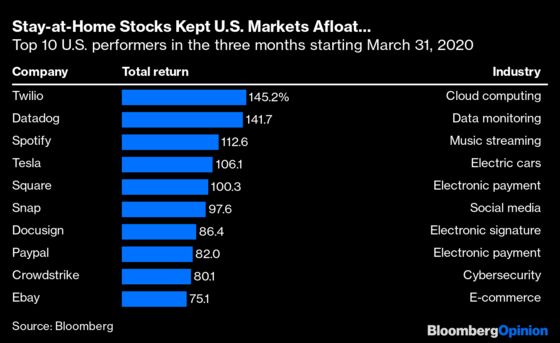 San Francisco-based Square Inc., up 100%, and San Jose-based PayPal, up 82%, provide digital and mobile payment services, enhancing online payments. DocuSign Inc., up 86%, provides electronic signature solutions, reducing the need for in-person contract signing meetings. Santa Monica-based Snap Inc., up 98%, provides social media services, enabling communication throughout the Internet. Every one of these companies can be a customer of Sunnyvale, California-based CrowdStrike Holdings Inc., up 80%, which provides cybersecurity platforms to protect against attacks.
Palo Alto, California-based Tesla Inc. appreciated 106% in the second quarter and became the largest automaker earlier this month with a market capitalization of $278 billion. Climate change and Covid-19 paved the way for this avatar of the technology-driven economy, characterized by remote engagement and artificial intelligence. With its battery-powered, zero-emission vehicles,Tesla is the undisputed leader in online sales, touchless delivery and perpetually downloaded vehicle enhancements.
Shares of the 500 largest U.S. companies measured by market capitalization gained 44% between late March and mid-June after declining 24% when the pandemic first struck. Although the market remains higher than at almost any point prior to 2020, the S&P 500 rally this year is unlike any preceding it, according to data compiled by Bloomberg. Since March, fewer than 10 of the biggest companies hit their 52-week high on a daily basis. The figure was 31 in 2019, 27 in 2018, 40 in 2017, 24 in 2016 and 21 in 2015, according to data compiled by Bloomberg. The only way the S&P 500 could advance with so much disappointment throughout corporate America is with a small group of exceptional companies led by Tesla.
During the two years prior to 2020, when the U.S. expansion became the longest on record, the stock market's top 10 performers included medical equipment designer DexCom Inc., apparel store Lululemon Athletica Inc. and restaurant chain Chipotle Mexican Grill Inc. Such diversity was similar during the past decade when biotechnology, industrial, energy, restaurant and medical equipment providers also led the market, according to data compiled by Bloomberg.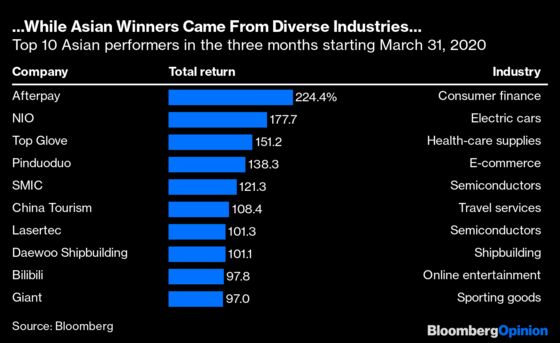 Ordinary investors, many of whom own exchange-traded funds, will continue to benefit from their familiar and substantial holdings of Tesla and the five tech giants. As ETFs increase their investment in the stay-at-home group of firms, the seemingly narrow rally will become broader.
The American stock market in the second quarter also bore no resemblance to its counterparts around the world, especially among the developed countries in Asia and Europe that have had more success containing Covid-19. As a result, the best-performing companies in the MSCI AC Asia Pacific Index reflect the expectation that a return to business as usual is coming soon, and they include health-care suppliers, tourism, shipbuilding, technology and bicycle manufacturing. Similarly, the top 10 stocks in Europe include insurance firms, industrial companies and jewelry stores in addition to technology.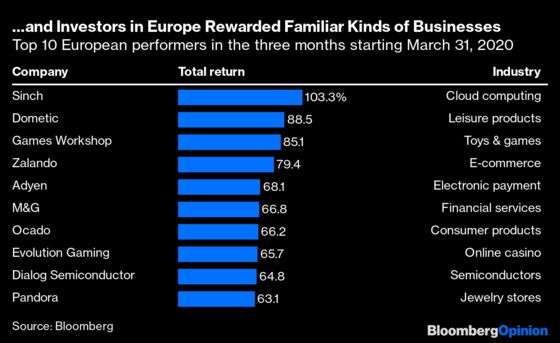 For the first time, the U.S. stock market has gone its own way, led by investors who believe the coronavirus is here to stay.
This column does not necessarily reflect the opinion of the editorial board or Bloomberg LP and its owners.
Matthew Winkler, Editor-in-Chief Emeritus of Bloomberg News, writes about markets.