Risk Managers Did Not Ace the Coronavirus Test
(Bloomberg Opinion) -- One in five professional risk managers who had previously considered the risk of a global pandemic, or similar crisis, admit to doing nothing whatsoever to prepare for it, according to a survey by the Institute of Risk Management.
The global poll of 959 chief risk officers, risk managers, risk consultants, and others also asked respondents how they rated their business's crisis management and continuity in the first few weeks of Covid-19. 82% report being satisfied.
Given that 59% of risk managers polled say they had given no consideration at all to the risk of a pandemic, it is a little surprising that 94% think that coronavirus will strengthen the future case for risk management. 
The survey was conducted between April 14 and April 22,  more than a month after the World Health Organization declared Covid-19 a global pandemic. The international death toll was well over 100,000 by that time.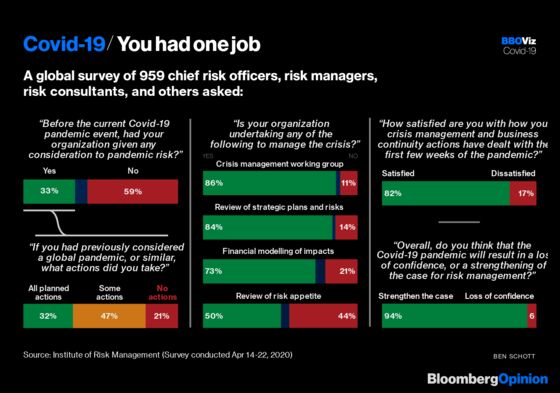 This column does not necessarily reflect the opinion of the editorial board or Bloomberg LP and its owners.
Ben Schott is a Bloomberg Opinion visual columnist. He created the Schott's Original Miscellany and Schott's Almanac series, and writes for newspapers and magazines around the world.