Paul Singer Got Coronavirus Right But May Still Lose
(Bloomberg Opinion) -- Hedge fund boss Paul Singer began warning employees at Elliott Management Corp. to prepare for quarantines as early as the start of February, well over a month before New York finally mandated a lockdown.
Though Singer was quick to realize how the new coronavirus would transform our lives, his prescience had its limits. It couldn't keep one recent investment — Elliott's $4.4 billion debt-laden buyout of Travelport Worldwide Ltd., completed last May together with partner Siris Capital — from taking a battering in the ensuing economic turmoil.
Travelport's revenues are now in free fall because airlines have grounded most of their fleets and the travel agents that use its computer-reservation systems to book flights and hotels barely have any customers. Travelport's parent company has been downgraded by the major rating agencies and some $3.3 billion in so-called leveraged loans that Elliott used to fund the purchase are quoted at distressed levels. 
Based in the U.K., Travelport operates one of three dominant global distribution systems for travel bookings. While they aren't household names, these digital platforms perform a crucial service. They allow airlines and hotels to market their wares to online and high-street travel agents, as well as corporate travel departments. Half the world's air bookings are made directly with airlines' call centers or on their websites; the vast majority of the rest are processed by the GDS.
The GDS operators skim off a small fee from the airlines for each booking. These cash flows, plus the industry's oligopolistic structure, are catnip for the buyout crowd — rivals Amadeus IT Group SA and Sabre Corp., now publicly listed, were also owned by private equity at one point. Such is the industry's concentration that the U.K.'s Competition and Markets Authority last week blocked Sabre's takeover of travel-software peer Farelogix Inc.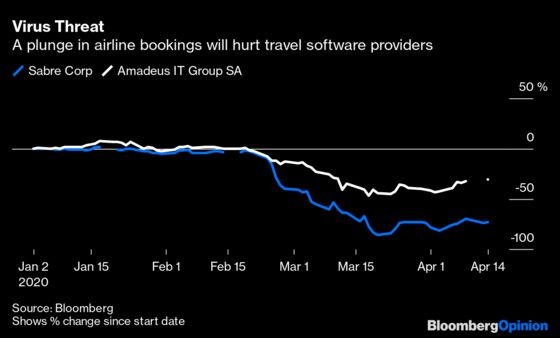 Now, a once-resilient business model looks increasingly vulnerable. GDS bookings have fallen about 80% compared to a year ago, according to Amadeus, while Sabre said net bookings (gross bookings less cancellations) turned negative in March.
The drastic measures that these two have taken to shore up their finances suggest the outlook for Elliott's acquisition — part of the hedge fund's recent push into private equity — is far from rosy.
Amadeus has scrapped its dividend, boosted credit lines and raised 1.5 billion euros ($1.6 billion) via a share issue and convertible bond offering to ensure it has sufficient cash on hand to meet upcoming debt maturities. The Madrid-based company's ease in raising capital (it issued shares at only a modest discount) doubtless had something to do with its comparatively modest borrowings: net debt was 1.2 times a measure of cash earnings at the end of December. The shares have declined 37% so far this year, which isn't too bad under the circumstances.
By contrast, Texas-based Sabre had net debt of 3.1 times Ebitda at the end of last year. The shares have since lost almost three-quarters of their value. This week the company had to offer bond investors a 9.25% coupon to persuade them to purchase $775 million in new debt; Sabre's $2.6 billion pile of goodwill is being reviewed for possible impairment and it warned bad debts could rise.
Gross leverage at Travelport, the smallest of the GDS providers, is even higher at around 7 times Ebitda, according to Standard & Poor's, which noted the company must devote $250 million annually just to servicing its borrowings. Proceeds from January's $1.7 billion agreed sale of Travelport's eNett payments business should boost liquidity later this year, providing the deal closes as planned.   Even so, Travelport's $2.8 billion senior secured first-lien term loan, due in 2026, is marked at about 60 cents on the dollar, having dipped below 50 in mid-March.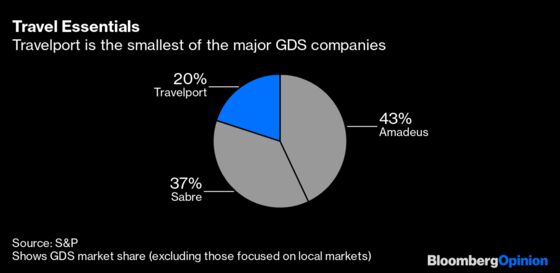 That big discount is indicative of worries that efforts to curb the coronavirus won't be followed by a swift recovery in passenger demand and, by extension, Travelport's sales.
Sabre highlighted a danger that consumer attitudes toward travel will change "in a lasting way." Cash-strapped corporate travel departments may decide that videoconferencing really is a decent alternative to flying.
Even if airline customers and travel-agent partners can remain in business in the coming months, there will be pressure on the GDS providers to lower the fees they charge. The airlines' financial struggles may encourage some of them to avoid ticket distribution fees altogether by steering more customer bookings to their own websites — a trend that preceded the coronavirus.  
While the current crisis is unprecedented, Elliott did have some forewarning that Travelport might not be a straightforward investment. On the eve of the last recession, private equity giant Blackstone Group Inc. acquired Travelport for $4.3 billion.
Amid massive upheaval in the U.S. airline industry, Travelport reported a string of annual losses and at one point flirted with bankruptcy. Blackstone's equity was later heavily diluted in a recapitalization by debt holders.  The company finally went public in 2014, eight years after Blackstone first invested. History doesn't repeat itself, but the annals of private equity sometimes rhyme.
There are also GDSs focused on local markets, such as China's TravelSky Technology Ltd
See this recent analysis by the UK's Competition and Markets Authority.
Travelport can expect about $650 million in proceeds, according to Fitch Ratings
Blackstone still did ok from the deal because Travelportpaid out a dividend shortly after the initial purchase.
This column does not necessarily reflect the opinion of Bloomberg LP and its owners.
Chris Bryant is a Bloomberg Opinion columnist covering industrial companies. He previously worked for the Financial Times.