No Government Bailout Dooms Rental-Car Bonds
(Bloomberg Opinion) -- Investors in Avis Budget Group Inc. and Hertz Global Holdings Inc. are learning the hard way what happens when widespread government bailouts don't quite reach every corner of the U.S. economy.
No matter where you look, whether it's their stock, bonds or the asset-backed securities linked to their fleets, these rental-car companies are clearly feeling the squeeze from the coronavirus pandemic and the economic standstill. Avis shares have tumbled 76% since Feb. 20, to about $12 from $50, while Hertz is down more than 80% to about $4. Those are steeper declines than even shares of the three largest U.S. airlines, which reached an accord with the Treasury Department on federal aid just last week.
The chief executive officers of Avis, Hertz and Enterprise Holdings Inc. had no such luck. They sent a joint letter to the U.S. government in mid-March requesting that the rental-car industry be included in any economic stimulus package, hoping to receive tax deferments and reduced revenue-sharing with airports. After all, their businesses are heavily dependent on the decimated travel industry, too. Instead, they've been left entirely out in the cold. Hertz, in which billionaire Carl Icahn has an almost 40% stake, said this week it laid off about 10,000 employees in North America. It's seeking advice from restructuring bankers on ways to bolster liquidity and avoid filing for Chapter 11 bankruptcy, Bloomberg News reported late Thursday, noting that plans could change depending on federal support.
To make matters worse, S&P Global Ratings on Tuesday downgraded Avis and Hertz by two levels, to B+ and B-, respectively, firmly speculative grade and well outside the Federal Reserve's parameters for buying junk bonds. Credit-default swaps paint an even bleaker picture: those tied to Hertz bonds imply a 78% chance of default within the next year and 100% odds in the next five. Hertz bonds maturing in October 2022 traded Thursday at 31 cents on the dollar, equivalent to a 67% yield, while Avis bonds due a few months later trade at 66 cents to yield 22%.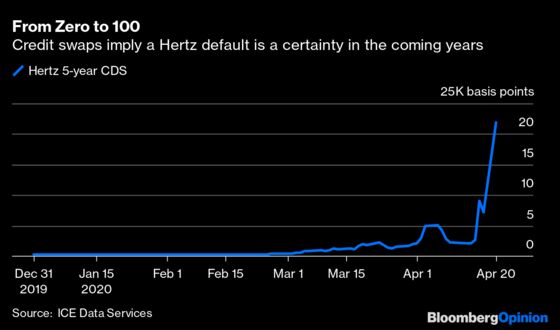 As for the billions of dollars in outstanding notes backed by their rental car fleets, those prices have plunged too, particularly the lower-rated portions. That's because used-car prices are tumbling in the midst of the Covid-19 lockdown: JPMorgan Chase & Co. analysts this week cited data from auto-auction firm Manheim that showed used vehicle values plunged 11.8% in the first 15 days of April, which would easily set a full-month record.
That's bad news for holders of Avis and Hertz asset-backed securities. Back on March 25, Moody's Investors Service described what now seems like a plausible, if not outright likely, reality for these securities:
A severely weak economy that potentially leads an ABS sponsor to default on its lease obligation will raise note payment risks. If a default were to occur, the issuing trust would need to raise funds by selling vehicles, and the proceeds are at risk of being insufficient to make the required payments on the notes by the legal final maturity date. Furthermore, if used vehicle prices fall, such a decline would reduce the value of the vehicle collateral backing the ABS.

Credit enhancement available to support subordinate classes of securities would be sufficient to offset a roughly 20%-30% decline in the aggregate net book value of the vehicles, as of February 2020. Senior classes of notes would be able to tolerate a roughly 45%-60% drop in value.
Judging by market prices, investors are starting to get nervous. The ABS don't trade frequently, but the top-rated portion of the most recent deal from Hertz Vehicle Financing II LP, which matures in late 2025, traded on April 8 at 89 cents on the dollar, Trace data show, down from 102 cents a month earlier. The real pain starts to appear in the triple-B rated tranche, which probably trades around 67 cents on the dollar, from more than 100 cents just a few weeks ago, according to Bloomberg Valuation estimates.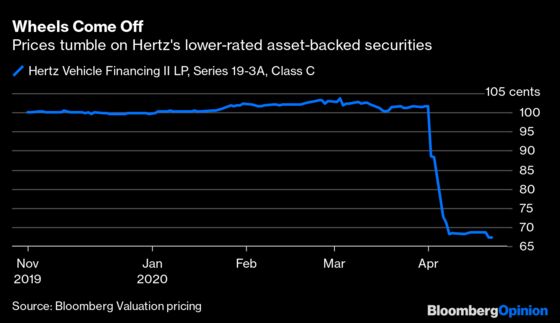 The sharp decline is especially striking because many other debt markets have long since recovered from the worst of their losses. Junk-rated corporate bonds just had one of their biggest two-week advances on record, municipal yields have settled back into a reasonable range with Treasuries and even leveraged-loan prices are on the mend. All this could be a fake-out, of course, but it's telling that anything involving rental cars isn't even showing a glint of optimism. 
Hertz, for its part, last month pointed to the fact that it doesn't face significant debt maturities until mid-2021. "We are aggressively taking actions to sustain operations and preserve liquidity," CEO Kathryn Marinello said in a statement. Bloomberg News had reported the company was discussing options with banks, including a first-lien loan of several hundred million dollars at a yield of 12%. There's no indication of progress on that front.
As my Bloomberg Opinion colleague Chris Bryant noted last week, it make sense to expect a revival in car purchases once lockdowns are lifted across the U.S., especially in places where residents might have otherwise opted for public transit. The outlook is murkier for rental cars companies. Avis and Hertz will surely promote their disinfecting practices, like every other company, but will that be enough to offset the lockdown mentality? A more pressing concern for the companies might be how quickly people take to the skies — S&P specifically cited passenger travel forecasts as a reason for downgrading the two companies this week.
Meanwhile, Fitch Ratings on March 31 revised its outlook on rental-car ABS to negative, with the coronavirus impact potentially pushing the structured notes "beyond Fitch's stressed levels and outside of our derived base case ABS series expected loss levels." Fitch says its analysis assumes rental-car providers would file for Chapter 7 bankruptcy and then liquidate their fleet. As Bloomberg News reported last week, though, the auto industry is already sounding the alarm on a further collapse in used-car prices, given the glut of wholesale supply in the market and expectations for even more in the months ahead.
Put it all together, and it's hard to argue with the market's expectations for defaults and liquidation. At their peak in 2014, Hertz's market capitalization was more than $14 billion and Avis's was $7.2 billion. Those figures are down to $574 million and $835 million, respectively, drawing some comparisons to penny stocks. These brand-name businesses are a sobering reminder that the government can't save every company. And it's painful to be on the wrong side of that dividing line. 
This column does not necessarily reflect the opinion of the editorial board or Bloomberg LP and its owners.
Brian Chappatta is a Bloomberg Opinion columnist covering debt markets. He previously covered bonds for Bloomberg News. He is also a CFA charterholder.