Big Tech Is Up? Depends If You Mean Netflix or Facebook
(Bloomberg Opinion) -- Too often, Big Tech is seen as a monolith. There's the FANGs — the basket of beloved high-growth technology companies that includes Facebook Inc., Amazon.com Inc., Netflix Inc., Google-parent Alphabet Inc. and their ilk — and then there's everyone else.
Looked at as a group, these companies do indeed seem to be in class by themselves. The NYSE FANG+ Index, which includes those four marquee names plus a handful of other widely followed tech disruptors — is handily outperforming the broader market this year, up 12% on average versus a double-digit drop for the S&P 500 and a 27% decline for the small company benchmark Russell 2000: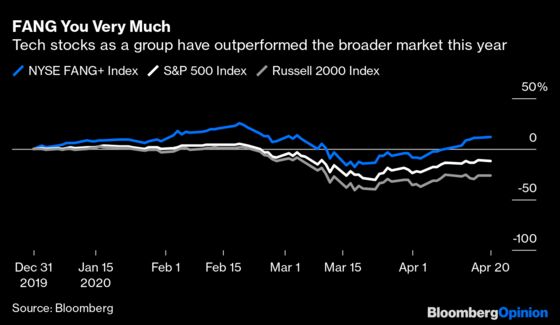 In reality, some FANGs can bite. There are sharp differences in business models among these giants and a large dichotomy in performance that can give clues on what is happening in the economy and a road map for what is to come. 
By now, everyone knows Amazon and Netflix are among the few companies that are benefiting even as the coronavirus pandemic shuts down wide swathes of the global economy. Consumers are dramatically shifting their spending online to get the essentials they need and using streaming video as their entertainment outlet of choice under shelter-in-place orders. As a result, investors have flocked to Amazon and Netflix as relative havens, betting their revenue streams will be more resilient than others in the coming quarters. Both stocks have risen more than 30% this year. On the flip side, though, Alphabet and Facebook aren't so fortunate, with their shares down 6% and down 13%, respectively. And for good reason. The internet giants' business models rely on advertising spending from corporations and small businesses. And the prospects for digital advertising are bleak for the foreseeable future.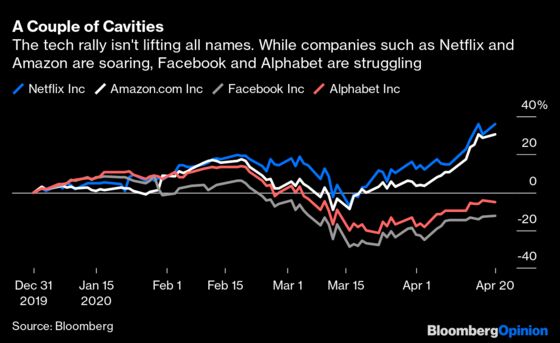 To illustrate, Expedia Group Inc. Chairman Barry Diller told CNBC last week that the travel company would spend less than $1 billion for ads this year, versus its typical $5 billion budget. He added travel will be a proxy for other industries and the numbers for the overall ad industry will be awful, starting in the second quarter. Likewise, RBC Capital Markets expects online advertising revenue will be down about 30% in the current quarter from a year earlier. It makes sense that marketing budgets are being slashed, given how the major consumer discretionary industries such as travel, autos, hospitality and retail are facing year-over-year revenue declines of 50% to 90%. There just isn't enough money coming in to pay for marketing.
Google knows its predicament and is taking action. Alphabet CEO Sundar Pichai told his employees in an email last week that the company plans to "significantly slow down" the pace of hiring for the rest of this year, citing how Google will not be immune to the global economic pain, Bloomberg News reported. In late March, Facebook also pointed to a "weakening" in its ad business, noting many of its services that have experienced rising engagement — such as Facebook Messenger and WhatsApp — aren't being monetized. Facebook has yet to outline any cost-cutting initiatives, but they are likely to come.
So where do things go from here? The next big move will be determined by when the market gets visibility on a sustainable recovery or true re-opening. It may be driven by a viable contact-tracing strategy or a new effective Covid-19 treatment, but for now the short term is cloudy. But when the overall economy eventually rebounds, performance within the FANG group will likely show disparity again. Amazon and Netflix shares may revert to the mean. And while Google and Facebook will certainly go through a rough period with their deteriorating end markets, there is also no doubt they will get through the other side with their robust balance sheets and strong market positions.
Their recent underperformance could be a buying opportunity, the only question is when.
This column does not necessarily reflect the opinion of Bloomberg LP and its owners.
Tae Kim is a Bloomberg Opinion columnist covering technology. He previously covered technology for Barron's, following an earlier career as an equity analyst.