Bob Iger's Long Disney Goodbye Just Got Longer
(Bloomberg Opinion) -- A multi-millionaire CEO who steps down just before an economic crisis might not want to look back. But Bob Iger, who never made a clean break from the Walt Disney Co., appears to be retaking the reins from his ill-fated successor. It's Iger's chance to rethink what the company he made into a media and entertainment juggernaut — now battered all around by the pandemic and grappling with a new media business model — looks like in the end when he eventually does leave it behind. That could involve dismantling some of what he proudly built during his more than four decades at the company in order to now create a Disney better suited for the new normal.
After 15 years as CEO and an ever-fluid retirement date, Iger abruptly relinquished the title in February, staying on in a somewhat undefined role as executive chairman. Bob Chapek, a longtime Disney executive who had been running the parks and cruises side of the company, stepped into his shoes. It was seven weeks ago, and yet the world was so different: Americans could still go to work, Disney's domestic theme parks were bustling, toilet paper hoarding was only just beginning and for many, the coronavirus outbreak was something to hear or read about on the news rather than a lived experienced. Then, suddenly, as the pandemic shut down wide swathes of the U.S. economy and took particular aim at some of  Disney's core businesses, a momentous retirement that seemed like it'd never arrive was instead happening all too quickly. 
Technically, there is a new Bob at the helm of the $182 billion conglomerate now; in reality, he's known as "Bob C," secondary to the true "Bob" — Iger, according to a New York Times article Monday that gave an inside look at how the succession plan may be unexpectedly reverting. (Then again, Disney never was known for its clean CEO transitions.) In scary times like these, businesses need clear leadership, and despite what may have been Chapek's best efforts, Iger's is still the voice that matters.
It's also a chance for Iger to take care of some unfinished business. While he was personally focused on acquisitions in recent years to add to Disney's storied brands — Pixar, Marvel, "Star Wars" — and making investments in the future of content delivery, the theme parks had become a fairly predictable, if sometimes overshadowed, business. Now, that division has been hit hardest by the Covid-19 pandemic, and unlike the last financial crisis and recession, this one may not have the promise of a return to normal.
At Walt Disney World in Florida, which has been closed for about a month, the company plans to furlough 43,000 workers. And there's no telling when its attractions can reopen, or how long before consumers are comfortable returning to crowded venues or cruise ships again. Disney had already been in the process of expanding its four-ship cruise line with three more vessels.
Forecasts of Disney's overall earnings before interest, taxes, depreciation and amortization for its fiscal year ending in September have fallen sharply, from almost $18 billion in January, to just under $13 billion now. According to the Times, industry analyst Hal Vogel estimates Disney is losing $30 million or more a day. It earned about $31 million a day in operating profit in 2019.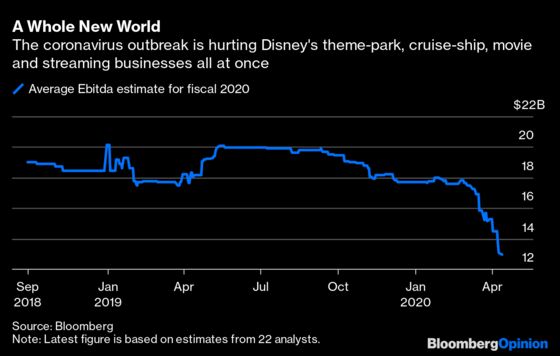 Disney has managed to sign up more than 50 million paying customers for Disney+, the Netflix-like streaming product it launched in November. That's a significant achievement in a short period of time. However, with Hollywood studio productions shut down for the time being, the criticism that Disney+ doesn't have enough fresh content will only become more valid. The service also won't begin making money for a couple more years.
As it was, the pivot to streaming had thrown the future of Disney's lucrative media networks into question. Now, with no live sports to air or discuss on ESPN, the network is looking even more like an awkward fit within Disney. I once suggested that Iger spin off ESPN, and several years later it still doesn't seem too complicated to do. Even the network's own direct-to-consumer streaming service, ESPN+, has been the weaker sibling of Disney+ and Hulu, so much so that the company's $13-a-month streaming subscription bundle essentially gives away the sports app for free. 
In recent years, Disney has ruled the box office, and it will again once cinemas reopen and movie sets get back to work. The question is whether consumers, after spending so much time home and expecting immediate access to new films, will be broken of the habit of visiting theaters — or if Disney's superhero and galactic blockbusters will always be enough of a draw. 
It's all this and more that Iger will be contemplating. In his business memoir released last year, "The Ride of a Lifetime," Iger wrote that he believes Disney and Apple Inc. would have become one if Steve Jobs were still alive. Looking ahead to Disney's post-pandemic future, the company may look smaller, both in terms of business units and employees — although staff reductions are sure to be a prickly topic for a CEO who, even with his admirable track record, was criticized toward the end for being overpaid. 
What's unclear is how Bob C feels about any of this, or if that even matters if Bob is still running the show.
This column does not necessarily reflect the opinion of Bloomberg LP and its owners.
Tara Lachapelle is a Bloomberg Opinion columnist covering the business of entertainment and telecommunications, as well as broader deals. She previously wrote an M&A column for Bloomberg News.