Junk Bonds Need a Little Love Too
(Bloomberg Opinion) -- Spare a thought for the European high-yield bond market as the euro-zone economy hits a brick wall. A halt to revenues because of the coronavirus lockdowns has brought distress to a whole range of companies, which might be fundamentally sound despite their riskier credit ratings. Although the European Central Bank has put in place comprehensive measures to support bank lending, the transmission mechanism doesn't always reach where it's most needed.
The ECB's Quantitative Easing bond-buying programs may exceed 1 trillion euros ($1.1 trillion) this year, but it won't buy from companies beyond the lowest rung of investment grade debt-rating, BBB. The central bank should think seriously about widening the remit of its corporate sector purchasing program to include junk bonds.
Yes, there's the moral hazard of offering safety to the riskiest group of company borrowers, but these are extraordinary times and these businesses employ people too — and will play a valuable part in any European recovery.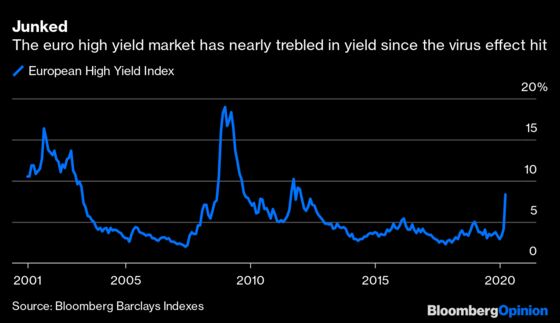 The yield spread between European investment-grade and high-yield debt has ballooned to levels not seen since the euro crisis of 2012, following the bigger U.S. junk bond market into double-digit yield territory — and even wider for the weaker names. That's hardly surprising when you look at the wall of support that's been made available to protect the higher grade stuff.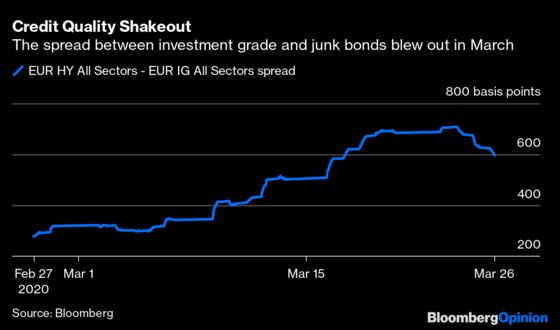 One key funding avenue, the new issue market for euro-denominated high-yield notes, has been shut firmly since February. Trading in the secondary market is very limited too, with spreads between what people are asking for and what people are bidding now several percentage points apart. The market has split in two, with companies that have defensive qualities trading by appointment. Those exposed to the cyclical nature of the economy (if we can even term this a cycle) are barely trading at all.
Most high-yield names are being treated as default risks because of the abrupt stop to Europe's economy. Leverage is the real killer: Companies that have a lot of debt or who've been on an acquisition spree look vulnerable. Some who are too reliant on super-cheap financing, which has been abundant until now, will fail.
Before Covid-19 struck it was halcyon days for euro high-yield bonds, with historically low servicing costs as negative benchmark rates and super-tight credit spreads allowed many companies to extend the maturity of their debt and build resilience to the (normal) economic cycle. Credit-rating standards had steadily relaxed, letting the new-issue market tolerate ever higher levels of leverage. No longer.
February was a record month for redemptions from dedicated euro high-yield funds, worth about 68 billion euros, and March will almost certainly be worse. According to data from JP Morgan Chase & Co., more than 10% of the money in European high-yield funds cashed out between the start of the year and March 25, with more than 8 billion euros redeemed. Redemptions from high-yield exchange-traded funds (ETFs) have exceeded 15%, which is causing real problems. ETFs are often invested in the larger, more liquid junk-bond issues, which are being sold first. This leaves the more illiquid names.
There appears to be three possible outcomes from high-yield issuers: they plunge into the distressed-debt ranks; they're bailed out; or they're sufficiently well-funded to ride this out. Loxam SAS, a French construction machinery renter, has seen its 5.75% 2027 bond more than halve in price this month, pushing the yield on offer to more than 20%. That's well into the distressed debt category.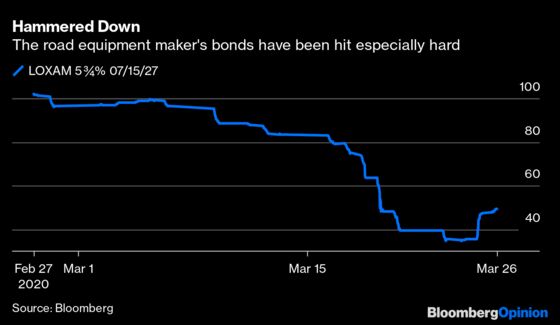 The operator of Eurotunnel, Getlink SE's 3.625% 2023 bond has fallen 13% in value but the yield is relatively robust at about 6%. Its leverage is very high, but it can rely on a strong revenue stream — at least when people are allowed to travel again. Although traffic through the Channel Tunnel has dried up, it's a critical part of Europe's infrastructure.
A French packaging company, Crown European Holdings SA, secured the lowest ever coupon on a euro junk bond back in October, at just 0.75% (that's how heady times were back then). It has fared better than the rest of the sector recently, having bought itself more breathing room through such fantastic terms.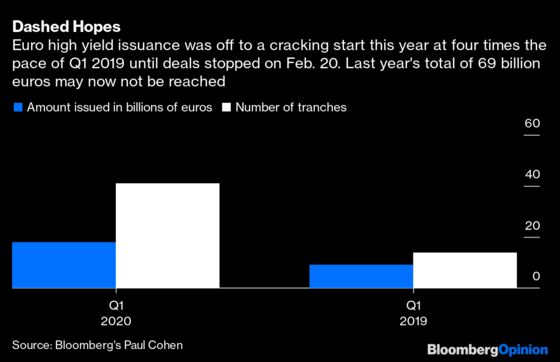 The ECB's unprecedented stimulus is having some knock-on effect in controlling spreads for everybody (even junk bonds); and with investment-grade corporate issuance roaring back into life this week, there's some prospect of relief for the new issue high-yield market this year.
BBB-rated companies such as Koninklijke Ahold Delhaize NV and Compagnie de Saint-Gobain both saw huge demand for their new bond deals in recent days. That may bode well for the higher quality end of the junk bond market, especially if its higher yields attract investors who still can't squeeze great returns from investment-grade bonds.
There's clearly cash available if confidence can be extended to the unloved parts of the corporate sector. But nothing can be left to chance; time for the ECB to widen its scope. 
This column does not necessarily reflect the opinion of Bloomberg LP and its owners.
Marcus Ashworth is a Bloomberg Opinion columnist covering European markets. He spent three decades in the banking industry, most recently as chief markets strategist at Haitong Securities in London.