People Have Stopped Taking Walks
(Bloomberg Opinion) -- Apple Inc. has been tracking the world's movements before and during the Covid-19 pandemic by analyzing direction requests sent to Apple Maps.
Charted below are requests for walking directions in various countries. They illustrate which places locked down early (Hong Kong); which locked down least (Sweden); which have been most strict (France, Italy); and which are showing early signs of easing up (New Zealand, Germany).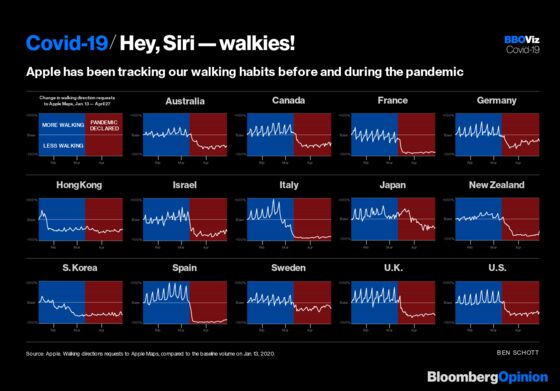 This column does not necessarily reflect the opinion of the editorial board or Bloomberg LP and its owners.
Ben Schott is a Bloomberg Opinion visual columnist. He created the Schott's Original Miscellany and Schott's Almanac series, and writes for newspapers and magazines around the world.