Pandemic Is Giving New Life to Some Marginal Ideas
(Bloomberg Opinion) -- Coronavirus has turned the world of economic policy ideas upside down. Because of the pandemic and the economic devastation it has wrought, ideas and movements that had long battered against the walls of mainstream orthodoxy may now win de facto policy victories.
Perhaps the most triumphant will be the immigration restrictionists. President Donald Trump was elected on a promise to reduce the flow of foreigners moving into the U.S., and for the first three years of his presidency he strove mightily to do so. He enacted a travel ban on many Muslim countries, imposed restrictions on asylum seekers and threw up a number of administrative barriers to international students and workers seeking visas. As a result, immigration to the U.S. slowed substantially from the preceding years.
But the anti-immigration forces only managed to chip away at the orthodoxy. Despite (or perhaps because of) Trump's election, pro-immigration sentiment rose. Efforts to reform the country's legal immigration system went nowhere. There was every reason to expect that the election of a new president would send immigration numbers back up.
Then came coronavirus. The necessity of restricting travelers during a pandemic, together with the crash in the labor market, stopped almost all inflows of foreigners into the U.S. Even Trump's Democratic opponent in the 2020 election, former Vice President Joe Biden, has chided Trump for not doing more to block travelers from China. Now Trump is looking to make that stoppage official and he will suspend legal immigration for 60 days by executive order.
Whether Trump has the legal standing to do this, and whether he will try to extend the order, are still open questions. Meanwhile, the move is unlikely to help the labor market, and it will probably just increase government deficits by depriving the nation of the tax revenues that immigrants contribute on net. But the mere fact that such a move is no longer out of the question is dramatic proof how quickly the pandemic has shifted the national policy conversation toward restriction.
A second marginal idea now having its day in the sun is the so-called degrowth movement. Some environmentalists believe that it's not possible to have economic growth while using fewer resources and that growth thus puts unsustainable demands on a soon-to-be-exhausted planet. That was always a dubious thesis -- advanced nations have managed to continue expanding in recent decades while progressively cutting use of many key resources such as water and metals. Meanwhile, the political appetite for degrowth was effectively nil, especially in the developing countries whose growth has been contributing to rising resource use and greenhouse gas emissions.
But coronavirus has handed the degrowthers a victory of sorts. Global growth is expected to be negative in 2020. And although the International Monetary Fund and others are predicting a rapid bounce-back after the threat of the virus passes, it's very likely that the slump will last years. Fear of a coronavirus resurgence, business failures and the unwinding of global supply chains will keep growth low. That will lead to reduced resource use -- oil is so cheap now that some people are having to pay others to take it off their hands. It will also cause greenhouse emissions to drop. Degrowthers will no doubt take this as a victory, even if the long-run harm to the solar industry ends up increasing emissions years down the road.
A third winner from the coronavirus depression could be the so-called modern monetary theory. MMT, which advocates loosened fiscal restraint and monetary financing of government deficits, enjoyed a brief moment of popularity in early 2019 when the celebrated Representative Alexandria Ocasio-Cortez seemed to embrace it. But opponents from both the center and the left rose up to critique the idea, noting that MMT would either fail to change much about the economy or put the government in danger of creating hyperinflation, depending on how it was implemented.
Coronavirus has changed this calculus as well. With a huge number of businesses on the brink of default, the Federal Reserve and other central banks are being forced to do everything in their power to flood the markets with liquidity. That includes buying up enormous amounts of government bonds (in addition to private debt). Meanwhile, the government is being forced to spend trillions of dollars on relief efforts, sending debt to levels not seen since WW II.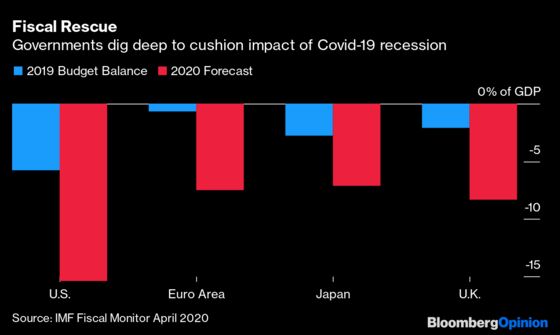 When the Fed becomes a large enough player in the market for sovereign debt, the distinction between monetary policy and direct monetary financing becomes blurred. The government might still sell its bonds to private banks initially, but this is done with the understanding that the bonds will rapidly be snapped up by the central bank. Some are already asking whether it makes sense simply to have the Fed finance government debt directly -- just as MMT proponents would wish. And the necessary embrace of huge deficits in the face of the coronavirus crisis is surely music to MMT's ears.
None of this necessarily means that movements such as immigration restriction, degrowth and MMT have won the intellectual conversation. Some semblance of normalcy will return at some point and people will want more immigrants, more growth and lower deficits. But for now, the topsy-turvy world of pandemic economics is winning the battles for these movements. And as the crisis continues, more fringe ideas might become mainstream -- for example, universal basic income or replacing colleges with online education. In these strange times, orthodoxy provides no rock to cling to.
This column does not necessarily reflect the opinion of the editorial board or Bloomberg LP and its owners.
Noah Smith is a Bloomberg Opinion columnist. He was an assistant professor of finance at Stony Brook University, and he blogs at Noahpinion.