Nimble Corporate Cash Managers Face a Reckoning
(Bloomberg Opinion) --   ↵
The coronavirus will leave no industry untouched but the impact is particularly acute for companies that depend on prompt payment from customers to fund their businesses.
In sectors such as car making and the travel industry, it's common for companies to hold little inventory and settle with suppliers long after they've received payment from their customers.
As a result they often have what's called negative working capital: Their trade payables exceed the sum of inventories and customer receivables. In other words, they owe more to their suppliers than their customers owe them.
When revenues are growing, this is a big advantage. Cash pours into the business which can be used to fund investments.
Customer payments and deposits effectively serve as a free form of finance and that float gets bigger as sales expand.
It's certainly a very efficient way to run a business — Amazon.com Inc. excels at it — but negative working capital can make a balance sheet look stronger than it really is. That's because the effect is reversed when sales suddenly slow down or shrink. Suppliers still need paying but there's little new customer cash coming in. As a result, cash rushes out the door. This is what threatens to happen now that much of the world is cooped up at home due to coronavirus.
"In periods in which our vehicle shipments decline materially we will suffer a significant negative impact on cash flow and liquidity as we continue to pay suppliers for components purchased in a high volume environment during a period in which we receive lower proceeds from vehicle shipment," Fiat Chrysler Automobiles NV warned in its annual report.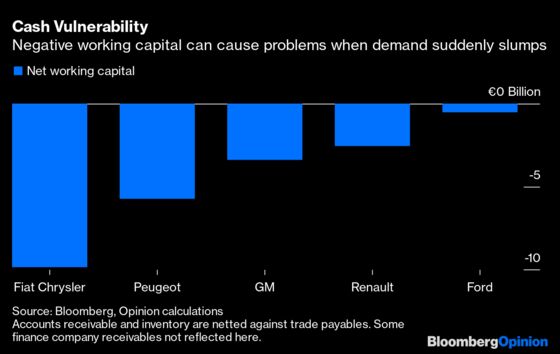 A rule of thumb is that French, Italian and U.S. automakers have negative working capital, while their German peers do not. A six-week production hiatus caused by strike action lowered General Motors Co.'s free cash flow by $5.4 billion.
Optimizing working capital has been a key focus for carmaker Peugeot SA and boss Carlos Tavares repeated the trick when he acquired Opel/Vauxhall from GM.
Like merger partner Fiat, Peugeot has now been forced to shutter its European car plants. If sales slump for a prolonged period, its 17 billion-euro ($19 billion) cash buffer could dwindle.
Still, a sudden slowdown in demand can upset those calculations, as Thomas Cook Group Plc discovered last year. Customers delayed bookings, suppliers tightened credit terms and the U.K. tour operator went bust.
Shares in rival TUI AG slumped this week after it suspended the vast majority of its travel, cruise and hotel operations and said it would apply for state-aid guarantees. The company has 1.4 billion euros in cash and available banking facilities but this is far exceeded by a deeply negative working capital position — at the end of December it held about 2.9 billion euros of advance payments from customers.
The cash spring, once a big advantage for many firms, could be about to recoil. 
They are however required to make pre-payments to hotels
This column does not necessarily reflect the opinion of Bloomberg LP and its owners.
Chris Bryant is a Bloomberg Opinion columnist covering industrial companies. He previously worked for the Financial Times.