Nine Charts That Define Our New Covid World
(Bloomberg Opinion) -- As Covid-19 catalyzes an avalanche of new and urgent data — economic, social, epidemiological — so a number of chart shapes seem to be defining this scared new world, including the "ominous escalator" of pandemic deaths and the "green shoots" of tentative recovery.
Below is an attempt to create a field guide to the chart shapes of coronavirus; readers are invited to nominate and name other distinctive curves they feel characterize this unprecedented time.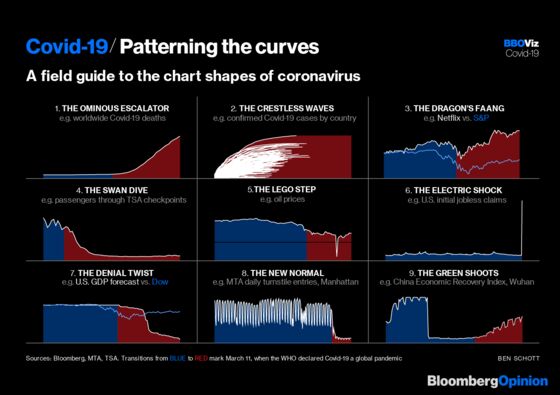 This column does not necessarily reflect the opinion of the editorial board or Bloomberg LP and its owners.
Ben Schott is a Bloomberg Opinion visual columnist. He created the Schott's Original Miscellany and Schott's Almanac series, and writes for newspapers and magazines around the world.