Baking Brits Give Primark Owner a Smart Look
(Bloomberg Opinion) -- Conglomerates are about as appealing as a pink fluffy sweater left stranded on Primark's shelves at the start of the lockdown in March. But the devastation to sales wrought by the new coronavirus has shown why, for once, it might make sense that the retailer's parent, Associated British Foods Plc, combines clothing, groceries and agriculture in one big company.
Primark's stores are closed, and the discount fashion chain doesn't sell online. It has gone from taking 650 million pounds in ($805 million) a month before the last of its stores shut their doors on March 22, to selling nothing at all. Even with efforts to cut costs, and a tax break, the retailer's cash outflow is 100 million pounds a month. It has taken a 284 million-pound provision for the stock that it will have to sell at a lower price to clear it out.
While the parent company's name hides it well, Primark is by far the biggest element of Associated British Foods, accounting for almost 50% of sales in 2019 and more than 60% of operating profit. This year the proportion will be much lower after at least two months of not trading. But if Primark were a stand-alone group it would have no revenues at all for that period. The smaller divisions, which range from corn sugar and tea to Southeast Asian cooking spices, are at least bringing in cash.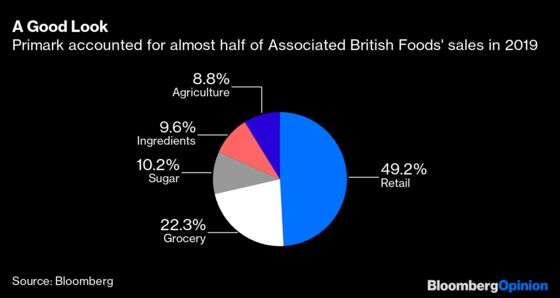 What's more, ABF's grocery arm has been helped by the panic buying at the start of the pandemic crisis, as consumers around the world stocked up. At its bakery brands, Allinson and Kingsmill, it is selling every loaf of bread it can make. Similarly, the craze for home baking as people try to fill their time in lockdown is driving demand for flour. This should also help sales of sugar. Demand for food more broadly could feed through to other divisions such as agriculture and ingredients.
The London-based company is also able to benefit from a strong balance sheet. It had net cash of 801 million pounds as of Feb. 29.
It's not clear how long Primark will be out of action. Reopening won't be straightforward in a world where social distancing becomes the norm. The retailer will need to reconfigure stores, and deal with stock, like those pink fluffy jumpers that won't sell well in higher summer temperatures. That means the conglomerate structure should help ease the burden for a while yet.
But at some point the world will return to some semblance of normality. Shopping malls and main streets are likely to see a significant shake-up, with some winners emerging in a much stronger position. Primark, with its focus on low prices, will probably be among them. It could also pick up market share from those that fail.
If the group's U.S. business continues to prosper, Primark should resume its growth trajectory once more. The prospects here are good. The inevitable economic downturn that will follow the pandemic should favor discount retailers. What's more, with some well-known U.S. names likely disappearing, and others closing swathes of stores, ABF will have a surfeit of space to choose from if it expands its network.
Once Primark's sales pick back up, it risks pulling away from ABF's smaller divisions again. That will make a split or a spin-off look more appealing once more.
The logic of having discount fashion alongside diet crispbreads won't be evident forever. But right now, investors in ABF should be thankful for it.
This column does not necessarily reflect the opinion of Bloomberg LP and its owners.
Andrea Felsted is a Bloomberg Opinion columnist covering the consumer and retail industries. She previously worked at the Financial Times.