Are Stocks Out of Control? What We Learned in May
(Bloomberg Opinion) -- The stock market is not the economy. Perhaps that's never been as clear as during the 2020 coronavirus pandemic. Even as nations stare down the inevitability of long, deep recessions and unprecedented levels of unemployment, U.S. stocks as measured by the S&P 500 Index have rallied for two straight months after plunging in February and March.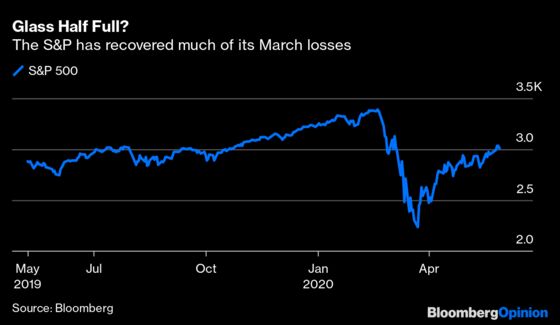 There are a few reasons for optimism. First, there was the quick response by the government to pump trillions of dollars into the economy and financial system. And with the rate of new infections slowing, people are emerging from lockdowns into new socially-distanced economies. But the outlook is far from sunny. Covid-19 continues to kill thousands of people globally every day, there is no vaccine, and mandatory social-distancing rules (and fear) are contributing to what is forecast to be the worst recession since the Great Depression and squash corporate earnings for the foreseeable future. And that's without accounting for a renewed worsening of U.S.-China tensions.
Are stocks completely out of control? Bloomberg Opinion columnists have been pondering that very question:
This column does not necessarily reflect the opinion of the editorial board or Bloomberg LP and its owners.
Lara Williams manages Bloomberg Opinion's social media channels.