Copper's Record-Breaking Rally May Be About to Take a Pause
(Bloomberg Opinion) -- Is copper's record-breaking rally nearing its end? There are more and more reasons to think so.
Three-month forwards on the London Metal Exchange hit an unprecedented $10,440 a metric ton last week, after nearly doubling in price in the space of a year. Since then, they've bounced around the same level, unsure whether to rise further or pause for breath.
One reason to think the boom is easing comes from looking at the shape of the futures curve.
When users of physical metal are truly desperate for product, they'll pay any amount to get it as soon as possible, pushing up the price of near-dated futures relative to later deliveries. For most of this year, there's been a premium for cash metal over three-month forwards, with the spread hitting its second-highest level in six years in February — but over the past month, it's flipped to a $28 discount, the deepest we've seen in nearly a year. That suggests buyers are finally holding off from purchases: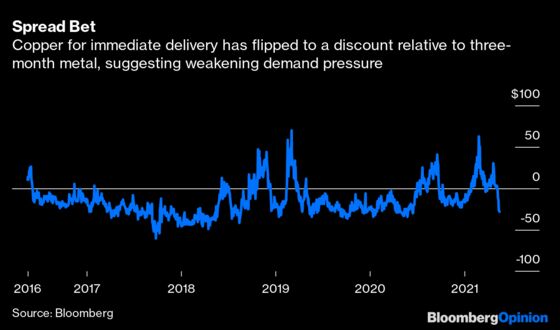 Something similar is showing up in China. The premium over the futures price that users are paying for metal at Yangshan port near Shanghai has slumped since February and last week hit $37, the lowest level in data going back to 2017 — another sign that buyers' urgency has started to slacken: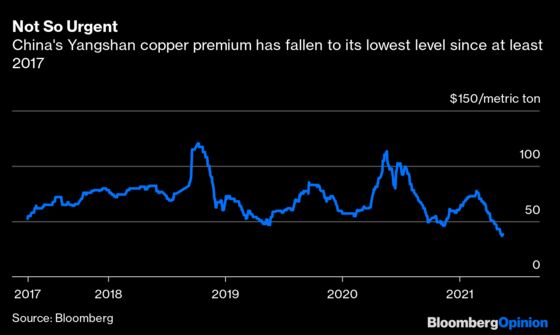 The changing dynamic is also visible in the behavior of copper smelters. The treatment charges they levy on miners to turn gritty concentrates into pink metal have been on a downward trend for years, a sign that strong demand from industrial consumers is causing refiners to compete with each other to acquire a limited stock of semi-processed mined material. Those treatment charges, too, have started a tentative reversal recently, after hitting rock bottom in April: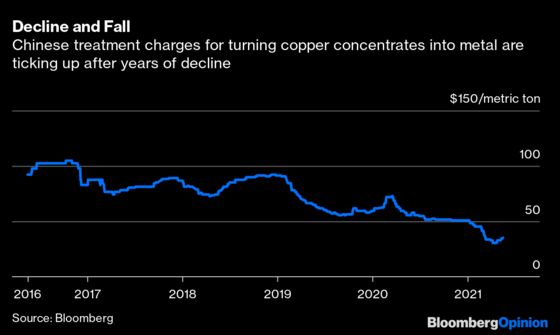 One explanation for this is that the shortage of supply from copper mines is starting to ease. At Freeport-McMoRan Inc.'s Grasberg in western New Guinea, years of work on extending the underground segment of the world's second-largest copper pit is at last bearing fruit, with production this year forecast to hit its highest level in a decade and continue growing thereafter.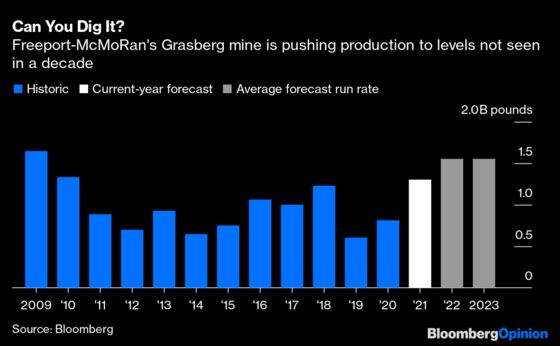 Similar projects are under way at some other important copper mines. Another underground expansion is currently ramping up at Chilean producer Codelco's vast Chuquicamata, the mine on which the country's modern wealth was built.
At BHP Group's nearby Spence pit, the first copper from an extension of the mine was sold in March. Meanwhile Ivanhoe Mines Ltd.'s Kamoa-Kakula in the Democratic Republic of Congo is starting production "imminently," the miner said last week, and will churn out as much as 95,000 metric tons of copper in concentrate this year. Even in January, before the latest leg of the rally, the world had a surplus of about 31,000 tons, according to the International Copper Study Group.
That provides plenty of reasons why current elevated prices might struggle to advance further. Relative to its 200-day moving average, the cost of copper has never been more elevated than the current premium of more than $2,500 a metric ton. A rally on that scale must eventually ease off.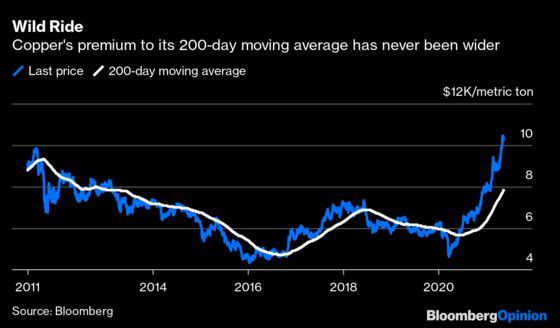 The question is what happens in the longer term. On that front, the picture still looks bullish.
The red metal is essential for a range of electrical applications that will be increasingly in demand as the world decarbonizes, as my colleague Clara Ferreira Marques has written. That should cause annual copper demand to grow at a 3.2% annual rate in the second half of this decade, according to Bloomberg Intelligence analyst Grant Sporre, a headlong increase on the 2.2% we've grown used to this century.
The world simply isn't developing enough deposits to cope with that scale of demand. We may face supply deficits equivalent to about a quarter of current annual mined production by 2030, according to CRU Group, a consultancy. In that situation, you'd be looking at copper tipping $20,000 a ton, rather than $10,000.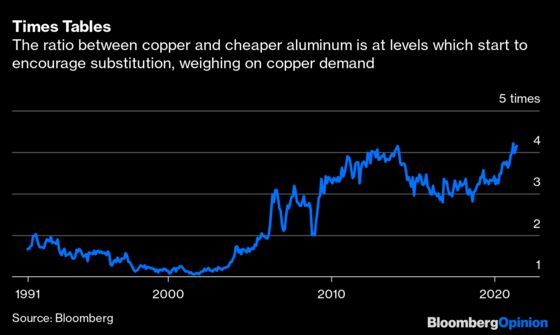 If anything is going to take the wind out of those sails, it's the current run of high prices. Mine investment that's been hard to get going when metal was running at $7,000 a ton looks a whole lot more attractive when it's over $10,000. Downstream engineers, too, will find reason to explore alternative materials instead. The last time the copper price rose higher than four times that of aluminum, between 2012 and 2014, it sparked a rush to substitute the cheaper metal in widgets like air-conditioner piping and electrical cable, meaningfully weakening demand for the red metal.
Even so, you'd be unwise to bet against copper in the long or even medium term. The rush of building activity in China that's driven the iron ore price to record highs will soon work its way into copper, as construction demand shifts from early-build materials like steel and cement toward fit-out products such as wiring, glass and tiles. Copper is due a pause after a run of fast-rising prices. Don't count on that lasting.
This column does not necessarily reflect the opinion of the editorial board or Bloomberg LP and its owners.
David Fickling is a Bloomberg Opinion columnist covering commodities, as well as industrial and consumer companies. He has been a reporter for Bloomberg News, Dow Jones, the Wall Street Journal, the Financial Times and the Guardian.