Miners Run Into Post-Covid Political Shakeups
(Bloomberg Opinion) -- The world's top copper-producing nation has long been one of the most reliable mining jurisdictions. Yet lawmakers in pandemic-scarred Chile's lower house have just approved a progressive royalty on copper sales so onerous that it is described by miners as "akin to expropriation." Constitutional changes afoot could also mean tighter rules on water, glacier protection and mineral and community rights.
Digging up the green economy's favorite metal is about to get a lot costlier.
Resource nationalism — when governments press for a greater share of the spoils, for whatever reason — tends to ebb and flow with commodity cycles and electoral seasons. The combination right now is a heady one. There's the urgent need to repair torn social and economic fabrics, and several producer nations have major elections this year, including Chile. Prices have been soaring for months, fueled by existing supply concerns, recovering global appetite and, for some metals at least, a green transition hovering into view. Bellwether copper isn't far off all-time highs at well over $10,000 a metric ton, nearly twice where it was a year ago. Even steel ingredient iron ore is around an eye-watering $200 a ton.
Fewer politicians preach outright nationalization these days. There are still some grabs to quickly fix debts and other shortcomings, as with Zambia, which has repeatedly complained about companies paying insufficient tax and wants to hold a bigger share of copper revenues. Russia turned to mineral-extraction taxes to help plug its pandemic deficit. Others are rethinking the wider environmental, economic and social balance, as in Chile and Peru, where proposals raise questions not just about today's copper output but tomorrow's, given the region's share of planned mine expansions.
The first consequence is that mining giants pause big spending decisions —  even for the surging red metal. The price level needed for projects to become attractive increases, and new supply slows. Craig Lang, principal analyst at consultancy CRU, points out that it matters all the more as we're at the point in the cycle when, after years of generous payouts for investors, high prices begin to push companies to approve new investments.
None of this is for lack of demand. According to CRU, the amount consumed by electric vehicles alone will rise to 3 million tons by 2033, or more than 10% of global refined consumption, from close to 500,000 tons this year, roughly 2% — hinting at a supply gap that will require an extra $100 billion of projects to fill.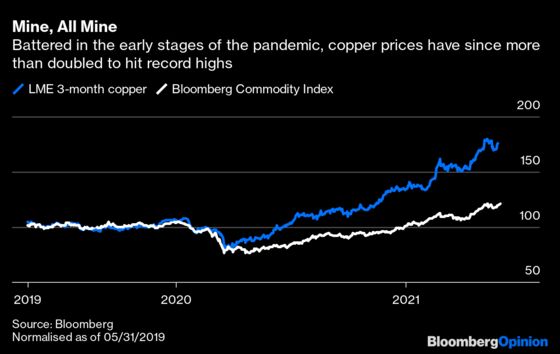 Chile's royalty proposal isn't new but gained momentum after street demonstrations over inequality and high living costs, then a Covid-19 pandemic that did nothing to close the gap between rich and poor. From a system that now largely charges companies based on operating profit, the new plan favors a sliding-scale model that will levy as much as 75% on the incremental revenue generated if prices rise above $4 a pound, a little over $8,800 per ton. Estimates of the exact eventual tax burden vary, but it will certainly be among mining's highest.
That's poor news for current supply, but worse for future output. Bloomberg Intelligence analyst Grant Sporre calculates that under the plan, copper would need to hit $11,500 a ton — a level the metal has never crossed — for companies to consider building a mine from scratch. Incentive prices are theoretical, but the pain is real, especially in a country with plenty of mature pits where companies are investing just to stand still. CRU estimates suggest that at $4 per pound, the new system would leave no Chilean mine in the lower half of the copper cost curve.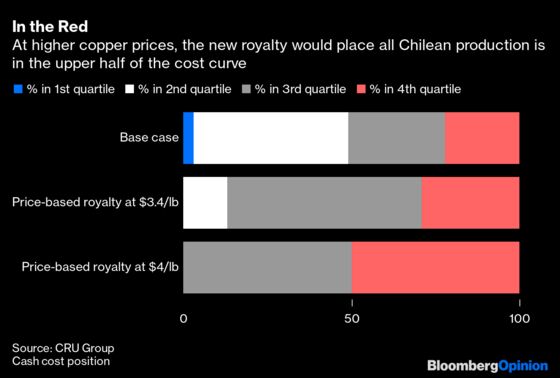 The new levy still needs to go through the Senate and will continue to face opposition from Chile's center-right ruling coalition. Companies are protected for some time by stability agreements, and constitutional changes will take time. But momentum and post-pandemic needs are real. Goldman Sachs Group Inc., among others, is right to warn that the likelihood of revisions is high.
Then there's Peru, one of the countries hardest-hit by Covid-19. A presidential runoff is set this weekend. Socialist candidate Pedro Castillo, a former teacher who won the first-round vote, has taken a leaf from Chile's playbook with plans to raise mining taxes and revamp the constitution. (Rival Keiko Fujimori, by contrast, plans to support resources projects). And further afield there's Mongolia, with presidential elections June 9 that will no doubt impact the fate of Rio Tinto Group's giant Oyu Tolgoi copper project. 
Demands for a better deal are certainly justified. Chile, for example, ranks within the most unequal societies among wealthier nations. Its mines operate in one of the driest places on earth. While the industry has been embracing desalination along with other environmental, social and governance improvements, McKinsey estimates miners consume enough water every year to provide for three-quarters of the needs of a 19 million-strong population. It's clear why activists are pressing.
It's just less clear that these fiscal fixes can solve inequality and other concerns without creating a bigger investment problem with long-term economic consequences. Other jurisdictions do exist, and Chile's share of global production has been falling. Moving the goalposts dramatically for miners won't leave other sectors indifferent.
For now, the only certainty is shiny prices.
This column does not necessarily reflect the opinion of the editorial board or Bloomberg LP and its owners.
Clara Ferreira Marques is a Bloomberg Opinion columnist covering commodities and environmental, social and governance issues. Previously, she was an associate editor for Reuters Breakingviews, and editor and correspondent for Reuters in Singapore, India, the U.K., Italy and Russia.