Peacock Gets a Tag Team Partner With WWE
(Bloomberg Opinion) -- Netflix, Disney+ and HBO Max may be winning the streaming wars, but Comcast Corp. is getting ready to rumble. 
The cable giant is betting wrestling fandom will draw more users to its fledgling Peacock product, an entertainment, news and sports streaming service launched by Comcast's NBCUniversal division last year. On Monday, Peacock struck a deal with World Wrestling Entertainment Inc. to become the exclusive home of WWE Network content in a five-year deal reportedly valued at more than $1 billion. This means that while WWE programs will continue to air on live TV, the WWE Network app is being shut down in the U.S. 
The deal stands out for three reasons:
It tells us that niche isn't enough. WWE Network was an early mover and initial success in the streaming industry, providing its superfan subscribers access to pay-per-view events and replays of previously aired episodes of cable shows such as "Smackdown." But its membership base has stagnated at about 1.6 million. A world in which every media giant now has its own on-demand video app makes it hard for a $10-a-month wrestling-only service to cut it. Disney+ offers a lot more for $3 less. And Peacock itself charges just $5 a month for its premium tier, where WWE Network content will be found beginning March 18. That means WWE Network users will soon be able to stream for half the price while gaining access to a wider variety of NBC programming.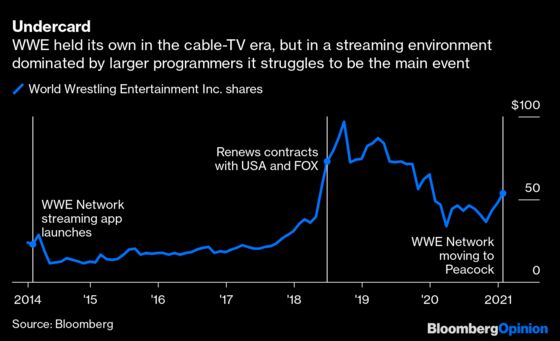 Larger libraries lead to more consistent interaction. Apptopia has a metric it calls the engagement index, which calculates how often active users are opening an app. For example, YouTube has an engagement index of 92%, meaning users are opening YouTube almost every day. Netflix's is 63%, whereas WWE's is 31%. WWE won't be the last of the also-rans to team up with a more formidable streaming company. "The great re-bundling" I predicted in 2019 has begun, and an industry shakeout will likely follow.
This could be a precursor to a larger deal. Vince McMahon, WWE's 75-year-old chairman, CEO and controlling shareholder, has for years dodged takeover interest in his company. I've written time and again that WWE's ever-expanding library of characters and storylines and its cult-like following present immense value to acquirers looking to broaden their offerings. Plus, there are lucrative opportunities around ticketed live events (whenever those return) and selling merchandise. By fortifying its relationship with Comcast/NBC, McMahon may be locking in a buyer for when he eventually steps away from the company. NBC's USA Network is already the cable home of WWE's "Monday Night Raw."
Advertising is the streaming future. While Walt Disney Co. and AT&T Inc. eat losses in order to drive streaming subscriptions, Comcast wants to ride the quickest path to profitability. Disney+ is expected to report more than 90 million users for the latest period, more than triple the number Peacock disclosed in December. Some may see it as Peacock getting lost in the streaming wars. But the other way to look at it is that Comcast continues to keep the focus on its core cable business, where it's adding internet customers, thereby capitalizing on the streaming trend in a more financially meaningful way. As for Peacock, Comcast is in no hurry to put all investor eyes on a more competitive, economics-challenged business.
Comcast is also courting a customer base that Netflix and Netflix copycats are resisting for now: advertisers. One of the biggest motivations for creating a direct-to-consumer app — as opposed to just signing a carriage agreement with a multichannel distributor like YouTube TV or SlingTV — is to gain deeper insights into your own viewers. WWE on Peacock will give NBC more valuable data to inform ad decisions for its traditional TV channels. It's inevitable that other companies embrace ads as part of their streaming efforts, too.
"Cobra Kai" has helped keep Netflix users from taking a crane kick to their subscriptions. Let's see if wrestling can do the same for Peacock.
This column does not necessarily reflect the opinion of the editorial board or Bloomberg LP and its owners.
Tara Lachapelle is a Bloomberg Opinion columnist covering the business of entertainment and telecommunications, as well as broader deals. She previously wrote an M&A column for Bloomberg News.